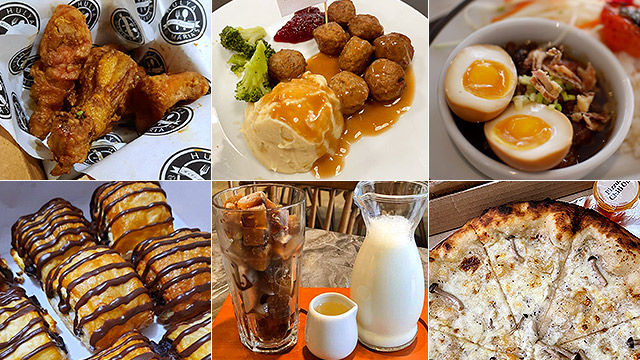 (SPOT.ph) It's been a rollercoaster of a year for all of us—and the same can definitely be said of us here at SPOT.ph. We all spent hours on end churning away and looking for the best stories and hottest finds—no easy feat but we do it all for you, Spotters! If there's anything that helped us power through 2021, it's great food—and all of us on the team got to sample some truly great eats! All of which we need to round up here and share with you guys, of course. It's thanks to these great-tasting bites and sips that 2021 has been one heck of a memorable—not to mention incredibly tasty—ride.
These are the top food picks of the SPOT.ph team:
Christa, Section Editor for News + Features, Art + Culture, Things to Do
Cannoli con Crema di Cioccolato e Pistachio from I Don't Make Sweet Desserts
ADVERTISEMENT - CONTINUE READING BELOW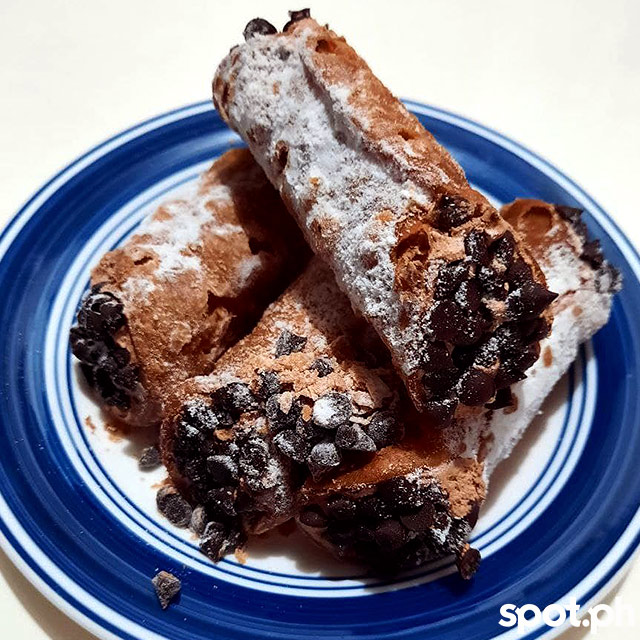 I Don't Make Sweet Desserts has all sorts of must-try sweets, from their Tres Leches with Mangoes Cake to their Zeppole (a.k.a. Italian fried doughnuts). But their cannoli hits the spot when I can't decide if I want pastry, something creamy, or something sweet—because it's all of the above. I don't like pistachio that much, but the Cannoli con Crema di Cioccolato e Pistachio has the right amount—just enough to provide texture, but not so much that it overpowers the flavors of the chocolate. It's available as a box of four (P480) or as a box of six (P960). I recommend getting the latter because I can finish four pieces in one sitting.
Check out I Don't Make Sweet Desserts' Facebook page.
Chicken Pupu from Hulya and Maria's Kitchenette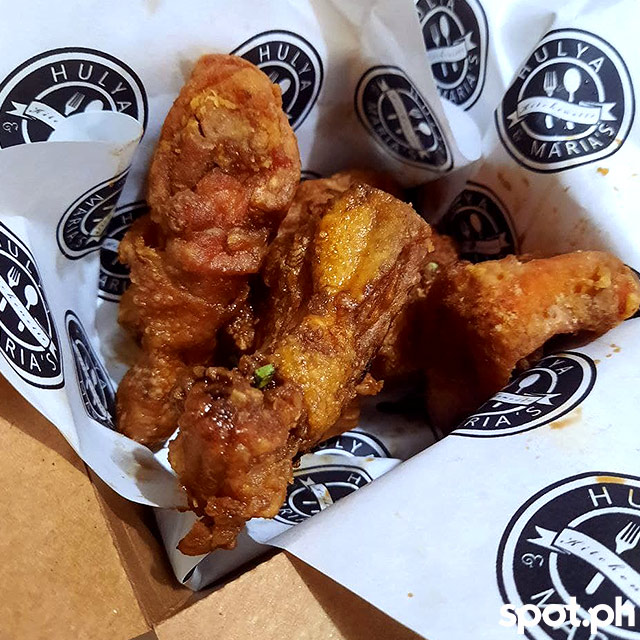 ADVERTISEMENT - CONTINUE READING BELOW
Recommended Videos
Not your usual fried chicken, Chicken Pupu by Hulya and Maria's Kitchenette leaves people wondering what it's sauce is made of. (It's a family secret!) It has the perfect blend of sweet and salty with the taste seeping into the bones; and the chicken skin stays crispy even after having gone through city streets when you have it delivered. Hulya and Maria's Kitchenette has other delectable dishes too: Two-Cheese Scallops, Baked Salmon, and the list just goes on.
Check out Hulya & Maria's Kitchenette's Facebook page.
Belgian Chocolate from Cheese Rolls by Miss J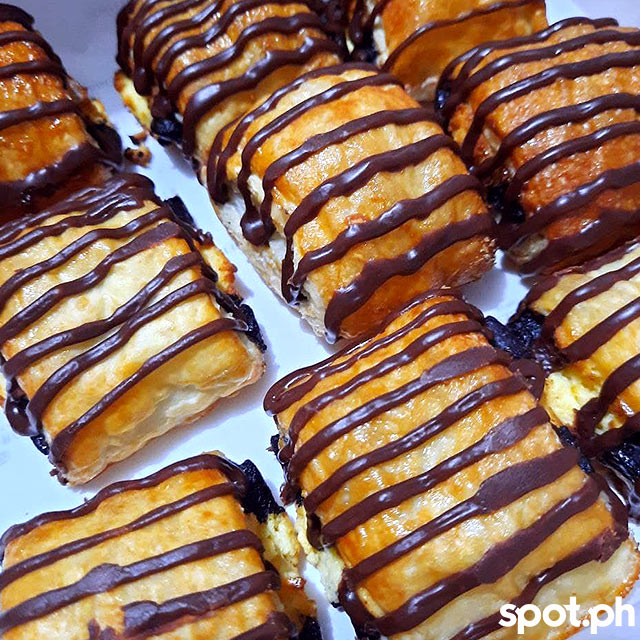 Soft, flaky, sweet, and tangy. That's how Cheese Rolls by Miss J describes their pastries, and they totally deliver on all four traits. They have the OG cheese rolls, which is a step above your typical bread stuffed with cheese; but I am partial to their Belgian Chocolate variation, which has decadent chocolate drizzled on top.
ADVERTISEMENT - CONTINUE READING BELOW
Check out Cheese Rolls by Miss J's Facebook page.
Ashley, Assistant Section Editor for Shopping + Services
Swedish Plant Balls from IKEA Philippines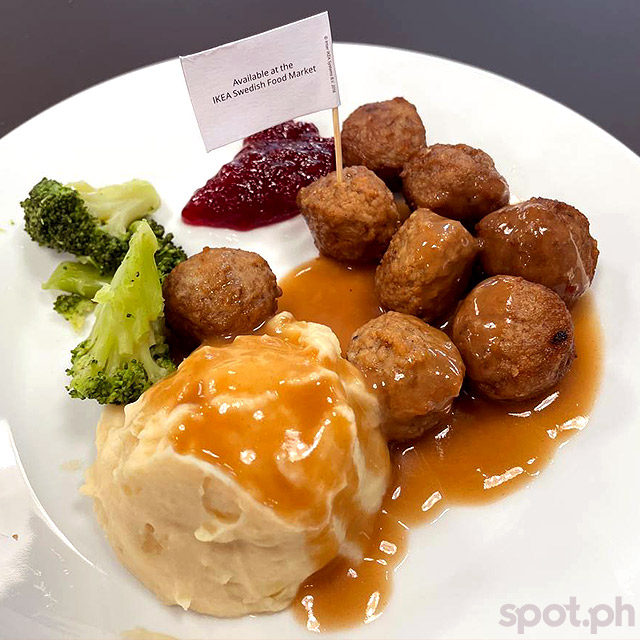 IKEA officially opened on November 25 and something about the long walk through the huge store and the five years of waiting for it to open—I was still in college when it was first announced—made eating their famous meatballs even more satisfying. While I enjoyed the classic meatballs, the Plant Balls are what left an impression. Taste-wise, they're pretty much the same as the classic variant, but the plant-based version's texture just really hit the spot for me—kind of like a well-made falafel. With the mashed potatoes, gravy, veggies, and lingonberry jam, the dish was pretty darn simple, but it was simple done right.
IKEA Philippines is at Marina Way, Mall of Asia Complex, Pasay City. You can also check out their Facebook page.
ADVERTISEMENT - CONTINUE READING BELOW
Black Truffle Mushroom Pizza from Pizzulu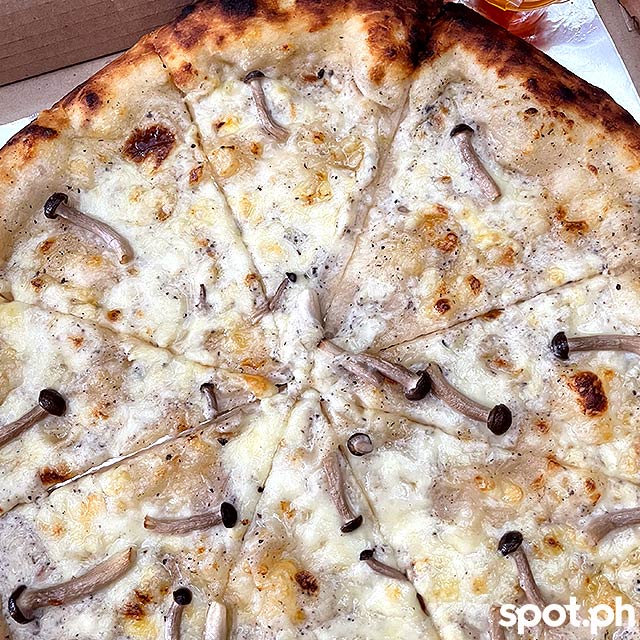 Pizzulu is right down the street from where I live, so imagine my regret when I found out how good their Black Truffle Mushroom Pizza is. Why hadn't I been snacking on this all along? With truffle cream and truffle oil atop the crust, the pizza doesn't scrimp on that earthy, unmistakable flavor. Thankfully, it never becomes cloying—I should know, I had about seven slices in one sitting. The mushroom and fontina cheese work with the truffle perfectly. Plus, the shop's signature chili oil was a fantastic finishing touch.
Pizzulu is at 579 Mariano Marcos corner Allenby Street, San Juan City. You can also check out their Facebook page.
Napoleones from Roli's Bakeshop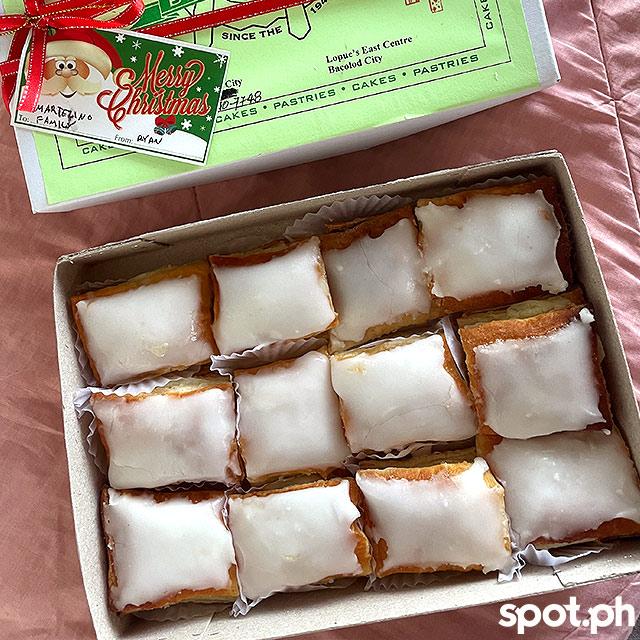 ADVERTISEMENT - CONTINUE READING BELOW
Please don't come for me, Bacolod natives—it was only this year that I tried napoleones for the first time and it was Bacolod-based bakery Roli's Bakeshop's excellent version. With a flaky-on-the-outside-pillowy-on-the-inside puff pastry, a creamy custard inside, and a sugary glaze on top, this is one of those desserts that is much more than the sum of its parts. It was at once novel and comforting, indulgent and light, good for merienda or with a cup of coffee. I did my best not to eat the entire box.
Check out Roli's Bakeshop's Facebook page.
Kori Kohi With Oat Milk from UCC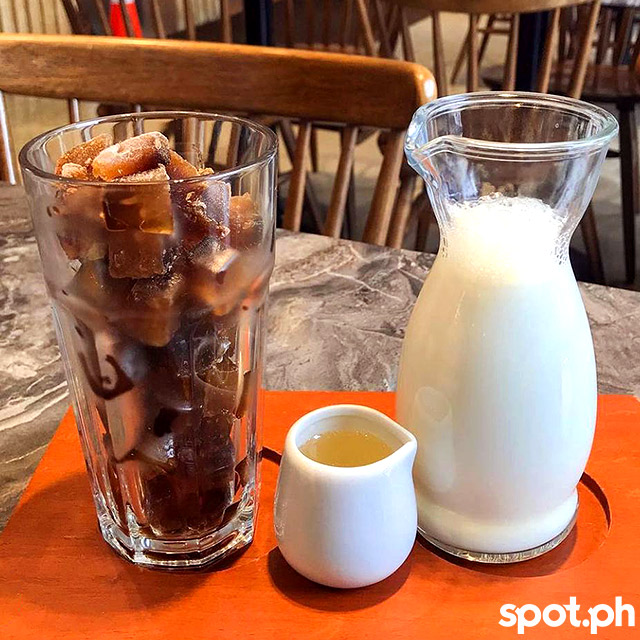 Kori Kohi—made up of black coffee frozen into ice cubes with warm milk poured over top—has been on the UCC menu for a long time, but I think it was only recently that the café began offering it with an oat milk substitute. You'd think it wouldn't do much except save lactose-intolerant folks like me from having to drink cow's milk, but hear me when I say: The oat milk makes all the difference. It's as creamy as can be and has a nutty, toasty flavor that perfectly complements the brew. Plus, if you can't handle cow's milk like me, your sensitive stomach will thank you. The oat milk substitute costs an extra P40 and I would get it every time.
ADVERTISEMENT - CONTINUE READING BELOW
Check out UCC Coffee Shops Philippines' Facebook page.
Almond + Coconut Creamer in Cinnamon Swirl by Nut Pods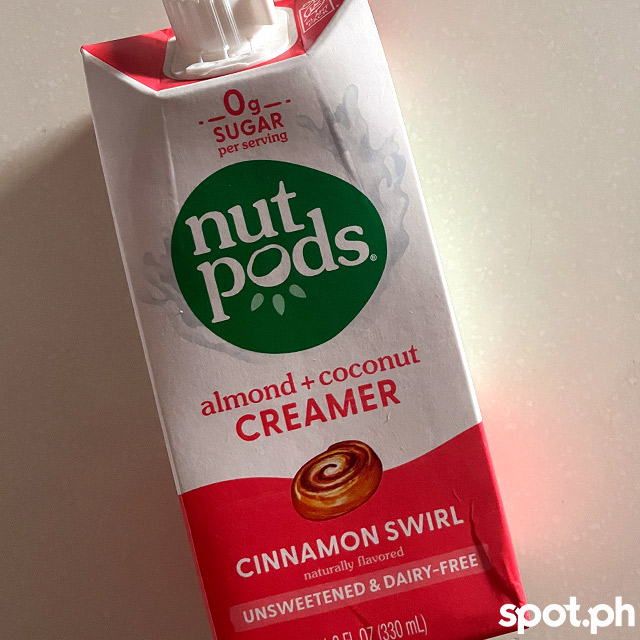 Nut Pods Creamer is technically neither a food nor a drink, but hear me out: This seriously changed my homemade coffee game. I've been brewing my own coffee at home for years, so I'm pretty satisfied with the process. Normally, I'll pour a non-dairy milk over top and call it a day, but discovering Nut Pods added extra flavor to my iced coffee while still letting me avoid both dairy and sugar. They offer a few flavors at Healthy Options stores, but I bought the Cinnamon Swirl version on Shopee and I'm obsessed. It adds a creaminess as well as a spiced, soul-soothing cinnamon flavor to the brew that I can't get enough of.
Mia, Associate Editor
Sourdough Courtesy of My Brother-in-Law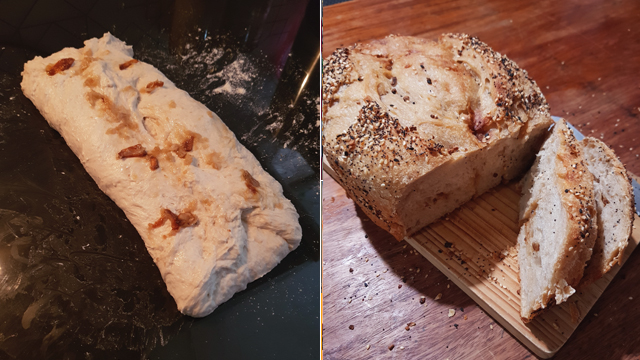 ADVERTISEMENT - CONTINUE READING BELOW
I know, I know, everybody and Erwan Heusaff took to baking sourdough over the pandemic. It's so 2020 at this point—but as they say, things can only get better with time, really, and my bro-in-law's baking skills are a testament to that. I'm not going to talk about where we started, in terms of being his taste-testing guinea pigs, but let's just say my tastebuds and I are really glad he stuck with it! We had a quiet November night dinner recently where Kuya Elmer went all in cooking a sourdough loaf infused with roasted garlic and lovingly rubbed with a seasoning of seeds and herbs meant for bagels. When I say he finally got that perfect balance between a crunchy, nutty crust and fluffy, chewy bread with that hint of tartness—plus surprise chunks of aromatic, mellow roasted garlic—I really truly mean it. Take it as a sign to keep pushing with whatever sanity saver you've found over the pandemic!
Coffito from Stride Coffee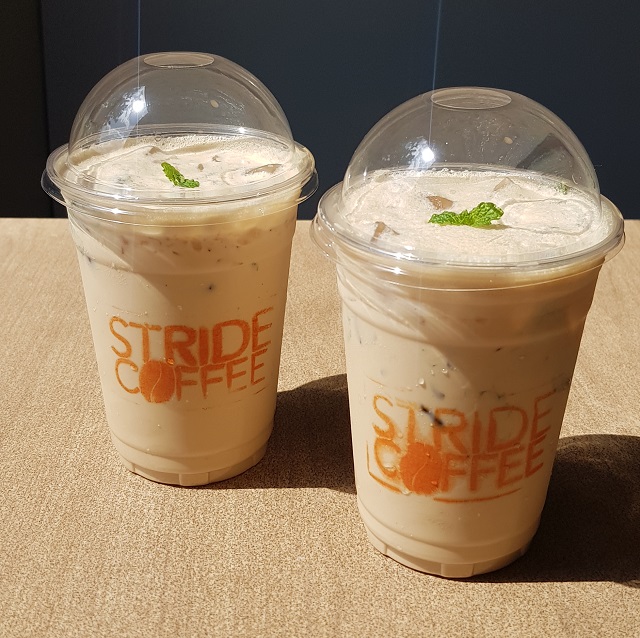 ADVERTISEMENT - CONTINUE READING BELOW
Somewhere along a quiet road in Bocaue, Bulacan is Stride Coffee, a bright and cozy café bikers like to frequent. (Disclaimer: I'm no biker. I drove there one weekend). And it is in this homey space that a pretty unique cup of coffee is made: the Stride Coffito. Yup, as in a mojito and coffee hybrid—minus the alcohol. This rich and cold cuppa blends together an excellent brew with cream, then cuts the lux texture with a bright hint of mint. This is definitely not your usual cup of your joe.
Stride Coffee is at Lot 17, Igulot Road, Turo, Bocaue, Bulacan. You can also check out their Facebook page.
Trish, Staff Writer for Eat + Drink
Bibingkang Abnoy from Bibingkang Abnoy Ni Kuya Sa Pateros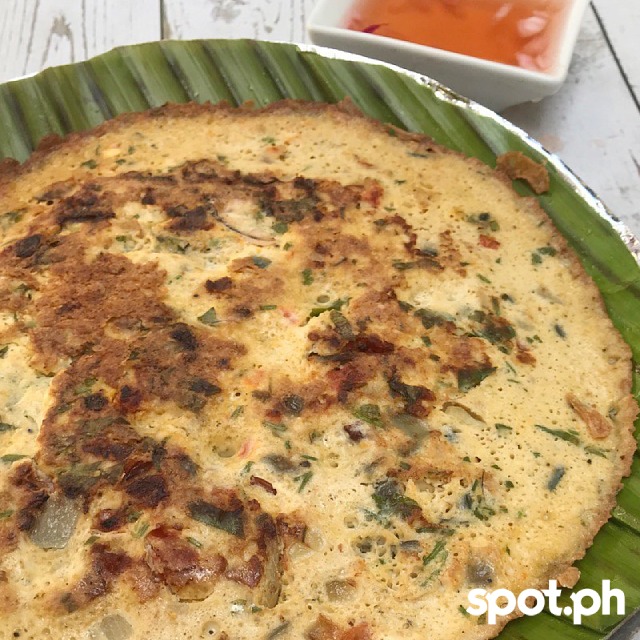 I have a thing for stinky food—blue cheese, bagoong, you name it—and I've long heard about the local delicacy known as bibingkang abnoy, made with abnoy eggs a.k.a. unfertilized rotten duck eggs (!). I always thought of it as one of those uber-rare gems that you'd be hard-pressed to be able to order from Manila—that is, until I stumbled upon small seller Bibingkang Abnoy Ni Kuya Sa Pateros, who specializes in their namesake dish! This ain't your ordinary bibingka; I'd compare it to a Filipino-esque fritatta but with a welcome hint of pungency from the abnoy eggs balanced out with a touch earthiness from what seems to be scallions and/or leeks. It's served with a spicy seasoned vinegar, which is just the thing to even out the bibingka's deeply savory, umami punch.
ADVERTISEMENT - CONTINUE READING BELOW
Check out Bibingkang Abnoy Ni Kuya Sa Pateros' Facebook page.
Shabu Shabu from Wagyu Studio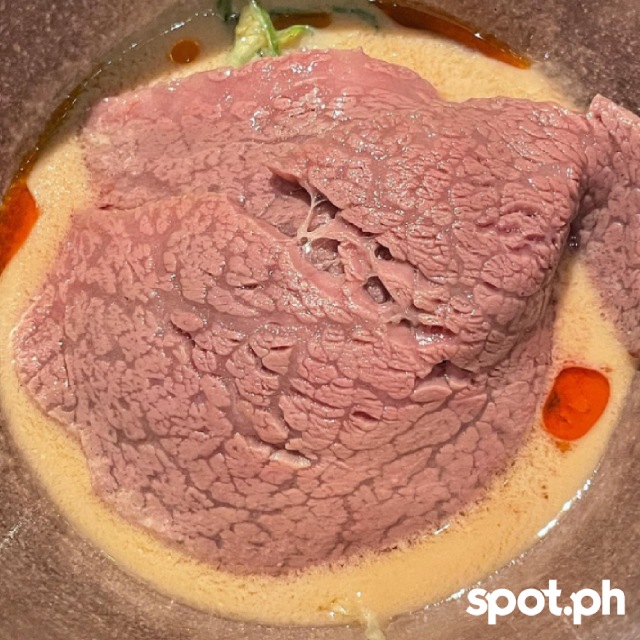 I had the pleasure of attending the recently held Arigatou Dinner at Wagyu Studio in celebration of their first anniversary. The event featured a whole slew of meat and seafood courses that were each topnotch in their own right, but it was the Shabu Shabu that really stood out in my book. Wagyu Studio used the chateaubriand cut of Wagyu beef here, and the relatively simple preparation in this dish really let the meat shine. It was so, so flavorful—think deeply beefy, and simultaneously full-on rich yet clean. And I'm not even exaggerating when I say it melted like butter on the tongue.
Wagyu Studio is at G/F The Finance Centre, 26th Street, Bonifacio Global City. You can also check out their Facebook page.
Licorice from Madge's Crumpets, Cookies, and Confections
ADVERTISEMENT - CONTINUE READING BELOW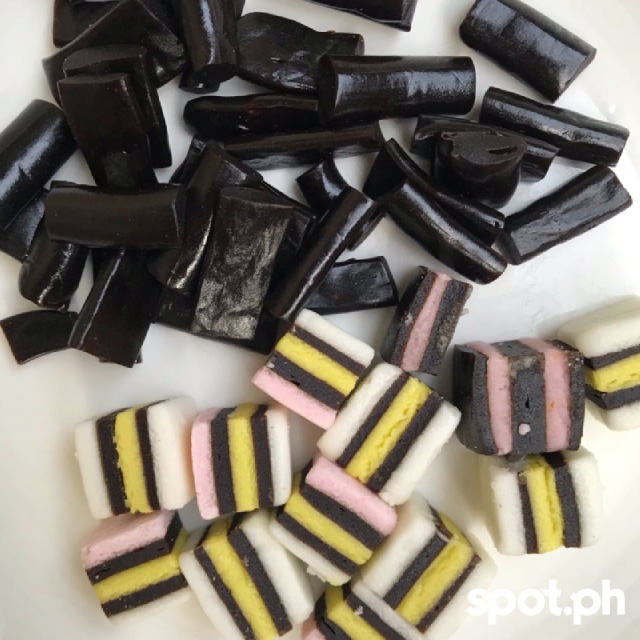 I fell in love with licorice when my dad and I stayed in Lübeck for 3 months in 2012. It can be hard to find here in the Philippines though, so I was super stoked when I found out Madge's Crumpets, Cookies, and Confections—best known for her crumpets and other Aussie treats—was making her own version, and from scratch at that! Owner Margaret Morgan makes both Soft Black and Allsorts variants—the former is your good ol' chewy licorice while the latter is layered with fondant—and both are excellent, with just the right amount of anise, balanced out with what I believe is a good amount of brown sugar or molasses for depth. Now if I could only convince her to make salted licorice (a.k.a. salmiakki).
Check out Madge's Crumpets, Cookies, and Confections' Facebook group page.
Buko Pie from Old Boy Bakery
ADVERTISEMENT - CONTINUE READING BELOW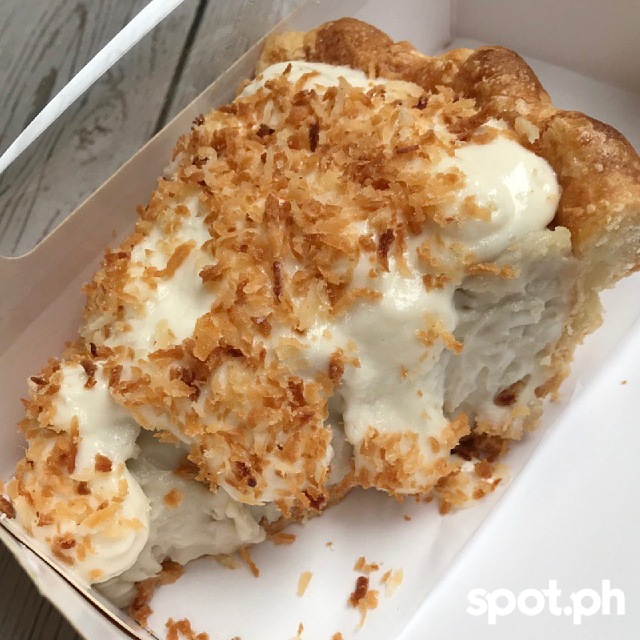 We've waxed poetic about Old Boy Bakery and their cookies, but that's not all owner Anton Miranda has got under his sleeves—far from it. If you follow him on Instagram you'll see that he also does a lot of pie experiments, and though they're not officially available for sale on a regular basis yet, Miranda surprised us regulars on his birthday last October by including complimentary slices of pie to cookie orders—and delivering it himself! I got to try his take on buko pie, and it was a real standout version of the Filipino dessert. Think of it as the lovechild of our own buko pie and Western coconut cream pie, with his use of succulent strips of young coconut—but also a silky coconut custard that's rich but not too sweet; a billowy layer of coconut whipped cream; and toasted butter coconut for a subtly-smoky depth of flavor. Even the crust—a proper pâte brisée—is well worth writing about, with its uber-buttery profile and flakiness. I also really admire how he makes it a point to explain the process of coming up with his recipes and sharing how certain ingredients, ratios, and/or methods lead to certain results! Right now Miranda only sells whole pies occasionally and in very limited quantities, so you'll want to keep tabs on Old Boy Bakery's socials for updates.
ADVERTISEMENT - CONTINUE READING BELOW
Check out Old Boy Bakery's Instagram page.
Sourdough Stollen from The Micro Baker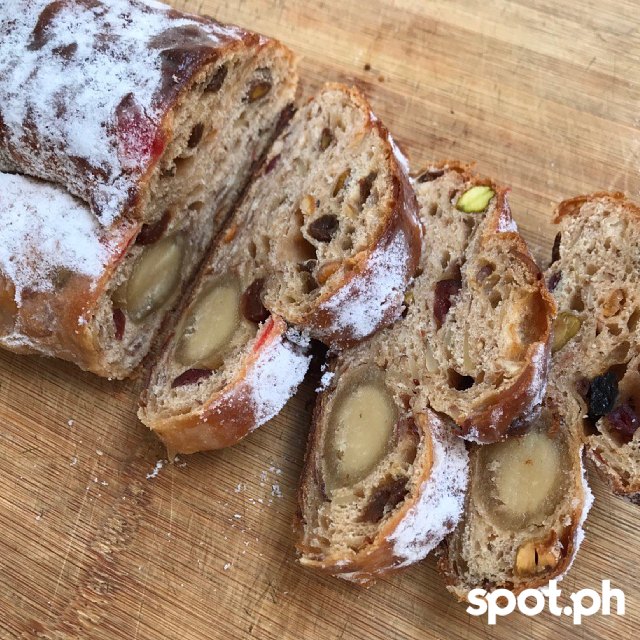 Stollen pretty much exemplifies Christmas for me and I always make it a point to try pretty much every version I come across—especially when it's of the freshly baked, made-from-scratch sort! The Micro Baker's take is one of my recent faves; it stands out from other versions with their use of a sourdough base, which lends it a subtly rustic, crusty-chewy feel—it's still rich, but the subtle tang from the sourdough balances things out. Each loaf is studded with dried fruits including dried cranberries, cherries, orange peel, and sultanas soaked in local rum for added depth of flavor. It's also stuffed with marzipan, a confection I'm rather particular about as Lübeck is known as the marzipan land, where I got to try good marzipan for the first time—and well, there are way too many bastardized versions of the almond confection around. The Micro Baker makes their own marzipan from scratch—and as a result it's got a real nutty, buttery note to it that doesn't taste too floral or feel clay-y the way many commercialized versions can. Needless to say I was blown away.
ADVERTISEMENT - CONTINUE READING BELOW
Check out The Micro Baker's Facebook page.
Kiko, Growth Lead
Hainanese Chicken from Spice Grounds Manila
I like my chicken fried, grilled, or roasted, so when my girlfriend recommended this Hainanese ensemble from Spice Grounds Manila, I was a bit hesitant at first but was pleasantly surprised at the first bite. Every bit of it reminds me of the sights, smells, and flavors of the streets of Singapore. The meat is well-seasoned and tender, and is complemented by equally flavorful rice and vegetables on the side. Pro tip: Spice Grounds comes out with a different menu every week so follow their Instagram page to catch their #SGWeek menu and this Hainanese goodness.
Check out Spice Grounds' Instagram page.
Spicy Gourmet Beef Tapa from Mamu's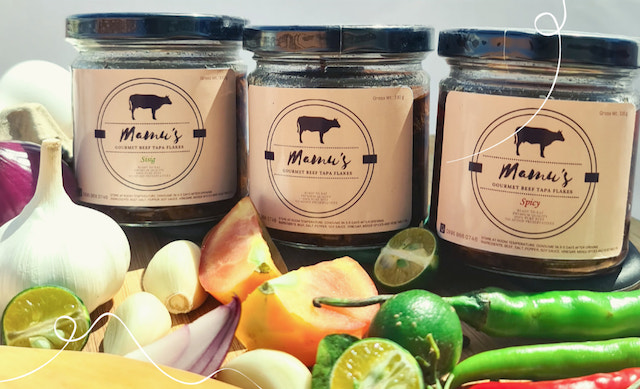 ADVERTISEMENT - CONTINUE READING BELOW
Probably one of the few good things that came out of this pandemic is the abundance (read: sensory overload) of really good homemade food. Exhibit A: this homemade gourmet beef tapa bottled to perfection by one of our friends at work. It comes in a small bottle but packs so much flavor. This is the kind of stuff you have when you're too busy to plan your meals for the day—pop it in the microwave or heat it in a pan and you're good to go. It comes in three variants: sisig, spicy, and classic, but the spicy one is my favorite. Meat is tender, not too salty, and with just the right kick. Pair it with hot rice for a total comfort food experience.
Check out Mamu's Facebook page.
Blackened Chicken Paella from Calle Nakpil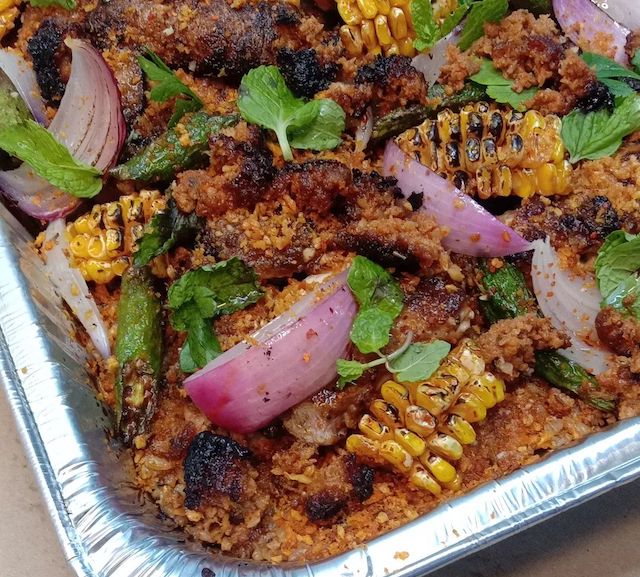 I discovered this gem when we ordered a platter in January for our New Year's day dinner, and boy was it the perfect way to welcome 2021. It's the kind of dish that makes you forget you even attempted to "eat less this year". Sure. Paella, especially the busy kind, is a personal favorite, and this Blackened Chicken Paella from Calle Nakpil is just the right kind of busy—packed with homemade Lucban sausage, fried okra, grilled corn, migas, and the highlight of the dish: the Cajun-spiced southern style chicken. I'd save the grilled corn for later though, it's so good (and seasoned to perfection) that it's the best way to take your last bite of this dish.
ADVERTISEMENT - CONTINUE READING BELOW
Check out Calle Nakpil by Julio's Catering's Facebook page.
Janelle, Content Creator
Mabini Pares from Café Mabini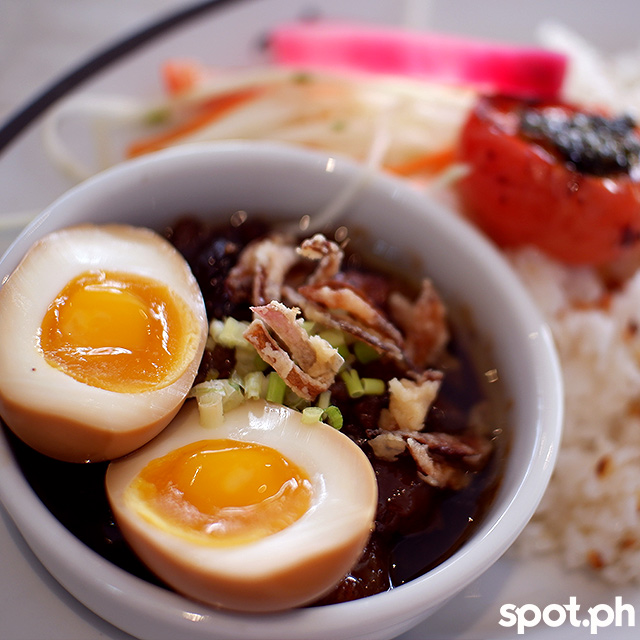 Café Mabini's Pares is something I've recently tried that left an impression on me. I don't order pares as often as I should, but I've always been a fan of beef tendon. When I saw photos of the dish from their Instagram page, I knew I just had to try and it did not disappoint! There's no other word to describe the dish but rich. The slow-cooked beef belly and tendon stew comes with sinangag, a side salad, roasted tomatoes with pesto, beef broth, and a perfectly cooked adobo egg with its yolk still slightly runny.
Café Mabini is at 863 A. Mabini Street, San Juan City. You can also check out their Facebook page.
Crispy Pork Red Curry from Lime and Basil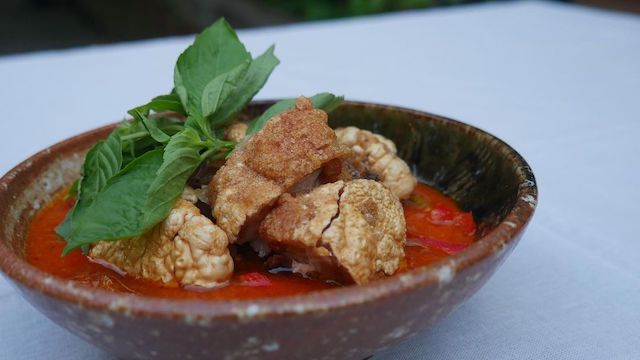 ADVERTISEMENT - CONTINUE READING BELOW
I've been eating at Lime and Basil whenever we go up to Tagaytay for years now but it was only this year when I discovered their Crispy Pork Red Curry. I love Thai food and will eat any kind of curry but when I tried this, it blew my mind! Think lechon kawali in curry sauce. It was so good it has now become a must-have for whenever I'm in Tagaytay.
Lime and Basil is at 9014 J. Rizal Street, Alfonso, Tagaytay. You can also check out their Facebook page.
Baked Oysters from Wantusawa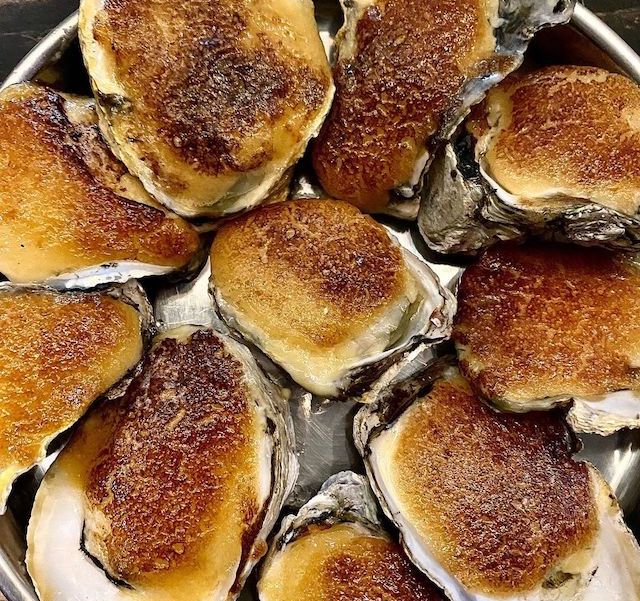 This is probably old news for most of you by now. I've always seen people eating in Wantusawa but since I'm not a fresh oyster fan, I never really bothered to try. Thankfully, my friend who lives in the same village sent me her leftover baked oysters from Wantusawa (hello, Nicole!) and I have fallen in love since then. It was so good that I had to order it again for my birthday celebration at home.
ADVERTISEMENT - CONTINUE READING BELOW
Wantusawa has branches at Powerplant Mall, Rockwell, Makati City and . You can also check out their Facebook page.
Fried Chicken Skin and Fried Rice Sausage from Taiwan Kitchen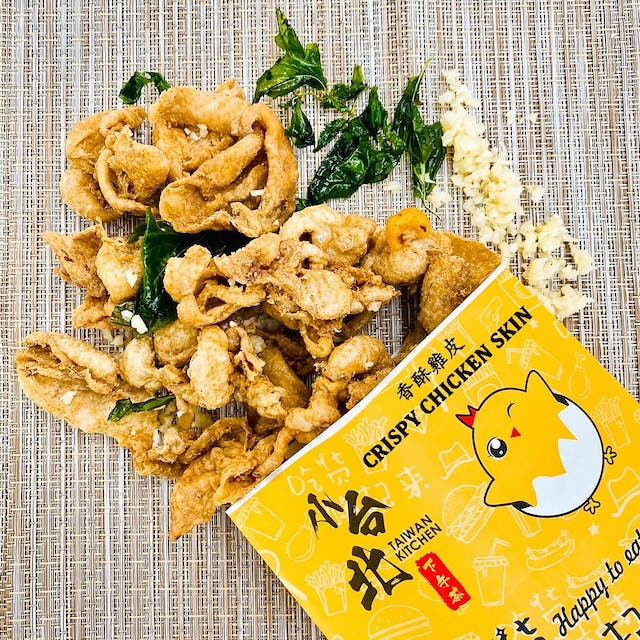 This is my ultimate go-to midnight snack when I would OT and feel hungry. The chicken skin is perfectly fried and seasoned with salt, pepper, fried basil leaves, and raw garlic. Yes, believe me, the raw garlic makes a huge difference. I usually eat this with their fried rice sausage, which are sticky rice in a sausage casing that's fried and coated in a sweet and salty sauce. What you get is a chewy and slightly crispy savory rice snack similar to the texture of suman but better.
Taiwan Kitchen is at Arkipelago Food Park, 7481 Bagtikan Street, San Antonio, Makati City. You can also check out their Facebook page.
Homemade Banh Trang Nuong
I love cooking and I enjoy trying other cuisines. I'd like to believe I'm adventurous enough to try weird things too—like a pickle-mayo-peanut butter sandwich, but that's another story. I saw this dish on YouTube from Beryl Shereshewsky's channel and I've been making them ever since. It's a rice paper pancake similar to China's Jian Bing but the origins of this dish is Vietnamese. Banh Trang Nuong is a popular street snack in Vietnam; think of it as their own kind of pizza because of the many different toppings you can add and sandwich in between two rice papers. You start with heating the rice paper in a flat pan with some oil. The edges will become crispy and the middle part will soften as you add your egg. I also add Quickmelt cheese, chili garlic, crispy onions, and canned tuna. What made me obsess over this dish is the texture of the rice paper that's both crispy and chewy at the same time. Definitely worth a try!
ADVERTISEMENT - CONTINUE READING BELOW
Hey, Spotters! Check us out on Viber to join our Community and subscribe to our Chatbot.
We are now on Quento! Download the app and enjoy more articles and videos from SPOT.ph and other Summit Media websites.
Your guide to thriving in
this
strange new world.
Share this story with your friends!
---
Help us make Spot.ph better!
Take the short survey
Load More Stories