Odette and the Cebu Food Scene: Taking Stock Months After Tragedy
How a storm affected an already struggling landscape.

(SPOT.ph) With everything going on—and everything that's going to happen (hello, May 2022 presidential elections)—it's easy for the news cycle to forget the devastation caused by super typhoon Odette. It's already been two months, but Cebu can still feel its effects. To put things into context, it's taken 65 days for some barangays in the city to have their internet connection restored while other parts of the Metro still do not have a working landline or cable TV connection, both of which usually tie in with internet packages. Electricity and running water have been restored in most places, but even that took time. 
One sector that's been on shaky ground since the start of the pandemic is of course the food and dining industry. And when the power went out on December 16, 2021, so did what little left they had in terms of opportunities.
ADVERTISEMENT - CONTINUE READING BELOW
After the Storm
For smaller businesses, the blow was felt even harder. Candice Vanessa Medina and Jecica Kato, co-owners of Sourdough Cebu Co. shared, "Outside our home bakery, there were at least three [electrical and telephone] posts that fell along the road—with some trees, leaves, and metal roofing. The debris made transportation impossible. Electricity was cut off; water was scarce; and signal was nowhere to be found. No one could estimate how long the situation would stay this way."
To make matters worse, there was no way to get in touch with anyone. Most people could not even send a text message. Mobile data and Internet connection were out of the question. There was no way to coordinate logistics for pick-ups and deliveries. 
CONTINUE READING BELOW
Recommended Videos
Baked Cravings canceled orders, even those scheduled days after the storm. Cakes by Mae gave away entire cakes for free on Instagram Stories just so its inventory wouldn't go to waste. Even then, not everyone could reply to secure a slot, so she waited at a set time and place—unimaginable for our always-on times. 
Medina and Kato explained further to shed light on what they and fellow bakers went through, "Our small business is highly reliant on electricity to power a ton of kitchen equipment—specifically the oven, the mixer, and the refrigerator. Before the typhoon, we made sure to prepare our ingredients and production manpower for the rise of orders for the holiday season. Little did we know, most of the hard work would be thrown away since the refrigerator didn't have any power, causing the unavoidable spoilage of production."
As of writing, Sourdough Cebu Co. has not yet resumed operations for this very reason—the lack of power. It has been teasing on its social media accounts about a possible return in February 2022. 
When cell service was usable for SMS, other businesses poured whatever resources they had to continue operating for as long as they could. K.T. Cakes Unlimited ran on a generator until the diesel shortage forced it to temporarily close. 
Keeping Things Moving
But even established brands weren't free from the double whammy that was Odette plus the January 2022 Omicron surge's Alert Level Three. Dim sum institution and restaurant group Harbour City Group had already noticed a dip in the sales of mall branches during previous lockdowns. And the typhoon only exacerbated things.
ADVERTISEMENT - CONTINUE READING BELOW
A representative of theirs revealed, "Typhoon Odette could not have come at a worse time. The delta wave that hit Cebu from August to September depressed sales to the lowest levels since the start of the pandemic. We saw a slight recovery in October and in November, we saw the early signs of pent up demand being released.  We were looking forward to a good December for a badly needed shot in the arm to end the year and make up for previous months' losses."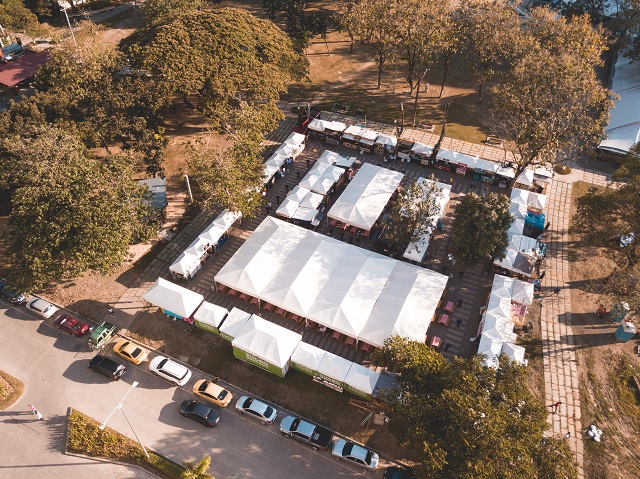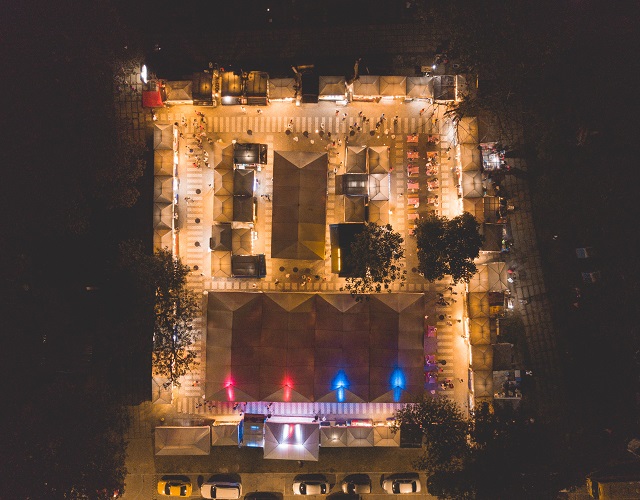 ADVERTISEMENT - CONTINUE READING BELOW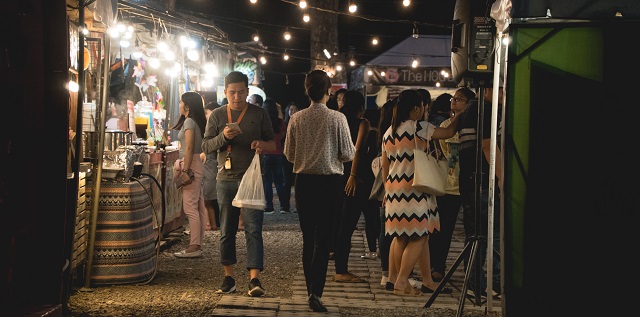 Food-park chain Sugbo Mercado even went viral on Facebook as the picture of post-Odette destruction in the heart of the city. Think of its location, IT Park, like Technohub or BGC—definitely not a place you'd expect to be ravaged by the storm. These pictures were taken and posted as things were getting really intense, around the peak of the storm. Mobile data was mostly serviceable at this time, so some citydwellers could still check social media for updates. These images have been burned into our cultural memory the same way we know February 2022 was the 10th year anniversary of the Chona Mae incident.
ADVERTISEMENT - CONTINUE READING BELOW
"As you may have seen in viral photos and videos, our flagship site in IT Park was obliterated. Our CBP [Cebu Business Park] location suffered the same fate while Streetfood by Sugbo sustained a lot of roofing and water damage to the permanent structures with the light materials-booths taking a beating," says co-founder and marketing and communication head Michael Karlo Lim
"Comms were down for a few days right after the storm but rebuilding began immediately after all staff was accounted for and safe. We're grateful for their loyalty and dedication as they worked tirelessly and even through the bleak holiday season to speed up recovery. Some even resorted to staying onsite to better deal with transportation issues. We were able to salvage about 50% of repairable tent parts but refurbishing made it seem like we were starting from scratch. Lack of power required very manual labor which caused delays. It took a good two weeks to clear the site, gravel the entire area, and another two weeks to set everything back up with the vendor's booths. Reenergization was also challenging with the power connections pushed right up to the opening date, even."
"Things will never be like what they used to be until this pandemic is over but we have somehow adapted to this new 'normal.' Things were on the upswing from the lockdowns but Odette brought us back to square one. That we had to rebuild most of our sites from the ground up is even more like point zero. We can only keep moving forward. People will eat and we will continue putting out what they want to eat," Lim continued.
ADVERTISEMENT - CONTINUE READING BELOW
The Harbor Group shared a similar sentiment. "After almost two years of relying on telecommunication and the Internet for coordination, we found ourselves reverting back to physical, face-to-face interaction and communication as we worked feverishly to recover, reopen, and sustain the fragile support system we had running our production facility and stores. We could only open stores that had sufficient manpower, and those that had stable power and water supply. We also had to focus on offering our core menu items.
"Just after recovery from the typhoon was in sight, we were hit again with the Omicron wave. We are still very much in the thick of it, and we hope this variant's effects will be short lived so we can continue focusing on the bigger picture of recovering from the pandemic.
"Today, all but one of our stores have reopened [because] electricity is not an issue anymore. What remains an issue is telecommunication coverage and internet connectivity which we need for our processes and even for communication with third party delivery partners.
Allen Andre Suarez, owner of Brick Lane Doughnuts, agreed, "When there are very few cases, we notice an increase in dine-ins and sales. However, when there are surges, sales also suffer."
What Happens Next
Early on in the pandemic, each of these employers had to find ways to sustain its workforce. The Harbour Group gave their staff their thirteenth month pay early as they temporarily closed all branches, while Sugbo Mercado "proactively shut down operations even before the mandated lockdowns of 2020," said Lim. "We continued providing relief and support to our staff throughout the non-operating period."
ADVERTISEMENT - CONTINUE READING BELOW
"Other than being reliable to my customers, I wanted to be reliable to my staff also—making sure that they have enough to get them through the difficult times. That is why I pushed to open operations, even at breakeven, to ensure that my staff is able to work and feed their families," said Suarez.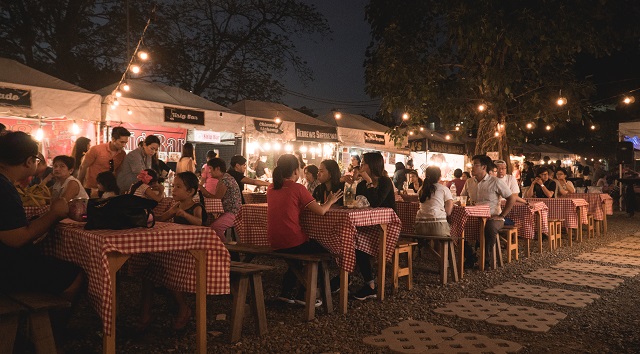 When asked what we as consumers can do to help, no one could point to a single answer. Of course the easiest one would be to support these businesses by buying from them. But we also know that it might not always be as straightforward. Many factors contribute to our dining habits, and something that used to seem as trivial as an internet connection is now a real setback. This understanding however does go both ways. The difficulties we encounter could also go for the delivery riders and the restaurant staff. 
ADVERTISEMENT - CONTINUE READING BELOW
From experience, sharing a post on social media could help spark interest in a restaurant. You might not be the one ordering, but one of your friends might after seeing your post. There's no neat way to wrap up a story we're still in the middle of. But Medina and Kato summed it up when they said, "It's been overwhelming, going through this challenge but our customers give us hope and motivation to get back to baking."
We are now on Quento! Download the app and enjoy more articles and videos from SPOT.ph and other Summit Media websites.
Share this story with your friends!
---
Help us make Spot.ph better!
Take the short survey
Load More Stories