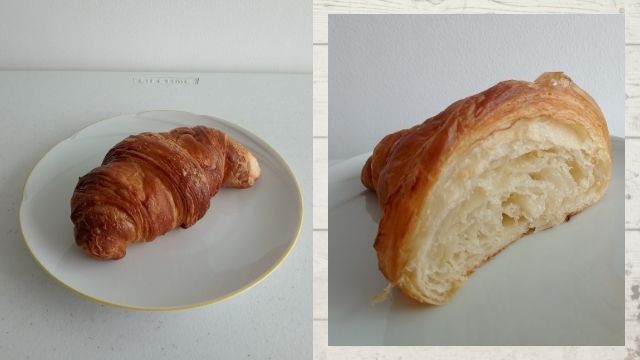 (SPOT.ph) Now that we're romanticizing our lives to momentarily stave off our existential dread, the croissant is the perfect prop to fuel our escapist fantasies. The buttery pastry conjures images of being an extra in a rosy sitcom where nothing bad ever happens in Paris—even if anyone who's actually been to the Eiffel Tower or the Paris Metro will say otherwise.
Because every Peso counts, even in our fantasies, we try out which of these croissants are actually worth it. To really focus on what makes this classic pastry so good—the crisp, flaky exterior; the soft, honeycomb interior; and rich, buttery smell—we only tested plain croissants so we wouldn't get distracted by any of the bells and whistles they've added. All of these establishments claim to bake their breads fresh every day, so you ideally don't have to worry about receiving a stale one.
ADVERTISEMENT - CONTINUE READING BELOW
Which of these Cebu cafes sell the best croissant in Cebu?
Cafe Des Amis (P80)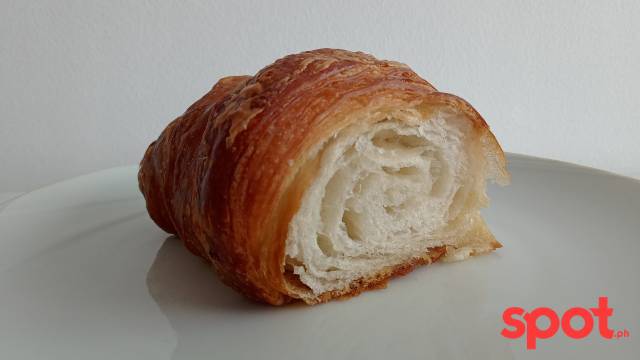 Looking at it, we didn't have high hopes for this one. It was a bit misshapen in a funny way. It wasn't even symmetrical, so much so that it was reminiscent of the preservative-laden, foil-packed kind you get at the supermarket, not from a bakery. The only thing it had going on was its distinct outer layers. Touching it didn't help either; it was a bit greasy. Not enough to put anyone off, but enough for us to take notice.
Taking a bite, however, was an entirely different story. It had good flavor—but not so strong that it jumped at us. So bite after bite, we were left to wonder what made it so good until we realized it's that caramelized flavor akin to brown butter. And its interior was soft enough that we just wanted to keep going, while the exterior provided some contrast by providing a bit more resistance. It was mildly sweet, too—just enough so it enhanced that buttery flavor and made it fun enough to eat on its own.
ADVERTISEMENT - CONTINUE READING BELOW
Recommended Videos
Heating it up made it lose some of its softness. The whole thing didn't yield as easily anymore, but it smelled so good while in the oven! We could even taste the nuances of the sweetness and the caramel notes when it was warm—and even detect the presence of salt. This really helped balance out the mild sweetness to give the pastry much versatility. You could eat it on its own, have it as a sweet treat, or as part of a savory sandwich.
Verdict: Cafe Des Amis is clearly the underdog among Cebu's plain croissants as long as you can get past its looks.
Mon Dough (P110)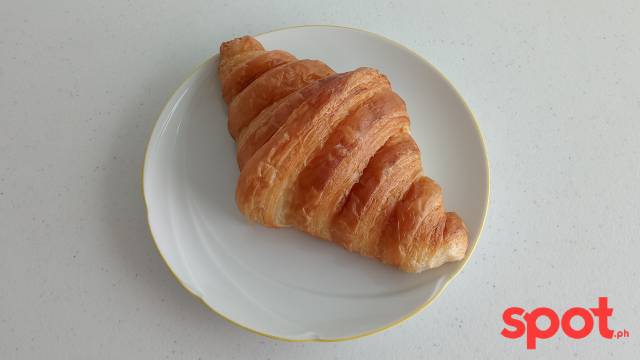 It's worth noting that the flavor of the pastry of Mon Dough's cremadettes isn't exactly the same as its croissants. The classic croissant had a very mild butter flavor and a very soft, squishy texture. That said, Mon Dough had the largest and softest pastry of the bunch. It was also oiliest to the touch, but perhaps that's because its plastic takeout container couldn't absorb any oil. The squishiness may have made it quite difficult to slice for the photo but it also made it so enjoyable to eat. Each bite was pillowy soft! We can't not mention how amusing it was to see the pastry puff back into shape every time. It also had a custard note to it.
ADVERTISEMENT - CONTINUE READING BELOW
When warmed, the first thing that hit us was the aroma. Even before we dug in—just as we brought it closer to take a bite—the enticing smell greeted us. That, and the texture. It was still soft, but it would now tear apart as we bit into it. We're not entirely sure if this is a good thing for a croissant (seems more like brioche territory, but both still fall under the viennoiserie category anyway), but it was a very pleasant experience.
5G Cafe (P110)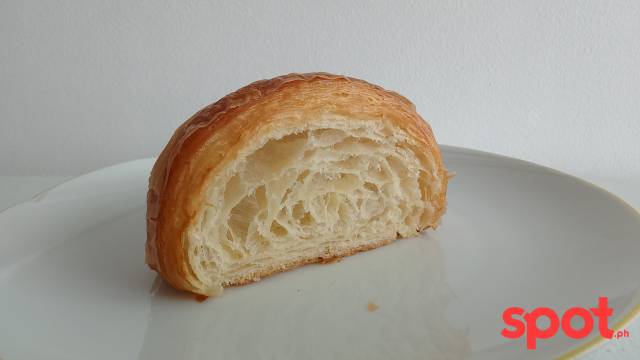 It's hard not to expect a lot from 5G. There has just been so much hype surrounding its croissants. And with the way it looks—that honeycomb interior is the best of this group—we understand why. It was also the cutest of the bunch—lighter in color in comparison to the others (but not blonde!) and the smallest. This classic croissant had a neutral taste, kind of like regular bread. We couldn't really point to any identifiable flavor here, but it was mildly sweet. Perhaps this one is more suited as a blank canvas to other flavors—say, an almond croissant, pain au chocolat, or even a croissant sandwich.
ADVERTISEMENT - CONTINUE READING BELOW
Reheating it greatly improved the croissant. It brought out its sweetness and a mild butter flavor. We still would've liked for that flavor to be more pronounced, but it was good enough that we finished it right away.
Abaca Baking Co. (P110)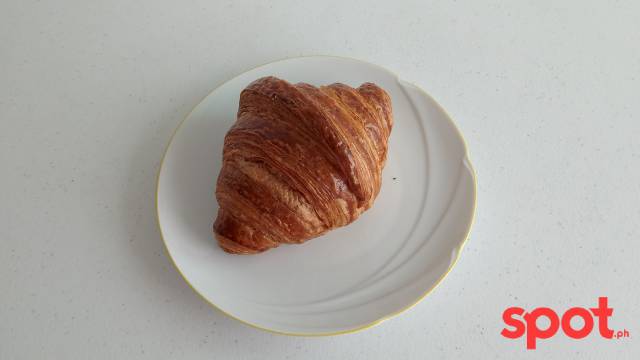 We had high hopes for this one. It was light, tall, and non-greasy to the touch. The layers looked distinct and the pastry had a deep caramel color. It was very satisfying to hold because of how solid it felt in our hand—like it wouldn't get crushed. It would, instead, just flake away. But biting into it didn't match that level of expectation. Despite the clear honeycomb structure, there wasn't that contrast in texture that we were looking forward to. Every bite felt uniform, and by which point, the non-greasiness turned into dryness. There was also this savory, umami flavor we couldn't place. Maybe it was cheese but our mind went to dashi, or even katsuobushi.
ADVERTISEMENT - CONTINUE READING BELOW
Heating it in the oven surprisingly made it less dry, like it somehow re-melted all the fat sitting in the pastry. It was hands down the flakiest of the bunch. But the savory note was pretty hard to ignore. Taste-wise, it was a tad saltier compared to the others on this list, which seemed consistent with the savory note they were going for.
The Croissant Champ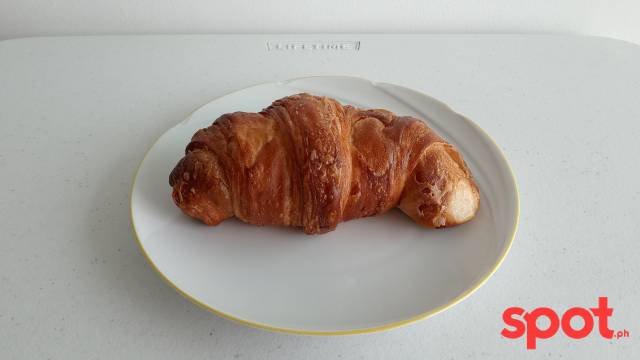 Cafe Des Amis won this smackdown. What it lacked visually—and let's be real here. It completely missed the mark in that department. It only had five folds instead of the standard seven. It didn't even have that airy honeycomb structure—it made up for in flavor and eating experience. Its butter flavor was the most prominent among the competition, and the caramel notes greatly enhanced this, giving it a brown butter feel. It was also the only one that had a clear difference in texture between the exterior and interior layers when we tasted the pastry without reheating it. All that, plus the price—cheaper by P30—made a case for itself.
ADVERTISEMENT - CONTINUE READING BELOW
We are now on Quento! Download the app and enjoy more articles and videos from SPOT.ph and other Summit Media websites.
Share this story with your friends!
---
Help us make Spot.ph better!
Take the short survey
Load More Stories