So, Snickers "Veins" Are a Thing and the Brand Assures Us They're Here to Stay
On candy-bar surfaces, "cancel culture," and the hellhole that is the Internet.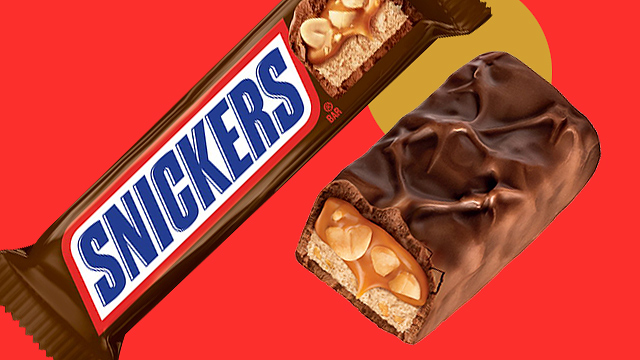 (SPOT.ph) Ah, Snickers. The American candy bar is loved by many—even here in the Philippines—with how it pairs chocolate, caramel, nougat, and peanuts into a nutty, creamy, chewy treat that's easy to have on the go. Sounds simple enough, yeah? Except it's been the talk of the (Twitter) town in the past days for one particular feature of the bar that you may or may not have ever noticed, but may not ever unsee. Here's what went down.
ADVERTISEMENT - CONTINUE READING BELOW
Also read: Hold Your "Simpleng Handaan," the Bakery Selling "Rice Cakes" Is Flooded With Orders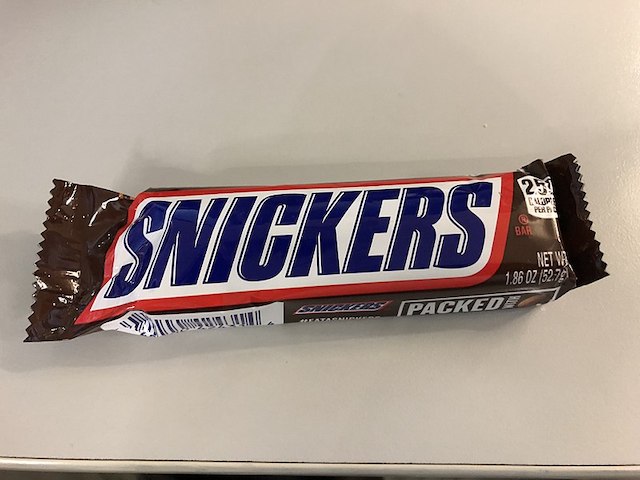 Here's why Snickers has been all over the Internet in the recent days:
So, you know how when you take out a Snickers bar from its packet it has those uneven wavy lines of chocolate on its surface? As far back as 2009 (and possibly earlier), some folks decided—for better or worse—to call those "veins," even comparing them to the veins on certain parts of the body, particularly the male body if you get our drift. Cue "cannot unsee" memes, apocalypse music, and cries of whyyyy.
ADVERTISEMENT - CONTINUE READING BELOW
Fast-forward to April 17th: Twitter user @JUNIPER posts a photo of what seems to be a screenshot of an online article of Snickers supposedly getting rid of the said vein. "Woke mobs have been begging for decades and finally cancel culture prevails," reads the blurb.
ADVERTISEMENT - CONTINUE READING BELOW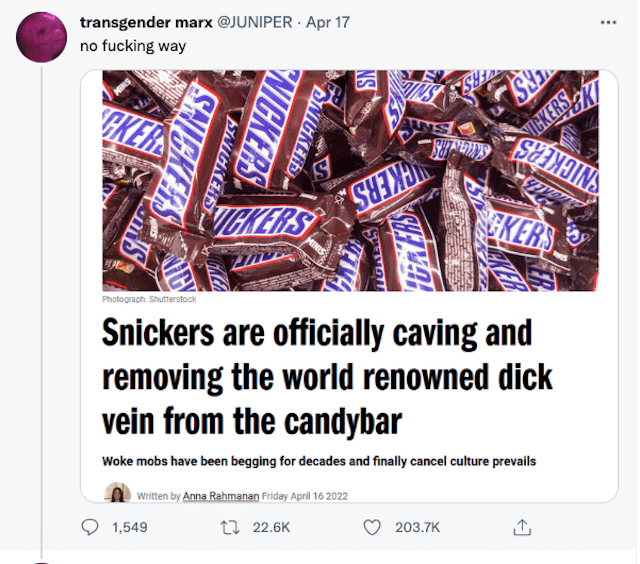 This is followed by replies also from the same original poster, first lamenting how society is "losing so much culture to cancel culture"—and even a picture of a completely smooth Snickers bar, sans the vein. This being the Internet, the thread goes viral—as of writing the original tweet above has been retweeted roughly 17,000 times; quoted more than 5,000 times; and given more than 200,000 likes.
ADVERTISEMENT - CONTINUE READING BELOW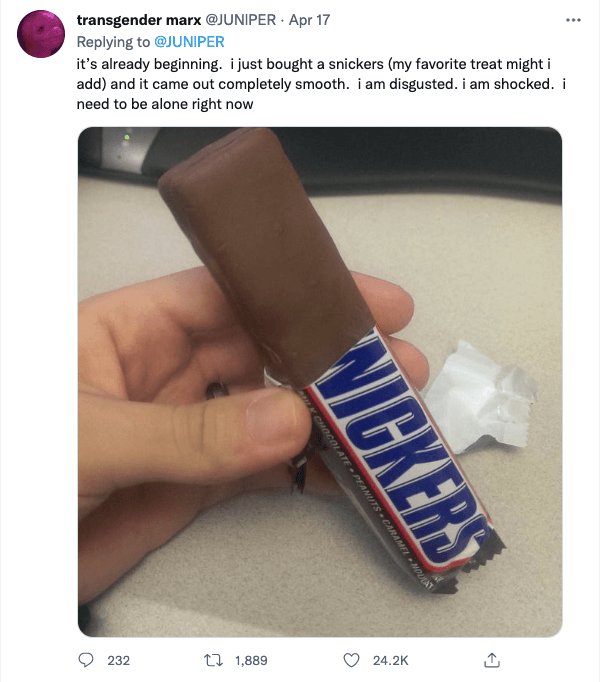 ADVERTISEMENT - CONTINUE READING BELOW
Except the article in the screenshot doesn't exist, the "veinless" Snickers photo came from an old unrelated Reddit post, and the tweets are satirical in nature—as confirmed by @JUNIPER (whose display name happens to be 'transgender marx') herself.
"My intention with the posts is to mock those right-wingers and point out how stupid this [panic over] woke mobs is [and] how stupid these cancel culture freakouts are," she relays in the Don't Let This Flop podcast of Rolling Stone. @JUNIPER's inspiration? The recent buzz about M&M's changing the shoes on their Green M&M's character from the more stereotypically "feminine" thigh-high boots to plain, less-gendered sneakers, in line with today's "more dynamic, progressive world" as per the brand's press release.
Though some indeed took the Snickers fake article screenshot as real news that confirmed their fears about the repercussions of "cancel culture"—or what they think is cancel culture, anyway—other parts of the meme-embracing Twitter crowd seem to have gotten the joke, with some even playing along with equally cheeky replies. (At least we hope these are meant to be tongue-in-cheek.)
ADVERTISEMENT - CONTINUE READING BELOW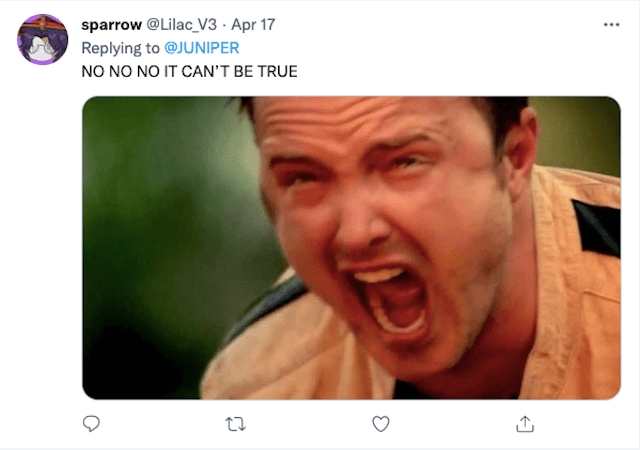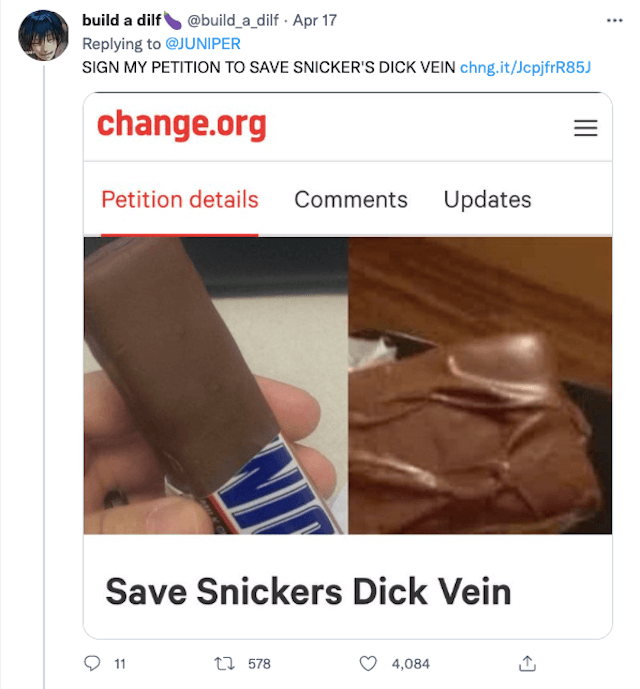 ADVERTISEMENT - CONTINUE READING BELOW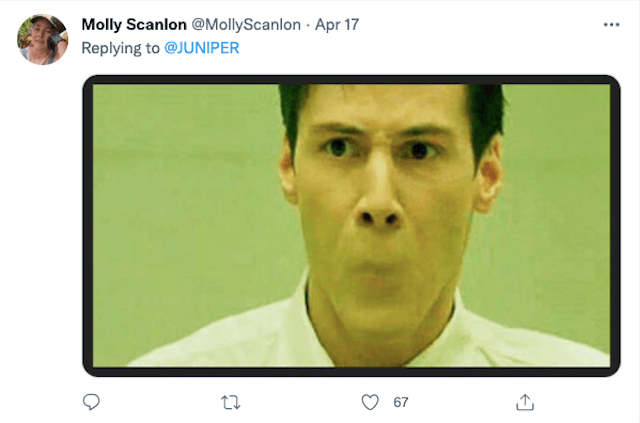 ADVERTISEMENT - CONTINUE READING BELOW
Amusingly, the (ironic or non-ironic) call for retaining the vein points to how much of that small detail matters—for which there may be some perception science involved. In an article on The Takeout, a scientist who requests to be kept anonymous explains the sense of "cognitive dissonance" created by the photo of the smooth bar—we eat with our eyes after all, and have set expectations in our minds when it comes to specific foods and brands we're uber-familiar with. There's also the impact of the vein's texture on the way we perceive flavor; yup, the combo of crunch, chewiness, and richness characteristic of Snickers is part and parcel of the experience, apart from the tastes itself of chocolate, caramel, and peanut melding together.
As for the conclusion—which may be happy, meh, or just plain LOL-inducing depending on how you view it—the Snickers folks themselves stepped in with a tweet of reassurance, if you will, on their own Twitter page. "Good news, contrary to what's trending on Twitter... THE VEINS REMAIN!," they write, attaching a photo of a clearly veined bar.
ADVERTISEMENT - CONTINUE READING BELOW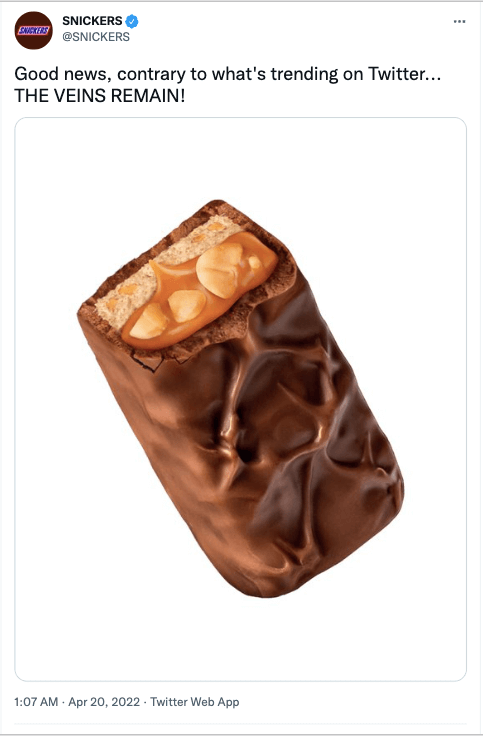 We don't know how to feel, but we're definitely filing this whole vein debacle under "stuff we never thought to think about—but probably will never take for granted from this day on."
Hey, Spotters! Check us out on Viber to join our Community and subscribe to our Chatbot.
ADVERTISEMENT - CONTINUE READING BELOW
CONTINUE READING BELOW
Recommended Videos
We are now on Quento! Download the app and enjoy more articles and videos from SPOT.ph and other Summit Media websites.
Share this story with your friends!
---
Help us make Spot.ph better!
Take the short survey
Load More Stories