MOVIE REVIEW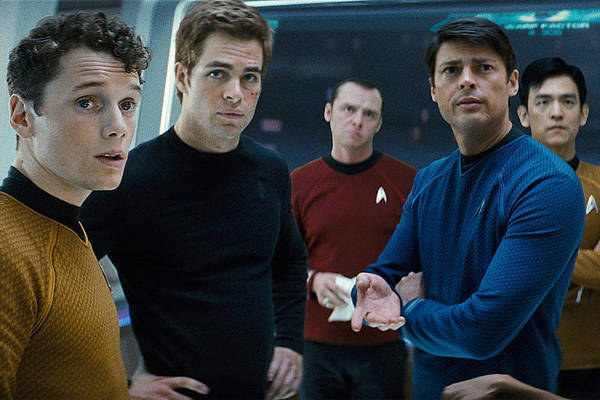 As it is with any movie that immediately plunges you right into the middle of the action, Star Trek: The Future Begins is slightly disorienting in its first few minutes. The Romulans, an alien species that shares its ancestry with the more peaceful Vulcans, have demanded a meeting with the captain of Starfleet's USS Kelvin, causing him to leave his first officer, George Kirk, in charge. The situation inevitably deteriorates and Kirk is forced to order the evacuation of everyone on the ship, including his wife, who is in labor.
Australian actor Chris Hemsworth does a lot with his few minutes onscreen as Capt. George Kirk–you feel his anguish as he realizes that his death might come at the very moment of his child's birth. The baby, as you've probably guessed if you're a Trekkie, turns out to be James T. Kirk, who is destined to become captain of his own Starfleet ship, the USS Enterprise.
ADVERTISEMENT - CONTINUE READING BELOW
Chris Pine (The Princess Diaries 2, Just My Luck, Smokin' Aces) does a good job of portraying the reckless, womanizing James "Jim" Kirk, played in the original Star Trek series by William Shatner. But the person in the cast who is the most perfect fit for his role is Zachary Quinto (TV's Heroes), who plays the impeccably logical Vulcan, Spock. Quinto not only has a physical similarity to Leonard Nimoy, who originally played the role, he also has Spock's blank stoicism down pat.
The film briefly traces Jim Kirk's life, first as a rule-breaking boy and then as a talented but directionless young man who's reluctant to follow in his father's footsteps–until he meets Capt. Christopher Pike, who pushes him to enlist in Starfleet Academy. It is on his first flight to the academy that Kirk meets Dr. Leonard "Bones" McCoy, who would later become his chief medical officer, and it is as a cocky cadet that Kirk first encounters Spock, whose Kobayashi Maru test he passes by cheating.
CONTINUE READING BELOW
Recommended Videos
The animosity between Kirk and Spock comes to a head when Kirk, who's been snuck onto the newly launched Enterprise by McCoy, insists on going after the Romulan ship (with the almost unrecognizable Eric Bana as its tattoo-faced captain, Nero) that attacks the planet Vulcan–Spock exiles Kirk off the ship to a desolate, snowbound planet in the middle of nowhere.
The tense (sometimes amusingly so) relationship between Kirk and Spock, who actually shared a close friendship in the original series, plays a central role in the film. So does Spock's struggle with his identity–should he give in to his emotional half-human side, or stay true to his Vulcan nature, always indifferent and logical? But the other members of the crew provide plenty of funny moments, most notably the very enthusiastic navigator, Chekov (played endearingly by Anton Yelchin), the smart and hilarious goofball, Scotty (Simon Pegg), and the very straightforward McCoy (Karl Urban).
ADVERTISEMENT - CONTINUE READING BELOW
Director J.J. Abrams, who's known for such fast-paced, action-packed creations as Alias, Cloverfield, and LOST, shows his subtle touch in the camerawork: extreme close-ups in intense, one-on-one confrontations and jerky, restless movement during significant encounters between characters. While we're sure many Star Trek fans were skeptical about him taking on the movie, he's created a film that you would likely find very enjoyable–whether you're a Trekkie or not.
To see where this movie is showing, click here.
Share this story with your friends!
---
Help us make Spot.ph better!
Take the short survey
Load More Stories