Wowowhy is Willie Revillame So Powerful?
The whys and wherefores of his wealth, will and witchery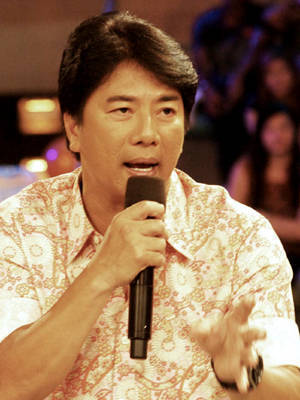 Every day, at 8:30 a.m., Revillame is in his dressing room in ABS-CBN and makes sure rehearsals promptly begin at 9 a.m. By 12 noon he dutifully assumes his role as host–making the people laugh, cry, dance, sing, narrate their real-life stories, and leave the studio with either a wow experience or prize. Devoting 12 hours a day of his timefrom Monday to Saturday, to his show, Revillame calls this show his life. Wowowee is his most prized possession. Hailed by YES! as the Most Powerful Entertainer in the land, Revillame raised eyebrows but also got heads nodding in approval. His life is an open book. He has a love-hate relationship with the public. And even as his popularity continues to soar sky-high, the never-ending question of the doubtful or just plain curious is: Why him? CHARISMA. One popular definition of the term is "personal magnetism or charm." In the world of showbiz, this is a requisite. It can overshadow physical appearance, overrule flaws. Nora Aunor had it. At the height of her career, she had to be flown onstage via helicopter because multitudes of fans would get riotous at her concerts. Former President Joseph Estrada still has it. Years after he was convicted of plunder, the masa still greets him with much fervor. And Willie? Watch Wowowee and observe the studio audience. Contestants requesting for a kiss or hug or both from the host-comedian-singer is an ordinary occurrence. In one of the episodes, a kid actually proclaimed, "Ikaw ang pinakaguwapo, Pappi." Channel 2's lady boss Charo Santos saw this coming early on, and it was only strategic for ABS-CBN to leverage Willie's star power. Which is probably why despite the bad press he kept incurring in the past, management has given him the "best contract in the whole world," as he likes to put it. PRO-POOR PACKAGING. He's far from perfect. "Mayabang," "mainitin ang ulo," "mahilig sa babae" are just some of the not-so-pleasant adjectives attributed to him. But the same time, he is called "malambing," "matulungin," and "magaling magpatawa." He calls the elderly "'Nay" ot "'Tay." He treats his viewers as "Kapamilya." He listens to the struggles of the underprivileged. He gives balikbayans the warmest welcome. He underscores great talents. The show encapsulates all of these qualities. And if there are touching stories –the lola who travelled all the way from Nueva Ecija just to see him, the young lady who missed her graduation just to become a contestant, or the boy who walked a great distance with his younger brother to get to the studio–Wowowee underscores them. The pro-poor packaging of the show and its host creates and sustains a deep emotional connection with the viewers. Mr. Good Deeds outshines Mr. Not-So-Good Guy.Non-fans are puzzled: Why does he have power over the masses when he consistently makes fun of his contestants' teeth/feet/peklat or burol-worthy-looks just to get laughs? The objects of his ridicule laugh with him as he laughs at them, as if forgiving him for his insensitive remarks because he's serving a noble purpose. He's their savior, the answer to their suffering and strife. WOWOWEEE = WILLIE. The show was made for him. Edgar "Bobot" Mortiz, a business unit head of the Kapamilya network, said in an interview with YES!: "No script…Hanggang bagsak ng music–siya iyon. Gamay niya." Wowowee was supposedly inspired by the El Shaddai congregation, a concept believed to be pitched by Willie himself. The fanaticism of the studio viewers is hyped. The sequence is very predictable. They do the same thing almost everyday, but people still want to be part of the fanfare, and viewers patronize it. Of course, there's the energy, drama, fun, and wisecracks which constitute the entertainment value of the show. And Willie makes sure every person in the team does his or her job in executing these duties properly. In most cases, Willie's word is the law. Even the advertisers recognize this. He has the power to approve the products being shown on Wowowee, and as mentioned in YES!, he receives a talent fee for plugging these brands in the segments of the show. So if anyone asks about the show's formula, it is simply Wowowee = Willie. People watch (or do not watch) it because of him. When he goes abroad as himself, he'll be treated like any other celebrity. But when he's there as Wowowee host, he wows. WORLDWIDE REACH. The show is watched by millions of Pinoys worldwide. Wowowee has become part of every balikbayan's itinerary (including famed American humorist David Sedaris when he visited Manila in 2006), and booking a slot with ABS-CBN Tours needs to be at least three months in advance. Can you say Oprah? Whenever he brings the show abroad, tickets are usually sold out. To have that Wowowee experience, ticket price becomes a minor concern for our kababayans. (Trivia: For the shows dubbed Wowowillie, private sponsors pay him directly.) Wowowee has captured a large population of Pinoys in the global market, and if its popularity continues to soar, the possibilities are endless. Even politicians have taken note of this, and they are bound to capitalize on Wowowee's reach, given the fast-approaching 2010 elections. Just wait and see. WILLIE'S WEALTH. Four houses, two yachts, one massive lot, 11 luxury cars–and he's not shy about flaunting it. He likes to talk about his phone call from Pres. Gloria Macapagal-Arroyo, and his brief encounters with Henry Sy, Danding Cojuangco and other tycoons. His wealth has helped him attain formidable clout in the business. The former hawi boy is now perceived as a godfather. His stature has captured the fascination of the public. Some are impressed. Others are skeptical. But whether the reaction is positive or negative, Willie had us at hello. The former sidekick is now the main man. Lastly, his WILL is palpable. Even at his lowest point, he never faltered. Even when people hurled negative comments at him, he was unperturbed. They say he's just masuwerte, but luck came to him as a result of several years of struggling, networking, and proving himself. The man did not achieve his Most Powerful status overnight, but through years and years of trial-and-error pursuits. Until one day, he was able to crack the winning formula: He made Wowowee his life. Image by Paul Mata for pep.ph.

ADVERTISEMENT - CONTINUE READING BELOW

CONTINUE READING BELOW

Recommended Videos
Share this story with your friends!
---
Help us make Spot.ph better!
Take the short survey
Load More Stories