David Cook tells Spot: "I'm blowing off the roof of Mall of Asia"
EXCLUSIVE! Spot.ph spent 20 minutes with David Cook yesterday and discovered 10 Things David to tide you over until his concert with the other David this Saturday, May 16, 8 p.m. By Dyan Zarzuela.
Yes, he's really here and yes, the concert is still on. The seventh American Idol David Cook faces off with runner-up David Archuleta at their first-ever concert together right here on Saturday. Spot gives you 10 things David to tide you over 'til Saturday: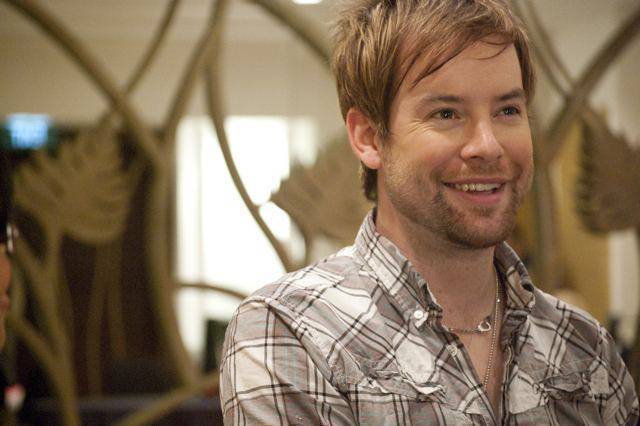 10. He thinks Pinoys are unreal. In a good way, that is. "The support and the kind words I've gotten from people here in just the day that I've been here is unreal," he says. He hasn't seen much of the Philippines though, just the airport and hotel, but fellow Idol contestant and Pinoy-born Ramiele Malubay, and another friend have filled him in.
9. He's no Britney Spears.You won't see a snake draped over his shoulders on Saturday. "I could never put on a show like that… [We'll] just play rock and crack a few bad jokes along the way," he said. But he does have a surprise for Saturday: his wardrobe. "We'll probably be dressed a little nicer for this show than for the shows back home," he says.
ADVERTISEMENT - CONTINUE READING BELOW
8. He's going to "blow the roof off of Mall of Asia." Not only is he pumped up for probably one of the hugest crowds he's ever played for, he'll also be performing with Archuleta whom he calls "one of his best friends," and singing songs he wrote. "It makes it easier for me to go onstage and sing a song with conviction which in turn makes it easier for the audience to hopefully not only to get into the song but get into the emotion I'm putting behind singing and performing that song," he says.
David Vs. David
CONTINUE READING BELOW
Recommended Videos
7. He says something stupid before every show. Not just him, though–the entire band. Guess there's really strength in numbers. Their pre-concert ritual is to put their hands together and say something stupid. Personally, David clears his head and visualizes a great show. "I've found that if I have time to do that before a show, it's usually a better show," he says.
6. He calls himself a jack of all trades, master of none. Despite his last name, he's no cook, and a mediocre athlete to boot. "For that matter, I'm a mediocre guitar player but I guess that hasn't stopped me. *laughter*"
5. He's boycotting Twitter. Fans tell him all the time they've talked to him in Twitter, he doesn't have a Twitter account. "I can't wrap my head around the idea of "12:34 p.m. Hey everybody, I had a sandwich." It seems overly, I guess, mundane to me." He prefers blogging because "for starters, it's not as frequent as Twitter."
ADVERTISEMENT - CONTINUE READING BELOW
4. He's happy with just "a little more than bread and water." A wise person once told him to be sparse with his rider list (the things an artist can request.) "Don't ask for more than you need because when the chips are down, those promoters to whom you gave grief over that rider can help you when you're maybe not on top of the mountain," he says.
3. His laundry basket is an elaborate desk. He has a lot of stupid purchases but this takes the cake. "That's the dumbest thing because I never use it for its purpose," he says. By the way, the desk is in his bedroom…
2. All he needs is "a guitar, a microphone and five people in the audience." He'll play anywhere. "The opportunity to play is something I don't take too lightly because it was not long ago when I was fighting with some bar owner to let me play and take 20 percent at the door," he says. Bet that bar owner regrets that fight now.
1. Five years from now, he'll be designing greeting cards. No, not really. But he did say he "welcomes any and all opportunities." He would love to act. There are some acting offers but nothing final. Though he's open to anything, he says, "I'm a musician first. That's always gonna take precedence."
To see more of David, click here. To find out more about the concert, click here. Images by Coby Mendoza. Special thanks to Novi of C 'n S and   Fajar Indroharyo and Nabil Taufik of Sony Music Entertainment Indonesia.
Share this story with your friends!
---
Help us make Spot.ph better!
Take the short survey
Load More Stories