A Better Night at the Museum
MOVIE REVIEW: Part 2 isn't the nightmare the first one was. This one has Darth Vader, Oscar the Grouch, and the, er, Jonas Brothers.
MOVIE REVIEW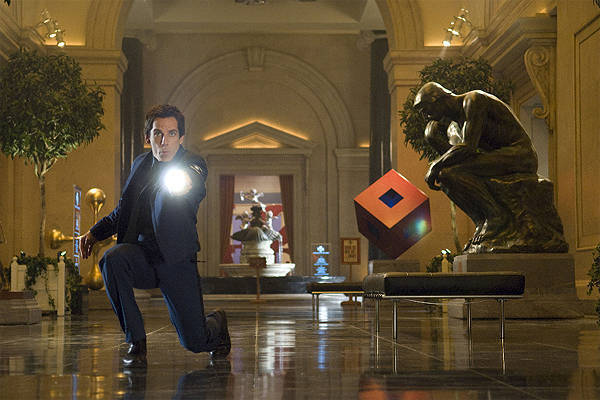 Night at the Museum 2: Battle of the Smithsonian isn't the nightmare the first one was. I can only remember bits and pieces from the first one, and a forgettable movie is never good. What made the sequel better was the addition of more comedians like Hank Azaria (The Simpsons, Dodgeball: A True Underdog Story) and Jonnah Hill (Superbad, Evan Almighty). It's a tried-and-tested tale of good versus evil, but there are definitely some unique twists in this story, with aptly costumed characters from different eras, dinosaur bones that roar and paintings that come alive.  This time, the villain is Kahmunrah (played by Azaria), who wants the throne of his brother Pharaoh Akhmenrah. Oh, and he also wants to open the gates of the underworld. He is definitely a better villain compared to the three security guards in the first movie. It's up to Larry Daley (played by Ben Stiller, Night at the Museum, Tropic Thunder), former museum security guard who's now a rich infomercial inventor, to stop him with the help of Daley's wax figure friends. Amy Adams (Enchanted, Doubt) plays Amelia Earhart, who becomes the feisty sidekick and love interest of Daley. Together they must go through all sorts of hoops: an angry octopus, Napoleon Bonaparte's army, The Thinker, who is more interested in getting a lady statue to notice him than he is in helping them, a spaceship launch they must prevent, etcetera. And boy did they work that set. Too bad they didn't think of the glaring absence of alarms and actual museum security guards. The pacing, once Daley gets inside the Smithsonian museum, is fast. There could've been more breathing room other than Daley and Earhart's flirty moments. Though the viewer might feel as if one thing after another is being thrown at him or her, you have to give them credit for the way Daley's mind is set on his goal; at least one gets the feeling there's an end to this semi-madness. The American can-do attitude and ingenuity are much emphasized by Abraham Lincoln and Earhart. Representing the polar side is General Custer, notorious for leading about 200 men to their death. Custer talks big but can't seem to walk the talk, although he is, sort of, redeemed in the end. Yes, the movie is just bursting with positivity. As Earhart would say, Stiller still has moxie. It really helped that he shares the screen with other comedians, upping the humor factor. Azaria's big, bad and silly portrayal of the lisp Kahmunrah is spot-on. No matter how evil he is, he just can't be taken seriously. Even his minions Napoleon Bonaparte, Ivan the Terrible and Al Capone, make fun of his tunic. Adams plays the wide-eyed, Great-Gatsby-exclaiming pilot to perfection. Most of her outdated expressions are quite hard to understand, but maybe that's the point. You can see a hint of Enchanted's bubbly Giselle–without the singing. There is some singing, though, from the Jonas Brothers, who play the Cupids. Just some cute inserts that won't make the average Jonas hater cringe. Jonnah Hill provides short yet hilarious entertainment in the beginning as Brandon (pronounced Brun-duhn), the Smithsonian security guard. Watch for the 300-inspired fight scene of the miniatures and guest appearances of Darth Vader and Oscar the Grouch, who try but fail to become Kahmunrah's minions. Poor Darth Vader. There really isn't a reply that's good enough when Kahmunrah says, "There's just too much going on here. You're asthmatic, you're a robot and what is the cape for? Are we going to the opera? I don't think so." The sequel is still a mishmash of historical figures and CG, but at least some of the characters have enough screen time to actually make them memorable. It's a bit of a relief that most of the original cast spent half of the movie trapped inside a box.  There's still cheese on the side and some inconsistencies. For example, how come no one noticed all the banging and screaming? Also, how the heck did Daley's flashlight withstand Kahmunrah's sword? Then again, Kahmunrah is supposed to be a wax figure. Suspend your disbelief, suspend it. Though largely appealing to kids, kids at heart can still enjoy this relatively better sequel. RATING: 3 Spots ••• To see where this movie is showing, click here. Photos from 20th Century Fox and nightatthemuseummovie.com

ADVERTISEMENT - CONTINUE READING BELOW

CONTINUE READING BELOW

Recommended Videos
Share this story with your friends!
---
Help us make Spot.ph better!
Take the short survey
Load More Stories