Reunite (It Would Feel So Good)
SPOT.ph's list of the top 10 encore-worthy bands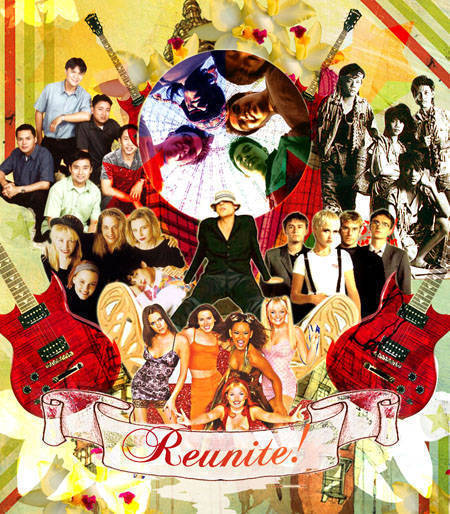 From Blink 182 to Wilson Phillips to New Kids on the Block, successful bands that once broke up are now making comebacks. Here's hoping these 10 acts would follow their lead.
10. New Radicals
You get what you give–and Gregg Alexander is proof of that. He wrote, produced, and sang all 12 tracks of the band's debut album, Maybe You've Been Brainwashed Too, and received praises for successfully infusing pop, rock, and funk. However, he was also slammed for insulting fellow musicians, Christian religion, and American society. The band split after being together for only two years, but their breakup song "Someday We'll Know" lives on forever.
"You Get What You Give"
9. Toad the Wet Sprocket
Third time's a charm for four California boys who never gave up. It was actually their third album, Fear, which made the band a household name. After releasing six albums (two of which were certified platinum!) that spawned hits like "All I Want" and "Fall Down," Toad sadly broke up in 1998 due to creative differences. Their frontman Glen Phillips went on to pursue a solo career, while its lesser-known members reunited to form a band called Lapdog.
"All I Want"

8. The Jets
What do Britney Spears, MYMP, and Aaron Carter have in common? They've all recorded songs written by this pop-dance group comprised of eight musically gifted siblings! This '80s band effortlessly churned out hit after hit about liking ("Crush On You"), letting go ("Make It Real"), and finding someone new ("You Got It All"), but eventually lost the rhythm-induced spell it had over its fans when it changed members and shifted to gospel music.
ADVERTISEMENT - CONTINUE READING BELOW
"Crush on You"
7. Savage Garden
Darren Hayes and Daniel Jones only released two albums while working together for seven years, but this Australian duo have sold over 25 million albums because of their mushy hits "Truly Madly Deeply" and "I Knew I Loved You." Hayes has had a thriving solo career after their split in 2001, but no song of his would be quite as catchy as the duo's half-sung/half-uttered "I Want You." It's sweet like chic-a-cherry cola!
"Truly Madly Deeply"
6. Smokey Mountain
The first time we saw this quartet on TV, we didn't get why they were in tattered clothing and stylized 'dos. But once we heard their socially conscious and environment friendly messages (such as "Mama," "Better World," and "Paraiso") combined with Maestro Ryan Cayabyab's harmonies, we were hooked! It's high time our airwaves are dominated by music with a conscience.
CONTINUE READING BELOW
Recommended Videos
Smokey Mountain on SOP
5. The Cranberries
The '90s produced a slew of girl-fronted bands such as The Cardigans and Garbage, but Dolores O'Riordan set hers apart by perfecting the art of yodeling while crooning moving lines such as "You know I'm such a fool for you/You got me wrapped around your finger/Do you have to let it linger?" The band parted ways in 2003, but O'Riordan thinks a future reunion is most likely. Till then, we'll take over the reins and sing karaoke-staple "Zombie" at the top of our lungs!
"Zombie"
4. The Go-Gos
We miss these fun-loving femmes who've definitely got the beat! With catchy pop ditties "Our Lips Are Sealed" and "Head Over Heels," they became the first all-woman band to write and perform their songs to the top of the charts. Singer Belinda Carlisle is the band's most successful member post-breakup, but even drummer Gina Schock has made a name for herself by producing a Miley Cyrus song called "Breakout."
ADVERTISEMENT - CONTINUE READING BELOW
"Head Over Heels"
3. Neocolours
Spearheaded by Ito Rapadas and Jimmy Antiporda, the six-man band was known for producing heartfelt hits "Maybe" and "Kasalanan Ko Ba?" Success came in the form of two platinum albums (Making It and Tuloy Pa Rin), but dismal third album sales and personal reasons led to the band's demise in 1994. To this day, we "Can't Deny" we're craving for more feel-good OPM tunes from them. Bring on the ballads, boys!
The karaoke version of "Maybe"
2. Spice Girls
If you doubt girl power still exists, just think of these five names: Posh, Baby, Sporty, Scary, and Ginger. These British "Wannabes" conquered the world in the mid-'90s through their fun songs, wacky/tacky outfits, OTT attitudes, memorable music videos (do you know the steps to "Stop"?), and even a full-length movie! In 2007, they briefly reunited for a World Tour, but Asian fans were robbed of this treat when they performed all 47 sold-out shows in Europe and North America. In the end, we had to settle for watching bits of the concert on YouTube, and seeing adorable Cruz Beckham break dancing to "Mama."
Cruz Beckham dances to "Mama"
1. The Eraserheads
Hailed The Beatles of the Philippines, The Eraserheads is the ultimate Pinoy alternative rock band that teased us with a seemingly impossible reunion. Fast forward to six years after their infamous breakup, the dream became a reality when Ely Buendia, Buddy Zabala, Marcus Adoro, and Raimund Marasigan finally ended their rift and reunited for a one-night concert para sa masa (for the masses). After the band's first nostalgic set, an exhausted Buendia was rushed to the hospital, resulting in another concert aptly called The Final Set. The boys have no plans of joining forces permanently (they're happy playing music with their separate bands), so we'll get by simply by remembering their epic performances during the two reunion concerts.
ADVERTISEMENT - CONTINUE READING BELOW
"Ang Huling El Bimbo"
Artwork by Warren Espejo.
Share this story with your friends!
---
Help us make Spot.ph better!
Take the short survey
Load More Stories