Bente: Telling it like it is
The good news is I didn't hate Bente...even if I'm not a fan of politically driven movies starring "laos" actors and boring newbies.
Trying to watch Bente was like a wild goose chase. A few weeks ago, I rang Robinson's Ermita to ask for the schedule of Mel Chionglo's new movie, only to be told that it wasn't showing. Apparently they didn't want to open at the same time as Transformers, so they (wisely) moved it to a later opening date. Then I was told that it would open on July 8. I checked the schedule online, and according to the SM Cinema website, Bente was showing at SM Mall of Asia. So the day after it opened, I drove to said mall but the ticket girl told me Villa Estrella was the only Filipino movie playing there. Ugh. After learning that Bente was showing at Festival Mall in Alabang, last Sunday I went to catch the 11:30 a.m. screening. Alas, the schedule had been changed and the first screening would start at 2:15pm. I wasn't about to waste any more of my precious Sunday time, so I was forced to return on Monday.
Today I went to Festival Mall yet again to finally watch this damn movie. At exactly 2:15 pm, I entered a completely empty Cinema 10 with a blank screen and Aerosmith blaring. At 2:20 pm they were still playing pogi rock, and so I asked myself: what the hell's going on? Truly at the end of my rope, I exited the theater to scream at the guard and ticket girl who were loafing around outside. Did I feel bad that I had to put on my irate moviegoer hat and harass the theater staff? Not really. I've been waiting for three weeks to see this film and write about it, plus I paid a hundred and thirty bucks most certainly not to listen to Aerosmith in an empty theater. I hate Aerosmith.
ADVERTISEMENT - CONTINUE READING BELOW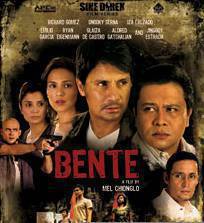 The good news is I didn't hate Bente. I didn't love it, either, but then I'm not a fan of politically driven movies starring a bunch of laos actors and a handful of boring newbies. Emilio Garcia plays a corrupt mayor whose childhood friend Jinggoy Estrada is a radio commentator with a lot to say. During his morning program, he's constantly berating government and saying nobody has balls, but Jinggoy is also a good family man: he's married to a teacher (Snooky Serna, who has gained some weight thank goodness) with whom he has two kids. Meanwhile, the mayor asks his goons (the hammy Richard Gomez and the very coño kid Ryan Eigenmann) to trail Jinggoy, but Richard is distracted by his two-timing, long suffering wife (Iza Calzado). And then there's Aldred Gatchalian who plays a serious student activist being watched and pursued by another set of goons, this time presumably from the police or the military. His pregnant girlfriend (Glaiza de Castro) is worried for his life and tries to convince him to lie low for a while. So anyway, Bente is one of those multi-character plots with interwoven story lines and when the shit hits the fan, nearly everybody ends up dead. It's a bit convoluted but Bente–screenplay by Ricky Lee–is a powerful statement about the senseless killing of journalists and broadcasters in the Philippines.
CONTINUE READING BELOW
Recommended Videos
ADVERTISEMENT - CONTINUE READING BELOW
This is Mel Chionglo's contribution to the Sine Direk series, six digital films from various members of the Director's Guild of the Philippines. Chionglo, who studied under Stella Adler and Lee Strasberg in New York, began his career in film as a production designer for Mike de Leon's Itim and Kung Mangarap Ka't Magising. According to my IMDB research, he was also production designer for that Joey Gosiengfiao high camp classic Temptation Island. Ah, there's a movie I'll never forget. Now I know it was Mel Chionglo's genius that brought us that giant ice cream cone and roast chicken in the middle of the beach in Pagudpud. I'm rather partial to camp surrealist satires about beauty queens. I mean, it's a lot better than watching Jinggoy running with a clutch bag and a gun.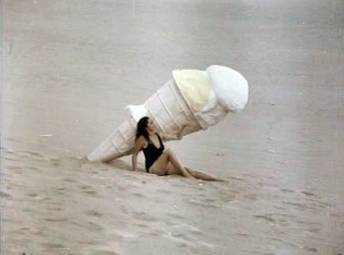 Mel Chionglo's early work: the giant ice cream cone in Temptation Island

To see the movie screening schedule, click here. To read Ria's previous blog posts, click here. To read other blogs, click here.



ADVERTISEMENT - CONTINUE READING BELOW
Share this story with your friends!
---
Help us make Spot.ph better!
Take the short survey
Load More Stories