Piolo Pascual starrer can change the way you look at Manila
SPOT.ph blogger Ria Limjap wants you to watch Raya Martin's and Adolofo Alix's "Manila"--and not just for Piolo Pascual.
Friday night I went to the Cultural Center of the Philippines for the opening of Cinemalayà Cinco. The invite said "indie chic." Goodness, what does that mean? Inspired by the 1940s glamour of "Little Edie" Bouvier Beale of Grey Gardens fame, I sallied forth in eyeliner, a pleated gray skirt, and stacked red heels–and stupidly enough with no umbrella. Needless to say I got rained on. It was flooding a bit on Roxas Boulevard, but that's Manila for you.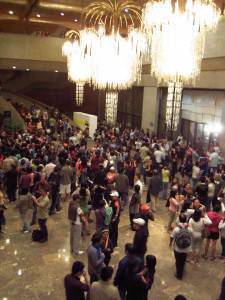 CCP Main Theater lobby swarms with cinephiles and Piolo fans
Anyway, the main lobby was packed by the time I got there, so I hung out in the hallway with my old college friend Christina Dy, who is one of the 13 Artist Awardees of the CCP this year. "Ang daming tao," she said. Buti na lang things always start on time at the CCP, so by 7:30 p.m. they had ushered everyone into the Tanghalang Nicanor Abelardo for the festival's opening film: Manila by Raya Martin and Adolf Alix, Jr. Producers, directors, and all the stars of the film were there–notably Piolo Pascual who is not only the lead actor in Manila but produced it as well. Some female members of the audience were screaming "Piolo!" throughout his speech; I thought it was nice to see some heckling going on in the staid main theater.
ADVERTISEMENT - CONTINUE READING BELOW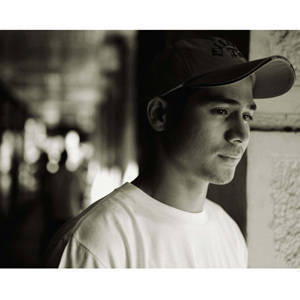 Piolo Pascual produced and starred in "Manila"
Manila is the homage of two young film makers, Raya Martin and Adolf Alix Jr., to two legendary Filipino directors, Lino Brocka and Ishamael Bernal. In the first episode, "Day," inspiration comes from Bernal's 1980 classic Manila by Night. Piolo plays a shabu addict named William who roams the city streets, exhausted from his run-in with the police the night before and jonesing for a hit. Rosanna Roces plays his long-suffering and prayerful mother who has a secret past of her own. (The character's name William is inspired by William Martinez, who was the lead in Manila by Night. Martinez does a cameo appearance in this film as an ill-fated cab driver.) In the end, William backslides into his drug habit only to replay all the little tragedies in his head. In "Night," Piolo plays a body guard named Philip (in honor of Philip Salvador who was the lead in Brocka's Jaguar) who works for the mayor's son (Jay Manalo). He thinks his boss treats him like a brother, but when the shit hits the fan Philip realizes he was nothing but a hired hand. Philip's end is equally tragic, this time in a dump site with the omnipresent squatters. The cast is great: there's Alessandra de Rossi as Amy, the starlet girlfriend and Baron Geisler as a classic Manila basagulero–both are becoming my favorite actors. Best of all, there's the venerable Anita Linda, who played the mother in Jaguar, this time playing the lola.
CONTINUE READING BELOW
Recommended Videos
ADVERTISEMENT - CONTINUE READING BELOW
It's an amazing film–I suggest you go and see it when it comes on in theaters supposedly on July 22. (Star Cinema picked it up for distribution.) Manila is beautifully shot and truly conveys the harsh poverty and tragic beauty of the city and its inhabitants. As I watched William/Philip roam the city in desperation by day and night, I realized that perhaps this is the film that will change the way we look at our city, as Carlos Celdran says on his walking tours. Despite the general ugliness, there are hundreds of magic spots in Manila–on Jones Bridge overlooking the Pasig River, Luneta on a Sunday afternoon, down by the water at sunset on Roxas Boulevard, the corner of Misericordia and Ongpin. We often overlook them because we're too preoccupied with the traffic, the trash, and the weirdly organized chaos of this urban jungle. But watch Manila and then walk the streets yourself and open your eyes to all the charms–dubious and otherwise–of this gloriously gritty place.
The Cinemalayà Philippine Independent Film Festival is ongoing from July 17-26 at the CCP.
To see the Cinemalaya screening schedule, click here.
To see how Old Manila looked before the chaos, click here.
To read Ria's previous blog posts, click here.
To read other blogs, click here.
Share this story with your friends!
---
Help us make Spot.ph better!
Take the short survey
Load More Stories