The Hangover gave me a headache
MOVIE REVIEW: The Hangover takes you on a journey that will blow your mind--only if you're high.
MOVIE REVIEW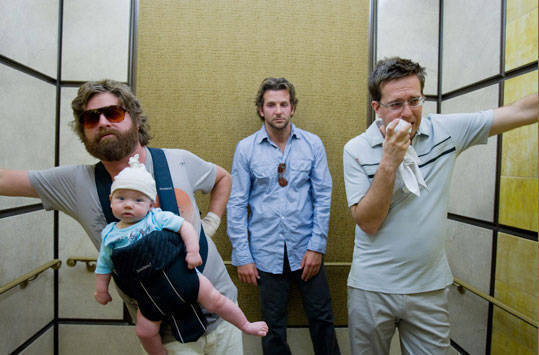 Alan (Zach Galifianakis) with the mystery baby, Phil (Bradley Cooper) and Stu (Ed Helms)
The plot is simple enough: a couple of friends wake up from a stag party in Vegas with no memory of what happened the night before. Doug (Justin Bartha), the groom, is your typical straight-up guy who just goes through the motions. Phil (Bradley Cooper) is the guy you always wanted to be, a man's man so to speak. However, no guy movie would be complete without the typical nerd of the bunch, and in this case that's Stu, played by Ed Helms. Rounding up the gang is Alan (Zach Galifianakis), a lovable numbskull you really only want to hang out with for a few minutes.
What follows next is a series of mishaps stemming from their attempts to find Doug, who is supposed to get married in two days–except that he's missing. From raging naked Asians to Mike Tyson singing karaoke, The Hangover takes you on a journey that will blow your mind.
ADVERTISEMENT - CONTINUE READING BELOW
But only if you're high.
See, this is the kind of movie you have to watch with your buddies. If you were at it alone, you would notice all the dry moments, the stunted plot twists, and the mediocre acting in some scenes.
I mean, anyone can see from miles away that the guy with the bag on his head isn't Doug. And what about Mike Tyson tracking the guys down because they left their keycard in his house? Hotels don't stamp their names on the keycards, much less print room numbers on it.
If I had to choose a favorite among the four, I'd go with Alan. The scene where he almost got Doug to crash the car on their way to Vegas was genuinely funny. But the most recognizable of the actors is Phil, played by Bradley Cooper of He's Just Not That Into You. Maybe using unknowns was the only way to make the movie work. And it does work, but only just. Then again, the American Pie guys were unknowns before the movie too, but they managed to raise the bar to a whole different level.
CONTINUE READING BELOW
Recommended Videos
Heather Graham, who plays Jade the stripper, looks older than Jeff Tambor. (Lindsay Lohan was the original choice for that part but Lindsay declined the script, probably thinking the movie would bomb.) Rachael Harris as Melissa is completely convincing as the she-devil girlfriend to Ed Helms' Stu.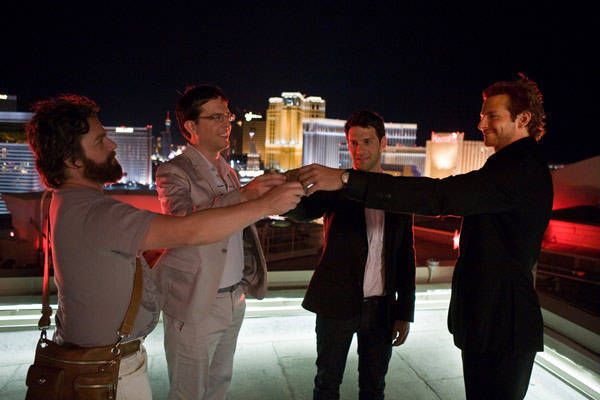 ADVERTISEMENT - CONTINUE READING BELOW
The start of a forgettable night
I must admit, I liked the Mercedes Benz they used because it has an awesome side story to it. Apparently, it was stolen from storage during filming but was recovered because someone from the crew recognized it while it was stuck in traffic the filming was causing.
The Hangover director Todd Phillips was also the director behind comedies like Old School, Starsky and Hutch and Road Trip. I liked Old School. Starsky and Hutch, but mostly out of nostalgia.
Like Phillips' other films, The Hangover is fun but not memorable. It's the kind of movie you watch once, maybe twice at most. It's only been a few days since I saw the film and I'm already having trouble deciding which gag I liked best.
This number-one US blockbuster has already become the third highest-grossing R-rated comedy in its first month of release so, of course, a sequel is already in the works. Though The Hangover isn't quite the new American Pie, I'd give the sequel a chance.
Did I like the movie? Yes. Do I regret seeing it? Maybe. Would I recommend you see it? Only if you're with friends.
RATING: 3 Spots •••
To see where this movie is showing, click here.

Photos from Warner Bros. and The Hangover's official site.
Share this story with your friends!
---
Help us make Spot.ph better!
Take the short survey
Load More Stories