Kilig to Death? I Watched "And I Love You So" and Survived It
SPOT.ph Blogger Ria Limjap followed the advice of two level-headed, competent friends and watched this movie to get her love team fix.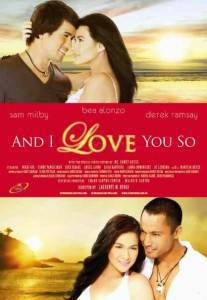 I could say things like "Hilariously cheesy!" or "When did Sam Milby get so butch?" but I won't. I Love You So came highly recommended by two girls (normally level headed and competent people), who were unabashedly kilig about this Bea Alonzo-Sam Milby-Derek Ramsey romance directed by Laurenti Dyogi and produced by Star Cinema.
The plot is fairly simple: Lara (Bea, looking like the ideal Kashieca girl) has the perfect love story with her husband Oliver (the ever smoldering Derek Ramsey) until he dies on her birthday of a brain aneurism. Widowed at 24, Lara is beset by financial problems and depression so she barely notices the (rather lame) advances of Chris (Sam Milby), a motorcycle riding DJ with poor taste in man jewelry. It's your basic love triangle set up, with the other man being the dead husband. Will Lara love again? Will love triumph over death? Will there be a happy ending? It's not hard to figure out, right?
ADVERTISEMENT - CONTINUE READING BELOW
Let the lines will speak for themselves. Here are some choice ones:
"He broke my heart the day his heart stopped beating." - Lara talks about the one time her dead husband Oliver hurt her. (Helplessly I rolled my eyes. Thank goodness no one was sitting near me because there were moments when I had to actually stifle my cynical laughter.)
"I love you. Don't you get it? I love you. Please let me love you." - Am I dying of kilig or secretly cringing when Chris says this to Lara? Hmm. Sam Milby just doesn't do anything for me. Ugh. How I wish they had killed him off and let Derek Ramsay be the living boyfriend instead. He's ten times hotter and a slightly better actor. And by killing off Sam, he would have been more idealized and therefore romanticized in this role. Oh well. That's why I'm not in casting.
CONTINUE READING BELOW
Recommended Videos
"You're the worst possible girl to love, but I love you." - Thanks, buddy. I don't know but there must be a more elegant way of expressing this sentiment.
"I don't want to be second place in your heart, because you're first place in mine." - Again Sam Milby flubs. Double Ugh.
"Our love was like a fairy tale." - Sure. So was mine. I totally believe in Happily Ever After, too. Honestly. Who says that kind of thing?
Special Mention:
"Anong 'kala mo sakin? Cheap?!" - complete with sampal, this line is uttered by Sam Milby's bring-home tramp, upon discovering Bea Alonzo snoring in his bed.
ADVERTISEMENT - CONTINUE READING BELOW
"Guard, paki sarado ang gate. Delikado ang mga bata." - by the inimitable Candy Pangilinan as Teacher Paula. Love her to bits.
"Putang inang buhay 'to!" - Bea Alonzo, acting like a drunken widow at a low point in her life. You said it, sister.
So if you want to laugh, if you want to cry (and I'll admit, I welled up a bit because there are some pretty sad parts about losing the people we love), or if you want to escape for two hours into the warm and fluffy world of love team romance–then this movie will do the trick. That's if you're in the mood to fall for the cheesy lines.
Trailer of "And I Love You So"
To see this movie's schedule click here.
Share this story with your friends!
---
Help us make Spot.ph better!
Take the short survey
Load More Stories