It's not hard to like her the minute you see her sitting in front of a computer in her duster, scolding the monitor. So it's no surprise that Lola Techie, the star of Bayan Telecommunications' ad campaign for its DSL service, has achieved semi-celebrity status in a matter of months, racking up over 95,000 fans on Facebook and more than 2,000 followers on Twitter.
Like the stars of hit television ad campaigns before her, Lola Techie Cruz, a.k.a. Lola Tessie Moreno, who describes herself as "just a simple grandmother," will be crossing over to show business when she stars in an episode of Maalaala Mo Kaya with Mickey Ferriols this September. She's also been filming scenes in Tanging Pamilya with Ai Ai delas Alas and Joseph Estrada (yes, that Joseph Estrada), scheduled to come out in December. SPOT.ph sat down with everyone's favorite lola and found out that there's nothing simple about this 67-year-old grandmother of 16.
ADVERTISEMENT - CONTINUE READING BELOW
How did you become Lola Techie?
I've been a commercial model since 1983. It was my grandson who was into it at first. Taga-kuha lang ako ng tseke. Then the agency told me, "Tita, kailangan namin ng lola." Sabi ko di ko carry mag artista, di ko alam yan. Sabi nila madali lang, so finally, they got me.
Do you really spend a lot of time online?
I do, to work and to get in touch with friends. I have a Yahoo group with classmates from St. Theresa's. We [get] together, we have reunions. With relatives, I've been chatting online, webcam with relatives abroad, and I do a lot of research, mostly for church work. But I really budget my time because I have a lot to do, and my garden is already crying for my attention!
Which do you like better, Facebook or Friendster?
I never touched Friendster. Sabi nila, "'Wag mo na intindihin yan, mommy, luma na 'yan." I Facebook because of Lola Techie. I'm interested in what people have to say. I play games, pero hindi na masyado yung sinasabing Counter-Strike. Literati is my favorite. Makes you think. Text Twist. Noon, sa office, to relax, naglalaro ako ng Cubix, Solitaire.

Twitter or Plurk?
Twitter. I opened Plurk once–hindi siya masyadong interesting, to tell you the truth. Twitter, pero mas maraming laman ang Facebook, eh. Maraming interaction. I like it. I don't follow anyone, I don't have the time. Just to silip-silip, that's it.
Did you have a hard time when you were learning to use a computer?
I did. I started doing that in 1994, when I transferred to a new company and I had to use a computer. It was one of my staff who told me the basics and I just went by feel, by hit and miss. Little by little, I learned how to do it.
Ang problema kasi noon, mainipin ako. I wanted everything fast. Nasusuya ako pag napupunta ako kung saan-saan. And then I was always scared that I might erase something. After that, I found it exciting. I was excited because ang dami kong natutunan, I go to a lot of sites and then I learn new things I never knew before. Especially when I was playing online, I was connected directly to people I don't even know. I even got to play with somebody online who was sick. It's really a very good way to connect with people. To reach out to them.
ADVERTISEMENT - CONTINUE READING BELOW
What was it like when you were shooting the commercial?
I didn't know it would get so big, I was more concerned about memorizing the lines. I was able to do it, it wasn't really that difficult, because I just applied the way I would say it to my grandson. It wasn't much of a hassle for me, except that it took so long to finish! But I enjoyed it.
Were you really playing Counter-Strike in your commercial or was that just good acting?
Good acting. I wouldn't be able to do that because it's so hard, but they told me how to do it and they told me what to say. I imagined myself playing with my grandchildren. So I copied their reactions. Actually, when I had no Internet connection at home, I used to work in an Internet café with all that noise! So dala ko lahat ng mga documents ko, I would stay in a small corner, and I would hear the children and wonder, "Bakit sila nagaaway, eh magkahiwalay naman ang mga computer nila?" So sisilip-silip ako. And then nakikita ko pag napipikon sila, nagaaway-away sila! So it was easy for me.
ADVERTISEMENT - CONTINUE READING BELOW
Do you get recognized now?
Yes! Naku, "Ikaw si Ms. Computer!" Some people would call out, "Ay, si Lola Techie!" Meron iba na humihingi ng picture, pero pag close friends, yan ang humihingi talaga ng autograph. Some of them would come to me and say, "Paki pirma mo ito for my officemates." They always make requests like that so I already bought a sign pen! I bring it with me.
What kind of grandmother are you with your grandkids?
Ah, talagang napapagalitan ko din sila. At first, medyo strict ako sa kanila. But I learned their jargon and they were so excited. But my grandchildren adore me and I adore them. We're very, very close.
How do you bond with your grandchildren?
Of course through the webcam; I see them online, I talk to them when they're abroad. Family day is Sunday. We get together for lunch, we go malling, we go to the movies or have dinner out, or we travel together.
ADVERTISEMENT - CONTINUE READING BELOW
Have you always been so groovy?
It was my children! Sinasabi nila, "Mommy, ano ba yang sinusuot mo at para kang matanda diyan?" Excuse me! Tignan mo mommy mo, matanda na talaga. And then they'd choose the clothes I'd wear. Bibilhan ako ng mga tight jeans. I go ballroom dancing, eh hindi naman ako nagsi-sleeveless! But then I realized, I can't find a dress for evening na hindi sleeveless! So finally I was able to do that. They would choose my clothes, they would approve or disapprove. And then eventually I became comfortable in it. So it's really my taste and my choice. Minsan I have to stop myself.

What else do you do to keep active? We heard you go scuba diving.
I used to. I wish I could go back. I did underwater photography. We put out the first comprehensive book on Philippine sea shells, rare and common. It's sold all over the world.
ADVERTISEMENT - CONTINUE READING BELOW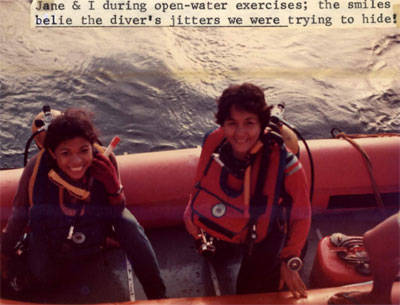 Lola Techie (right) during her scuba diving days. Caption reads: "Jane and I during open-water exercises; the smiles belie the diver's jitters we were trying to hide!"
I was an auctioneer–dami kong pinasukan sa buhay, eh. Then there's church work. You name it. Kulang nalang skydiving!
I did some rappelling underground in Sagada. Enjoy na enjoy ako do'n, going down by rope. I like mountain exploration because I'm interested in the natural sciences.
ADVERTISEMENT - CONTINUE READING BELOW
Bata pa ako interesado na ako sa ganyan. But I lived a sheltered life when I was young, when my daddy was alive. Even when I was rearing my children, homebody ako talaga. So when I retired, doon ko nagawa lahat ng gusto ko. I like to do crafts, nagtitinda ako sa mga bazaar. I love to create things with my hands. Before, I was also dabbling in poetry. Nag-iimagine ako na magwri-write ako ng book.
What did you do before you retired?
I used to manage a company that dealt in television programming. We were distributors for WB, Paramount, 20th Century Fox.
Do you like to knit, like other grandmothers?
No more knitting for me! I'm done with that. I do crossword puzzles, but I'm starting to get bored with those too. I like to watch my teleseryes at night. From Santino all the way to Tayong Dalawa! But of course, I love my garden.
ADVERTISEMENT - CONTINUE READING BELOW
Do you have any life advice for the younger generation?
Stay connected with your elders. Don't shut them out of your life. Because they have something to give you that nobody else can–experience. The young people now are so concerned with their world, sometimes they overlook their elders. "Di kasi kami masabayan niyan, iba ang pinaguusapan nila, iba ang pinaguusapan namin." Now, if the lolas can really learn and get to know what's going on in the world, they have something to say. And the children with listen. That's my experience now. I know a few things that they don't know, and they get excited. "Ay, meron din palang alam si lola sa mundo ko." And that's very important. To be connected and to be aware of what's going on in the lives of their children.
What else do you want to do?
People have been asking me to write the story of my life in a book, because there's so much learning. Mga kapalpakan ko. Mga inspiration ko. My life is one colorful story. So if people can learn from it, I'll do it. I'm still thinking. If my story will help a lot of young people and grandparents, I just might do it. Maybe someday, given the time and inspiration. I want to expand my garden. And I want to do crafts. Just no more knitting! I used to knit a lot. But it's not that challenging. I want to explore mountains, caves. Inggit ako sa National Geographic. Even if I'm afraid of snakes and spiders. Given the strength, I wanna go scuba-diving again.
ADVERTISEMENT - CONTINUE READING BELOW
How do you like show business so far?
Sabi ni direk, enjoy it while it's there. Tignan ko po dahil mahina ako mag memorya. It's fun, it's exciting. Something new.   But I don't like the long hours.
Hindi ba sumasakit ang katawan niyo?
Naguumpisa na! Di ako sanay na may masakit sa akin, hindi ako sanay na napapagod. So I have to go back to my regular ballroom dancing. I'm not the yoga type, I'm not the gym type. I'm the dancing type.
Would you join Shall We Dance?
Ay, ayoko! Mako-conscious ako! Hindi for public viewing.
Lola Techie will be at Bayan Tel's Teach Lola sessions this weekend, in honor of Grandparents' Day. Take your lola for free tutorials on how to use the Internet:
SM Manila on Sept. 11, Friday
SM North EDSA on Sept. 12, Saturday
Photos (cover) by Dakila Angeles, and courtesy of Ms. Tessie Moreno (scuba diving)
ADVERTISEMENT - CONTINUE READING BELOW
Share this story with your friends!
---
Help us make Spot.ph better!
Take the short survey
More Videos You Can Watch
Load More Stories