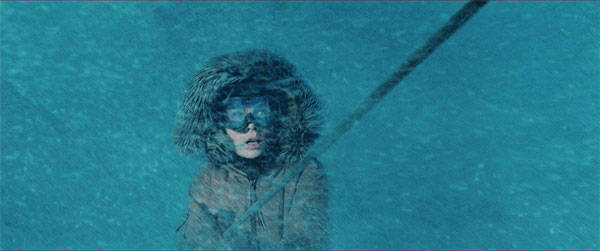 MOVIE REVIEW
A surefire formula for a suspense thriller: put together one freak killer, a bunch of people to kill, and a setting conducive to a massacre–ideally a place that encourages seclusion and isolation. Even better if it's dominated by darkness. As they say, danger lurks in the dark. That's not necessarily the case in Whiteout.
Based on a 1998 graphic novel by Greg Rucka, Whiteout is the story of a US deputy marshal, Carrie Stetko (Kate Beckinsale), who is assigned to a research facility in the world's farthest and coldest region, Antarctica. As the clock ticks off the handful of days until the last plane out of the South Pole is set to leave, keeping her there for another six months, Stetko must unravel the mystery behind a geologist's murder.
The isolation of the story's setting adds to the suspense, because while Stetko's hunt is limited to the few people around her (veteran actor Tom Skerritt gives an unsurprisingly sympathetic portrayal as a doctor named John Fury), it's also a foregone conclusion that the killer is close. The remaining tension in the film comes from Stetko herself, who has yet to recover from the trauma caused by the very incident that made her want to take an assignment in the South Pole in the first place.
ADVERTISEMENT - CONTINUE READING BELOW
The film is not for the faint-hearted, with jarring, extreme close-ups of the victims. Aside from the perfectly preserved cadavers, the shaky camera work can also be difficult to get used to. But the plot itself is simple and straightforward, with a twist courtesy of a recently discovered 60-year-old Russian plane and the question of what was in it. The ending, though slightly anti-climactic–and uncharacteristic of the usual Hollywood murder-suspense flick, makes a certain kind of sense.
Ultimately, Whiteout is exactly what you might look for in a thriller, with a murder mystery, a determined investigator with a time limit, and the requisite chase scene. What sets it apart the most is that it's set in snow.
RATING: 2.5 out of 5 Spots ••.
To see where this movie is showing, click here.
Images courtesy of Warner Bros.

ADVERTISEMENT - CONTINUE READING BELOW
Share this story with your friends!
---
Help us make Spot.ph better!
Take the short survey
More Videos You Can Watch
Load More Stories