Ria Limjap on Kris Bernal Versus Ishmael Bernal: No contest there
SPOT.ph blogger Ria Limjap watches "Nandito Ako" by Kris Bernal and Ishmael Bernal's "Pagdating sa Huli" in one week and concludes there's no contest.
Allow me to rant first: last week I went to see Nandito Ako, another super lame dramatic romance named after a song, this time starring the new love team of Aljur Abrenica and Kris Bernal. Bench billboards aside, I have no idea who these people are, but I wanted to give it a fair shot. But in all honesty it was so awful I walked out after an hour and fifteen minutes. I just couldn't waste any more of my time on the mawkish, teleserye style, shot-for-television quality mess of a movie. Therefore, that's as much as I'll write about it. There's been enough unpleasantness and negativity as it is.
Then I was invited to a Batang West Triangle screening: Ishmael Bernal's first film Pagdating sa Dulo and Cesar Hernando's short Kagat ng Dilim. Erwin Romulo and a bunch of folks arranged the screening as a tribute to the late film critic Alexis Tioseco and his cause to bring these films to the mainstream.
There were a handful of people at the cozy basement screening room of Fully Booked, High Street, (mostly friends of Alexis and yay, old school fashion icon Larry Leviste).   There was an air of true appreciation for the 1971 Bernal satire about the perils of show biz. George Sison, the film's producer, opened the screening clutching a piece of paper with the film's budget printed on it. "Our budget was P112,000… it would be embarrassing by today's standards to tell you how much we paid our people for this movie," he said. Sison remembers Bernal coming to him with a script saying, "We have to work on the script. The characters are one-dimensional."   Despite this and the small budget, the film was nominated for 11 awards that year. Ishmael Bernal was on his way.
ADVERTISEMENT - CONTINUE READING BELOW
A scene from Ishmael Bernal's 1971 film, Pagdating sa Dulo.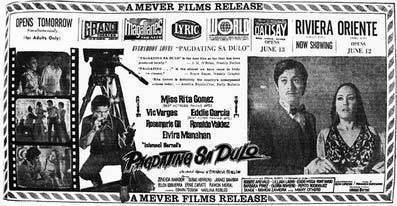 Pagdating sa Dulo, starring Rita Gomez as a burlesque dancer turned actress and Vic Vargas as a cab driver turned male bomba star, is a classic melodrama at its core. But more than that, it makes a cutting commentary about ugly side of fame, set against the bomba scene in the 1970s. Without resorting to squatter chic, Bernal shows us just how ugly it gets when people are driven to do by poverty, greed, and desperate ambition.
CONTINUE READING BELOW
Recommended Videos
The film opens with a burlesque act at a nightclub: Rita Gomez is in fine form as Ching, the cheap bar girl who is tired of her cheap life. Eddie Garcia plays a famous film director (supposedly based on Lamberto Avellana) who discovers and transforms her into Paloma Miranda, star. Meanwhile, her live-in boyfriend Pinggoy the cab driver succumbs to the easy money of being a porn star built up by a gay "move scribe" (apparently entertainment writer parlance from the '70s! How quaint!). A young Zenaida Amador plays the tough talking lady film producer who lives only for the bottom line (I if wonder was the character based on a real person?) The Beautiful People are Rosemarie Gil and Ronaldo Vasquez as the love team who have nothing but hate for each other. But perhaps best of all, there's Elvira Manahan, looking utterly glamorous and properly aghast as the alta sociedad wife of Eddie Garcia. There's a scene from a film premiere with cameos from all the huge stars of the day (Gloria Romero, Panchito Alba, Nida Blanca, Robert Arevalo). It's all screaming fans, photographers, balloons, and stars–in stark black and white. Then Rita Gomez staggers in, wearing her Christian Espiritu gown, drunk, glassy eyed, and lost in the fray.   Paloma Miranda has made it to the end.
ADVERTISEMENT - CONTINUE READING BELOW
Ishmael Bernal: a class act for sure. His career spanned over two decades and he made over forty films. I really, really, really want to see his entire body of work.
Now thanks to the efforts of Erwin, the good folks of RockEd, and other friends of Alexis Tioseco, Bernal's films and the rest of the important works of Philippine cinema are accessible to an audience that deserves more than the usual junk that's out there. Remember, we're all part of the audience.
CinemAlexis is a series of screenings featuring films (both Filipino and international) curated by Philbert Ortiz-Dy, Erwin Romulo, and Quark Hernares, presented by RockEd. Mogwai, Cubao X, October 9: 7 PM , Aquele Querido MÃĻs de Agosto (Our Beloved Month of August) from Portugal, 10 PM , Kulay Dugo ang Gabi (The Blood Drinkers) by Gerardo de Leon. Oct. 10: 7 PM, Biyaya ng Lupa by Manuel Silos, 9 PM , Signos, 10 PM, Batch '81 by Mike de Leon.
Poster from /video48.blogspot.com.

Share this story with your friends!
---
Help us make Spot.ph better!
Take the short survey
Load More Stories