Brit band Raygun debuts theatrical pop in Manila
SPOT.ph got to chat with Raygun about covering Shakira, angering netizens, and eating sisig.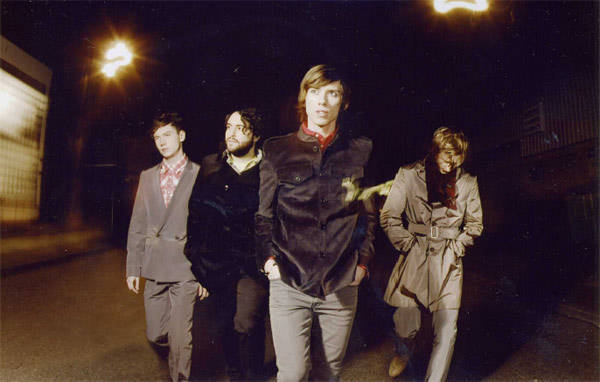 British band Raygun has just released their self-titled debut album, which they describe as theatrical pop. We can understand why. They do everything loud from their car chase music video to a hilarious Barbie cover of Shakira's "She Wolf."
"I think it's all in the delivery really. When we're onstage, it's over-the-top performance. We definitely won't stand there, play our guitars and stare at our toes," Raygun lead vocalist Ray Gun (yes, you read that right) says.

"Just Because" music video
Their name inspired by the lyrics of "Moonage Daydream" by David Bowie, the band started with Ray and guitarist-songwriter The Adj performing together in 2004. In 2009, they recruited bassist Ben Lyonsmith of another Brit band, Rooster, along with drummer, Sam Embery. After fronting Pink's Fun House tour in April, they released their first single, "Just Because."

Raygun's covers of Shakira's "She Wolf" and Madonna's "Celebration"
have each racked up thousands of hits on YouTube.
"I thought 'She Wolf' was the most ridiculous song I've ever heard and the video was really silly as well–in a good way," says The Adj. "I think we like the song because the music is similar to what we play. The bass line is quite similar and the guitars quite funky," says Ray. "But I don't normally sing that high," he laughs.
"Our press representative speaks to Shakira a lot so we'll ask [for Shakira's feedback] the next time we see her," says Ray. Raygun is under the same record label, RCA, as Shakira. "Let's ask Shakira to do a cover of one of our songs!"
ADVERTISEMENT - CONTINUE READING BELOW
RayGun - have this band never seen Spinal Tap? from Psychedelia Smith on Vimeo.
Raygun is infamous for their "highly clichéd answers" in a 15-minute interview that went viral in August before Sony BMG had it removed. Netizens and music columnists attacked the band for statements like, "If you stuck Iggy Pop, James Brown and David Bowie and Shirley Bassey in a lift, then you'd probably have our band."

"Lack of Self Awareness," a parody
The controversial video was renamed "Lack of Self Awareness" and even inspired a parody with lines like, "If you stuck me, Craig and Chris who's not here in a room, then what you'd have is our band in a room."
CONTINUE READING BELOW
Recommended Videos
Days after, Ray posted an apology on their MySpace account:
"I apologise for being somewhere in the region of 27% more of a twat than I usually am… I now fully accept that if you stuck Iggy Pop, James Brown, David Bowie and Shirley Bassey in a lift you would basically just have Iggy Pop, James Brown, David Bowie and Shirley Bassey in a lift. You would not have our music. You would have three famous singers and a dead one… This is now a band matter and I respectfully ask that we are permitted to move forward in private."
Move forward they did as they just finished their Asian tour promoting their debut album, the last leg of which was in the Philippines. "[The reception] has been better here than anywhere. The whole of Asia has been great," Ray says. While in the country, they tried sisig (chopped unused pig parts), which they say is "good with beer."
ADVERTISEMENT - CONTINUE READING BELOW
They've also come up with a way to cure writer's block: the 10-minute song. The rule is they each have to create a song in just 10 minutes and perform it in front of the band afterwards. "It's funny; you get a vibe going. I was thinking of changing that to half an hour since 10 minutes isn't long enough to come up with a whole song. I'd like to record and upload it on MySpace just for laughs," says The Adj.

Behind the scenes of "Waiting in Line"
It's back to London for the band but you can expect more covers and their second music video for "Waiting in Line" soon. Inspired by Robert Palmer's "Addicted to Love," their next video "features a lot of hot girls dancing and rocking out. It's quite tongue in cheek," says Ray.
Click here to get a chance to win a Raygun CD, shirt and poster.

Photos courtesy of Sony Music Entertainment Philippines.
Share this story with your friends!
---
Help us make Spot.ph better!
Take the short survey
Load More Stories