MOVIE REVIEW: The Informant!: Satire without empathy
Another Steven Soderbergh hit? Andrew Paredes dissects. And yes, that's Matt Damon in the photo, chucking the abs for flab...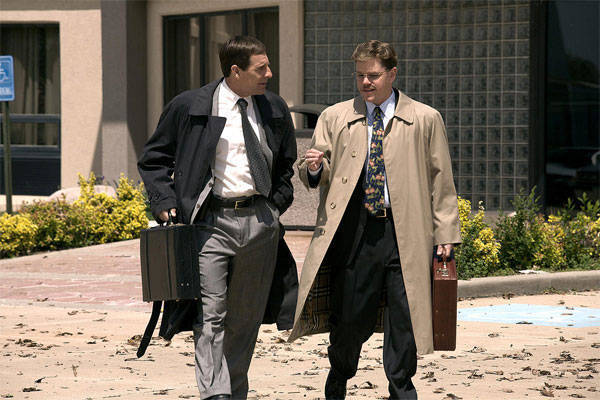 MOVIE REVIEW
The exclamation point in The Informant! sets you up for a comedy, but what you may not know just from the trailer of this nifty-looking satire from director Steven Soderbergh is that it is based on fact. (Well, the filmmakers will inform you of that with an opening card, but by then you will have paid to be told.)
The Informant! is the story of Mark Whitacre (Matt Damon), a biochemist working in a highly-placed executive position at the giant agro-processing company Archer Daniels Midland (ADM). It is the early 1990s, and Whitacre is helping the FBI expose ADM's price-fixing operation on the amino acid Lysine, essential to but non-occurring in animals and humans, synthesized in plants such as corn (as emphasized in the trailer). But what the informant–otherwise known as the "whistleblower" in movies going all the way back to All the President's Men and carried on by The Insider and Michael Clayton–well, what he isn't telling the Feds is that he has an agenda of his own.
The film is based on The Informant: A True Story by New York Times reporter Kurt Eichenwald, but the screenplay by The Bourne Ultimatum's Scott Z. Burns and Soderbergh's direction also have an agenda of their own. Where Eichenwald applies the rigors of journalistic fact-checking and research to his narrative, Burns and Soderbergh are going for broad satire, skewering the solemn conventions of whistleblower movies: the hero undergoing a crisis of conscience, risking his social standing and family's safety, getting thrown to the wolves for his efforts. The Informant! hits all those expected beats and turns them inside out…all in the service of a hero who's either an ambitious bastard or a pathological liar.
ADVERTISEMENT - CONTINUE READING BELOW
Forsaking the abs and putting on the flab, Matt Damon inhabits his boxy, Milquetoast, neutrally colored suits with a comic grace that shows how easily he has grown into an actor of formidable skill, in a way that his contemporaries–say, Ben Affleck–have not. The script, totally enamored of dialogue, layers non-sequitur voice-overs on Whitacre's double-dealings, and Damon wisely plays it deadpan, slowly revealing the subtle and deepening craziness of his character.
As Special Agent Brian Shepard–Whitacre's FBI handler–Scott Bakula (best known as the hero of the TV sci-fi series Quantum Leap) takes his straight-guy cue from Damon, while letting his Mr. Spock hair harvest all his laughs. Meanwhile, the supporting players–Joel McHale (host of E!'s The Soup) as fellow agent Bob Herndon, the cuddly Melanie Lynskey as the requisite supportive wife, and Tony Hale (Arrested Development) as a hapless defense lawyer–display their comedic pedigree and generally have fun.
CONTINUE READING BELOW
Recommended Videos
But there is one flaw that this otherwise pedigreed film cannot overcome. Perhaps it's a function of satire as a genre, but the film approaches its characters at a perpetual remove, a dispassionate distance that keeps the events at an arm's length. It's that same remote, observer stance that the Coen Brothers employ in their "comedies," the most recent of which was the alluringly intelligent but ultimately cold Burn Before Reading.
On second thought, that's not an excuse. A TV show like Glee, which is a send-up of Disney pop culture populated by High School Musical and Camp Rock, you will see that the creators don't let a small thing like satire get in the way of love–or at least empathy–for its characters. Satire without affection becomes acidic in a hurry. There's acid in The Informant! even in places where corn would have been preferable.
ADVERTISEMENT - CONTINUE READING BELOW
RATING: 3 out of 5 Spots •••
Click here to see where The Informant! is showing.
Share this story with your friends!
---
Help us make Spot.ph better!
Take the short survey
Load More Stories