What Now, Krista? Unsolicited advice from talent managers and PR pros
What should Krista Ranillo's next step be? SPOT.ph offers up some options.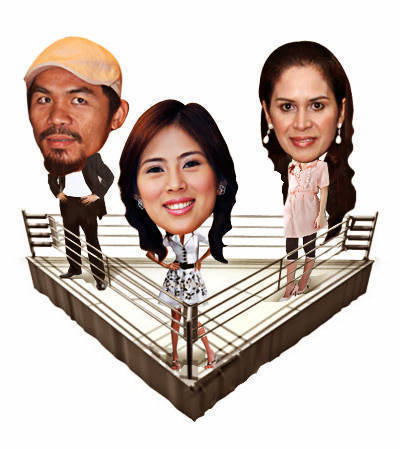 This might be her biggest role to date, playing the alleged querida in a love triangle set up for doom. Ever since the paparazzi caught her doppelganger on video, Krista Ranillo's name has quickly become the subject of much conversation. Was she or was she not the woman in Manny Pacquiao's Benz's passenger's seat?
Speculations spiked as another video made its rounds on the Net. In this video, Manny's wife Jinkee turned on the waterworks during the thanksgiving mass after his match with Cotto. The priest's poignant sermon about the peace shared by husbands and wives may have had an inverse effect on Manny's better half as she refused to hug him during the "Peace be with you" part of the ceremony. Was it because of Jinkee's secret aversion to public displays of affection, or maybe, just maybe, it was because the rumors about Krista are really true? As of this moment, we're all left in the dark.
Since they say that scandal lights the fire on one's showbiz career, SPOT.ph wanted to know if Krista's will burn brighter or just burn out. We asked some of the Philippines' top talent and PR managers for their take on the issue.

Boy Abunda: Jinkee should fight for it
ADVERTISEMENT - CONTINUE READING BELOW
Although he told PEP.ph that he doesn't have much information about the alleged affair, Abunda said that if the rumors are indeed true, he is sure that the relationship was a consensual decision between Krista and Manny. "Well, it takes two to tango. To say that only one is guilty, nagaalanganin ako doon. (I'm not so sure about that.)"
When asked about the alleged mistress, Abunda told PEP.ph, "I want to ask her what the truth is. Well, she's being crucified now... Do you think you deserve the crucifixion? Do you deserve all the name-calling that is happening now? And my follow-up question would depend on whether she will say yes or no."
CONTINUE READING BELOW
Recommended Videos
Abunda made his disapproval of infidelity very clear, stating that no family deserves to be wrecked by such a thing. According to PEP.ph, the talk show host stated that if he's given the chance to speak with Jinkee, he'd tell her that she shouldn't give up on her family. "Exert every possible effort to know the truth. Again, take it from your husband... As long as there is still love, fight for it."

Lolit Solis: Some advice for Krista
ADVERTISEMENT - CONTINUE READING BELOW
Being a friend of Manny's, the usually very chatty talk show host was completely mum about any of the questions SPOT.ph asked regarding the status of the Pacquiao family, but shared with us her advice for Krista:
"Depende 'yan kung paano mo dadalhin. Basta kung kaya mong dalhin, maayos mo 'yan. (It depends on how you can carry yourself through this. If you can carry yourself well, you'll be able to fix your problems.) "

Wyngard Tracy: Manny should step up to the plate
When asked if he believed in the rumor, Wyngard Tracy answered with the old saying, "When there's smoke, there's fire." He noted that these rumors always have something that fuels them. "It's hard to say anything until we're presented with real evidence. We can't really accuse anyone of anything or start pointing fingers without proof. Whether this thing is true or not-I hope it's not."
He added that things don't look good for the young actress. "It's very bad (for Krista's career) because we Filipinos have a tendency to go with the underdog, which in this case is Jinkee."
ADVERTISEMENT - CONTINUE READING BELOW
"As for Manny's career," he continued, "It's in boxing. He even won recently. Hindi madadamay ang career niya sa scandal, but as a person, people are already raising their eyebrows."
If he were Krista's talent manager, Tracy said that he would ask Manny to speak up first. "He's the main character in all of this so sa kanya dapat manggaling. He should speak up para matapos na rin, once and for all, yung intriga."
The People's Champ already gave his comment through GMA News stating that he and Krista are just really good friends. He also apologized to the Ranillo family for any inconvenience the intrigues might have caused them.
The PR's Perspective: To deny or not to deny, that is the question

A scandal like this is any PR firm's worst nightmare, says Annie Ringor, PR managing director of Bridges@Com. Having a high-profile celebrity involved actually makes the situation worse, she tells SPOT.ph.
ADVERTISEMENT - CONTINUE READING BELOW
Krista's situation is bleak, Ringor said. "People are worshipping Manny as a hero. The wife is also very liked by the media and the public. No matter what Krista does, she would end up being the evil bitch. It would be best if she would just stay away."
Ringor pointed out that based on previous experience with other celebrities, the more they don't comment about a scandal, the faster it dies. The moment celebrities stop feeding the media information, they would eventually run out of fuel to keep the scandal alive.
"If they (Manny, Krista, and Jinkee) just keep quiet, Krista's career might be savable. I can't say everything will be like it was before, but at least the scandal might die down. They should just keep quiet and deny it... If they do so, it will be forgotten in about two to three weeks."

On the other hand, Amor Maclang of Geiser Maclang Communications Inc. said that Krista should just stick to the truth. "I think history looks kinder at those who've been truthful, apologized, and moved on."
ADVERTISEMENT - CONTINUE READING BELOW
Being in her line of work, Maclang stated that they always plan for a worst case scenario and how they can help stars rise above it. In Krista's case, she recommends doing these three:
1) Assess the veracity of the situation. "Whether or not she did what she's being accused of, she has to come out and set the record straight," says Maclang. "If she has nothing to hide then she should admit it, but she should also apologize if ever she inadvertently hurt Jinkee and the Pacquiao family."
2) Make her official statement. Krista should hold her own press conference and make a one-time, sincere statement in her own words. It would also help if her words were in Filipino.
3) Move on. This is the most important thing, Maclang noted. "Once she's come out with her statement, she shouldn't belabor the issue... She has to be able to show that there's life beyond the crisis and that she, as an actress and as a person, is much bigger than this one time accusation."
What could telling the truth do to Krista's career, assuming that the truth was that Krista and Manny were secretly canoodling in the shadows of the boxing ring? "Clearly she's going to earn the ire of certain individuals," Maclang said, "But I don't believe her career's going to end right there and then. I think 50% of the population might not like her, but the remaining 50% might be more compassionate."
"I think the golden rule you have to remember when you're immersed in a crisis situation is to be always sincere… I do believe that anyone can have a second chance especially if you've been truthful."
ADVERTISEMENT - CONTINUE READING BELOW
Boy Abunda manages Gretchen Baretto, Ai-Ai Delas Alas, and Mariel Rodriguez. Lolit Solis is a fast-talking showbiz talk show host who also manages Bong Revilla Jr., Lorna Tolentino, and Mark Herras. Wyngard Tracy's been in the industry for decades and currently handles Richard Gomez, Lucy Torres, and Wendell Ramos.
Bridges@Com's roster of corporate clients include Unilever, Nokia, and Dove while some of Geiser Maclang Communications Inc.'s corporate clients include Glaxosmithkline, Ayala Land residential business group, and Kraft Foods Philippines.
Main image (Krista Ranillo) courtesy of fhm.com.ph, illustration by Warren Espejo.

Share this story with your friends!
---
Help us make Spot.ph better!
Take the short survey
Load More Stories