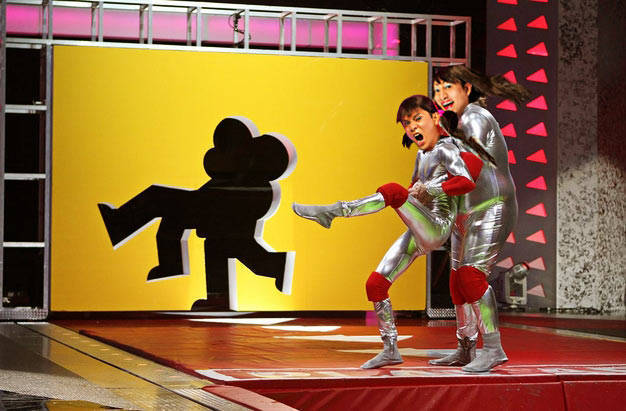 You followed the original version, tuned in on a regular basis, memorized the best lines, and if it happened to be a series, bought a pirated DVD copy. Maybe two. So does it rightly follow that you'd also go crazy for its local adaptation? Don't bet on it.
Perhaps for lack of eureka moments while brainstorming for new shows, and/or because the original (usually dubbed) shows were such a huge, shrieking fan club-generating success among Filipinos, local TV superpowers turn to the boob tubes of lands far, far away like the United States, Mexico and, the nearest at about 1,625 miles away from Manila, South Korea.
International copyrights, or a franchise, of foreign television shows are usually bought. Sometimes, however, whether they admit it or not, some locally produced shows obviously drew "inspiration" from shows abroad. Then television bigwigs are gathered to produce the same, although Filipino flavor-injected, show. Only to elicit an "Oh, no, they didn't!" from followers of the original. Because, really, it's an automatic trigger for a compare and contrast examination.
Good ratings and attractive stars aside, here are ten of those reincarnations on Pinoy TV that went lights, camera, action, but that only became poor imitations:
1. Only You
This Pinoy remake of the popular Korean series of the same title stars Angel Locsin as Jillian, Sam Milby as TJ, and Diether Ocampo as Jonathan, and features a love triangle, a love child and food.
The story: Jillian loves to cook. When she wins a cooking contest, she and Jonathan (her best friend who's secretly in love with her) are flown to South Korea to learn the art of cooking. She meets the angst-ridden TJ, then one thing leads to another, and they spend one night together. Later, her night with TJ a has-been, she learns that she's pregnant, and is forced to give up her dream of becoming a chef. It's only six years into the future when she and TJ cross paths again. In other words, restaurant owner TJ hires cook Jillian.
ADVERTISEMENT - CONTINUE READING BELOW
The not-so dream come true Only You: Maybe its greatest weakness came in the end when Jonathan, tired of trying and trying, but failing, to win Jillian's heart, takes away her son Joshua, and blackmails her into marrying him in exchange for a reunion with her son. It's a love gone mad. A poor attempt to stretch the story, which had Angel bawling her eyes out while negotiating with an annoyingly stubborn Diether. Aside from the drama that constitutes the lives of the characters, there is the cooking (and product placements of a particular food seasoning) - Asian food, in particular. But while South Korea is located in Asia, it isn't exactly one of the region's culinary destinations. The original got it right by going to Italy. The Pinoy version could've won in this aspect by heading to China, Vietnam or Thailand. But then again, maybe the Talangkanin Bibimbap at Kaya can save the day?
2. Rosalinda
Still airing during the primetime block, this Pinoy adaptation of the successful Mexican series, which starred Thalia and Fernando Carillo, features newbie actress Carla Abellana and Geoff Eigenmann in the lead roles. The original caused such a ruckus that Carillo, who played the dashing Fernando Jose, flew to Manila for a concert (which featured Viva Entertainment stars more than him, but that's another story). A you-and-me-against-the-world plot, with wicked stepmothers, amnesia and revenge here and there, Rosalinda promises to give the viewer loads of romance, drama and… roses.
The thorny truth: Carla Abellana, thrust into a title role on her first stab at acting, fails to deliver enough acting prowess to draw the viewer in to the whole drama. (Marian Rivera starred in supporting roles way before her big break as Marimar. Thalia already had had several telenovelas in her arsenal before she bagged the role of Rosalinda.) Geoff Eigenmann, on the other hand, although he does have those enviable celebrity genes, still lacks the tall, dark and handsome, rugged sex appeal that Fernando Carillo possessed.
CONTINUE READING BELOW
Recommended Videos
3. Lipgloss
Abby Rickson and Meg Madrigal (played by Maxine Eigenmann and Saab Magalona) are rich and fabulous frenemies at a highly exclusive co-ed. Abby's boyfriend is secretly in love with her best friend who happens to meet a lesser known creature, i.e. a poorer boy, and develops a thing for said boy. Their lives are documented (and gossiped about) on the school's unofficial web site by an anonymous blogger. Sounds familiar? Whether by coincidence or not, Lipgloss is the unofficial local adaptation of what New York Magazine has dubbed as "the greatest show of our time": Gossip Girl. Strangely enough, Maxine Eigenmann somewhat looks like Leighton Meester - and their characters are also Queen B's, complete with spoiled princess snobbery and idolizing posse.
Too much lipgloss can make you look like you just sucked on greasy fried chicken: Though the characters somehow acted like they were part of the elite (read: they speak Taglish), the seemingly direct copy just didn't sit well. Abby = Blair. Meg = Serena. What their characters went through, which were subsequently blogged, amounted to being very Gossip Girl-esque. Indeed, no originality. The acting as well–delivery of lines, chemistry between characters–needed a lot of work. And the title screams women's lifestyle show more than a teenage drama series. Chismis Chica, perhaps?
4. Tabing Ilog
The cult teen classic that it is, Tabing Ilog won the hearts of many of the Filipino youth during its time from 1999 to 2003. It starred John Lloyd Cruz, Kaye Abad, Paolo Contis, Desiree del Valle, Patrick Garcia, Paula Peralejo, Baron Geisler and Jodi Sta. Maria, in a story about friendship and the ups and downs of adolescent life. It was mostly shot in Pagsanjan, Laguna, and was given the title Tabing Ilog because of the river where the barkada hangs out, and talks about everything that's going on in their lives. The show shone the spotlight on its stars, most of which are huger-than-huge names in local entertainment today.
ADVERTISEMENT - CONTINUE READING BELOW
Tabing Ilog and Dawson's Creek may be an entire ocean apart, but they got caught by a "title" wave: Just from the title, one could already say that Tabing Ilog may be a copy of Dawson's Creek, the popular American TV drama which started broadcasting in the States a year before Tabing Ilog, and coincidentally, ended the same year as its Filipino counterpart. It also told the story of a group of teenage friends going through the roller coaster ride that is teenage life. So yeah, the Filipino producers jumped on to Dawson's bandwagon. But okay, colonial mentality and crushing on James Van Der Beek or Joshua Jackson aside, Tabing Ilog eventually stood out on its own, and developed an essentially Filipino youth-oriented story that washed over Filipino teenagers like a tidal wave and made them tune in every Sunday. And crush on John Lloyd and Patrick.
5. Kakasa Ka Ba Sa Grade 5?
The local adaptation of the American quiz game Are You Smarter Than A 5th Grader? is very similar to the original: way-older-than-a-5th-grader contestant, five "classmates" and 10 elementary-level questions, which seem harder than figuring out spreadsheets or a new marketing strategy. For every correct answer, a greater amount of money is banked. But most of the time it is less about the money; instead, it becomes more a matter of pride. Because if you lose, you will have to admit to the entire world that you are not smarter than a 5th grader. Very embarrassing.
ADVERTISEMENT - CONTINUE READING BELOW
This show needs to peek, copy and save some more: It's a simple enough kind of show, no matter what country picks it up and adapts it. That's why it has to be made fun and amusing. (But this is not to say that the odd, little cha-cha dance in the Pinoy version is anywhere near that. Quite the opposite.) The five kids don't go "Pick me! Pick me!" They just quietly raise their hands while a contestant chooses one of them. Sure, silence is gold in real school. But on TV, it's akin to rust that shouldn't be there. Moreover, host Janno Gibbs, for all the comedy he gives, just isn't as witty as the original's Jeff Foxworthy.
6. Pinoy Fear Factor
Not everyone knows that Fear Factor isn't the first of its kind. It's actually the American adaptation of the original Dutch version called Now or Neverland. Same show, different name. In the case of Pinoy Fear Factor, it's the same name (almost), but with a different format. Instead of three stunts, one winner per episode, Pinoy Fear Factor turns it up a notch or two by making it a series shot in Buenos Aires, Argentina, featuring 12 contestants called "participantes," who must do numerous sets of stunts over a period of weeks, with one participante being eliminated per episode. The winner is declared "El Ultimo Participante."
La ultima sentencia: It's basically a next-level Pinoy Big Brother, friendships, love teams and drama included. It also doesn't help that the producers of the show appear to crave even more for ratings by getting twelve participants who look like they should be in a modeling contest instead. What's more, it's become an added window of opportunity for those who just thirst for the limelight and want to join the already congested world of Philippine showbiz.
ADVERTISEMENT - CONTINUE READING BELOW
7. I Love Betty La Fea
Based on the Colombian series Yo Soy, Betty La Fea, this Bea Alonzo-starrer tells the same story of a not-so-good-looking girl trying to make a living in a world dominated by good-looking people. Beatriz Pengson is the heroine who battles all things going against her in order to succeed in the chaotic field of marketing and advertising, while harboring a crush on the handsome VP of Eco Moda Manila, Armando Solis, and keeping her chin up in front of mean girls like Daniella Valencia and Patricia Suarez.
The ugly duckling didn't transform into a swan: Pinoy Betty, who had the heart of gold, was too strange to be believable. Clumsy, mumbling and gurgling, she was a far cry from the highly intelligent woman she was supposed to be. The Bettys in the original (Ana Maria Orozco) and the United States' (America Ferrera) versions were portrayed better–made up to be unattractive, but obviously the very intelligent, independent and persistent woman Betty is supposed to be. And besides, if she graduated from the UP College of Business Administration, as highlighted in the series, she wouldn't be that way. (At least her clothes would be less flamboyant and suited to the tropical climate.) This aspect was made muy fea by the depiction of Betty's best friend Kulas (played by Vhong Navarro), who was made to dress like a toddler, and act clumsier and more mumbling and gurgling than Betty. Bettyful? Probably not.
8. Philippine Idol and Pinoy Idol
First there was Philippine Idol on one network. A couple of years later, Pinoy Idol showed on another (bigger) network. They're really the same, however differently and separate they are treated. Both franchises follow the original Idol format: auditions are held, contestants are chosen, three judges critique their performances, viewers cast their votes, and one contestant is eliminated until one is proclaimed the "Idol."
ADVERTISEMENT - CONTINUE READING BELOW
A series of broken chords, high notes and wrong pitches: Two local versions have been produced, each with its own good and bad points. Philippine Idol, however, seems to be the better one of the two. In the battle between hosts, Ryan Agoncillo's flair for hosting dominates over Raymond Gutierrez's unnatural and mediocre skills. Another observation can be made of Jolina Magdangal's lack of qualifications to judge a singing contest, and Wyngard Tracy's perceived imitation of Simon Cowell. Philippine Idol showed more credibility by having Pilita Corrales, Ryan Cayabyab, and the late Francis Magalona as the panel of judges. Both ultimately failed to live up to expectations, however, when many remarked the shows to be more of a popularity contest than a recognition of talent, with better singers being eliminated early into the competition. And so the question remains: What has happened to the winners?
9. Hole in the Wall
Originally from Japan–practically a funny-show factory (check them out on YouTube)–Hole in the Wall is a show with the simplest of simple game show rules: contestants must try to fit through the holes in the wall closing in on them by twisting and bending their bodies, else they fall into the pool of water behind them. It's a test of quick thinking and incredible flexibility, which makes out for good laughs. The local adaptation is hosted by Michael V's and Ogie Alcasid's alter egos Yaya and Angelina.
A hole in the show: In essence, the Philippine version doesn't live up to the Japanese original because it misses the odd comedy that perhaps only the Japanese can give. Search for video clips of the Japanese version on YouTube and you'll see why. One example is the more varied, more challenging, sometimes out-of-this-world holes the contestants have to figure out a way through. Can you imagine having to jump to get through the hole at the top of the wall? But okay, you have to admit, Yaya and Angelina must be one of the funniest tandems Michael V and Ogie Alcasid have ever had in their comedic armory.
ADVERTISEMENT - CONTINUE READING BELOW
10. Lovers in Paris
The original Lovers in Paris was broadcast in Korea in 2004 and, being highly successful in many aspects, won best television drama in the Paeksang Art Awards in 2005. It can be said that the show launched its stars Park Shin-yang, Kim Jung-eun and Lee Dong-gun into superstardom in the much-loved entertainment world of the land of kimchi and bibimbap. Plus the expression "Aja!" became a very popular self-cheer to boost morale.
The Philippine version premiered on September 28, 2009, replacing the just-concluded, triumphant tearjerker Tayong Dalawa. "LIP," as fans call the local version of Lovers in Paris, stars Piolo Pascual as Carlo and KC Concepcion (in her first drama series) as Vivian. Hunk Zanjoe Marudo plays support as Martin. And just like in the original, the series depicts the story of poor, vivacious girl and mega-rich, stuffy boy meeting by chance in one of the most romantic cities in the world, eventually forming an understanding, which sooner or later blossoms into something more. But of course l'amour doesn't go without the drama of another boy chasing Vivian, and an authoritarian father, secretive "sister," and stuck-up ex-wife hounding Carlo.
It doesn't look so bright in the City of Lights: Paris is a beautiful city but the interior shots of Carlo's and Vivian's places didn't reflect it. (The interiors were probably shot here, but still.) Carlo's house was so green it looked like an aquarium, while Vivian's place looked like an old-style, wooden Filipino house. However, maybe it's mostly in the casting and characterization that this show failed to live up to the orginal. KC Concepcion, in her first stab at a lead role of a drama series on the primetime block (a lengthy description that already raises a lot of expectations), needs to attend more acting workshops, particularly so that her eyes can actually change expressions. And really, what's up with her accent when she speaks Filipino? In addition, Christopher de Leon doesn't look old enough to look like a grandfather to Piolo and Zanjoe, who are both passable for their roles. But it's still airing so maybe things will change for the better. And in the end, the audience will have to decide whether it's "au revoir" or "je t'aime."
ADVERTISEMENT - CONTINUE READING BELOW
Main image courtesy of ABS-CBN, illustration (Hole in the Wall) by Warren Espejo
Share this story with your friends!
---
Help us make Spot.ph better!
Take the short survey
Load More Stories