Like a picture, an outfit can paint a thousand words. It can be flattering, flawless, or just plain flawed. But when worn by a celebrity, at some point, it can only be either best or worst. We asked Melissa de Quiros, a seasoned entertainment journalist who used to write for Yes! magazine, and professional fashion stylist Leona Laviña-Panutat for their take on these 10 full-on fashion faux pas.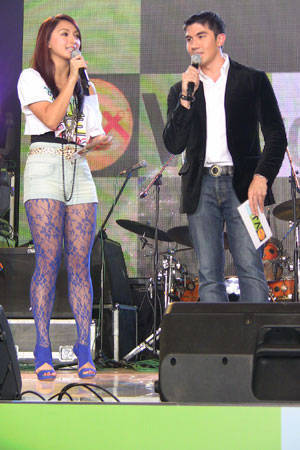 ADVERTISEMENT - CONTINUE READING BELOW
1. Who: Iya Villania
Worn at: MYX VJ Search 2009
Melissa: If this outfit were a story, a reader would stop at chapter one. It doesn't look cohesive, so it becomes visually agonizing. At first glance, yes, the outfit seems fashion-forward. The Leopard-print belt? Hot! High-waisted shorts? Hot! Duke blue lace leggings? Hot! Oversized shirt? Hot! Blue strappy platforms? Hot! But all together: Not! The solution: Edit!
Leona: Oh dear, while I applaud her knowledge of up-to-the-minute trends, I don't appreciate seeing all of them in one outfit. It just looks like a bad remake of Madonna in the '80s. Remember that too many trends at a time just makes you look like a fashion victim. Choose one and keep the rest simple; make that piece the highlight of your ensemble.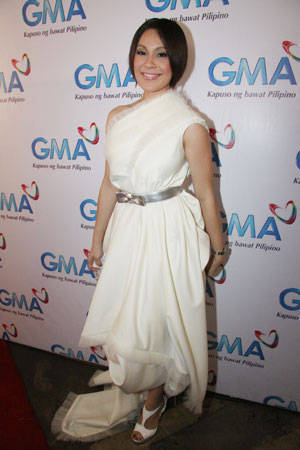 2. Who: Sheryl Cruz
Worn at: GMA-7s One Glamorous Night: Greater and Grateful at 59
Melissa: Imagine Sheryl Cruz in a white overstated Grecian frock with matching horrendous white stilettos and a tacky silver belt. Now, define Greek tragedy. 'Nuff said.
Leona: She's just drowning in all of that fabric. Everything was all wrong. Not only did the gown add pounds to her tiny frame it made her look short. The metallic belt looked like an afterthought, and don't even get me started on her shoes. Ladies pay attention to the fit of your clothes. If you're tiny by nature why, oh why would you like to add pounds by wearing a sack? Everything would've looked so much better if she'd chosen a light fabric for her gown, used a rope belt and put her hair down, and the shoes? Simple metallic heels.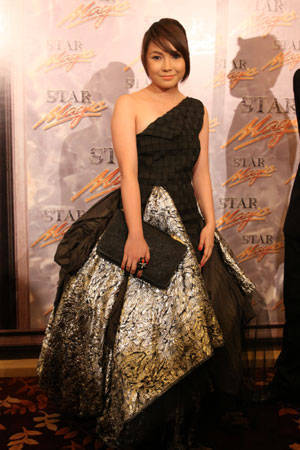 ADVERTISEMENT - CONTINUE READING BELOW
3. Who: Yeng Constantino
Worn at: Star Magic Ball 2009
Melissa: Obviously, Yeng Constantino aimed to push the boundaries with this frock. However, this avant-garde look borders on confusing. From her left, the one-shoulder gown was blandly basic, while the right side was outlandish. Plus, the ornately printed overlay looks so hefty, it looks like it could fall off any minute.
Leona: I admire the workmanship that went into this gown. The weaving done on top, the ruched sides and the yards and yards of different fabric sown together surely was not an easy job. Having said that though, I thought it looked like it had too much going on. The eye just has too much to take in. I like the idea of the dress, and incorporating different textures, but maybe it just needs to be toned down a bit.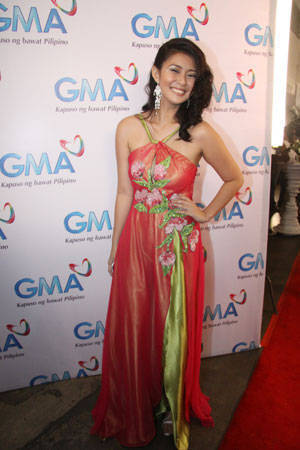 ADVERTISEMENT - CONTINUE READING BELOW
4. Who: Iwa Moto
Worn at: GMA-7s One Glamorous Night: Greater and Grateful at 59
Melissa: Iwa Moto's orange-red floral sequin dress looks more appropriate for a Flores de Mayo parade instead of a glamorous night out. The hair looks halfway decent, but Iwa, what's up with those earrings? Please, please, enlighten us!
Leona: Wow, everything was wrong at the get-go. The coral and apple green fabric looked cheap and the floral beadwork did nothing to save this outfit, if anything, it made it look worse. Melissa, you're complaining about the earrings? Have you seen her shoes? White strappy sandals? Really? Iwa, you have such a banging body, this dress did nothing to highlight that fact. When in doubt, simple and elegant is key. A 59th anniversary party is not the place to experiment with garish colors. This gown would've looked amazing in red, champagne or navy silk jersey and absolutely NO BEADWORK.
ADVERTISEMENT - CONTINUE READING BELOW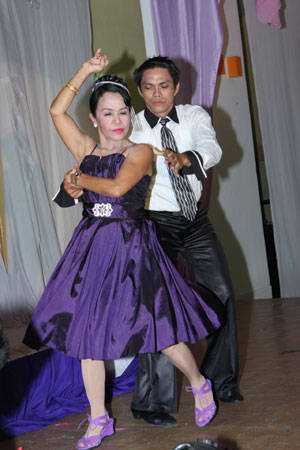 5. Who: Nanay Dionisia Pacquiao
Worn at: Her 60th Birthday Bash
Melissa: At 60, Nanay Dionisia undeniably puts women half her age to shame with her body, confidence and, of course, her dancing prowess. This violet dress was beautiful–until it was paired with white stockings and pastel-colored dancing shoes.
ADVERTISEMENT - CONTINUE READING BELOW
Leona: Nanay Dionisia, let me start by saying that I think you're an amazing and strong woman for raising a family on your own and you deserve all the good things coming into your life. You don't however, deserve to be dancing around on your 60th birthday in that god-awful dress. Not only does it remind me of a bridesmaid's dress from hell, it makes you look like a woman trying too hard to regain her youth. I would change the spaghetti straps into thicker ones, maybe make the neck line into a Sabrina cut and get rid of the rhinestone brooch. I would also replace the white stockings with flesh colored ones and the shoes with black or gold dancing pumps. The effect would be fun yet sophisticated and definitely age-appropriate.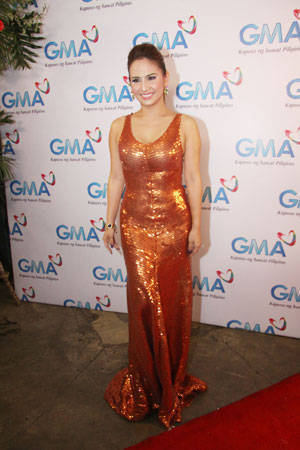 ADVERTISEMENT - CONTINUE READING BELOW
6. Who: Regine Tolentino
Worn at: GMA-7s One Glamorous Night: Greater and Grateful at 59
Melissa: A catastrophic Egyptian-inspired ensemble, Regine Tolentino's rust-colored sequined dress, which seems to be crushing her torso, is very tacky and taxing to look at. Judging by that forced smile on her face, maybe it felt as uncomfortable as it looks?
Leona: She just looks like she's in pain. I actually don't mind the color but the fit is just very distracting. Were you still breathing when this photo was taken, Regine? If this gown were a bit looser and the hem, a bit shorter, then it would've looked so much better. Kudos to you for keeping your hair and accessories simple, though.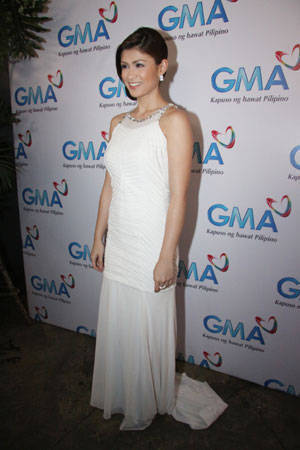 ADVERTISEMENT - CONTINUE READING BELOW
7. Who: Carla Abellana
Worn at: GMA-7s One Glamorous Night: Greater and Grateful at 59
Melissa: Three words: Boring. Unflattering. Unacceptable. This ensemble is very disappointing as it does not give justice to Carla Abellana's soft beauty. Instead it made her look like a grandmother.
Leona: In an industry obsessed with youth, why, oh why do these young starlets want to look older? Carla, this outfit did not do justice to your fresh beauty. It made you look dull and drab. First, the color. At your age you can get away with something bolder. Next, the style: what's up with the sheer fabric at the top and the bottom, did you not have enough fabric to finish the rest of the gown? Third, the fit made you look stocky which I know you are anything but. Plus, the hair–why did you pin it all up? You look way prettier with gorgeous soft waves around your face. Since you're a relative newbie, you still have a lot of red carpet events to look forward to. I'm rooting for you to get it right next time.
ADVERTISEMENT - CONTINUE READING BELOW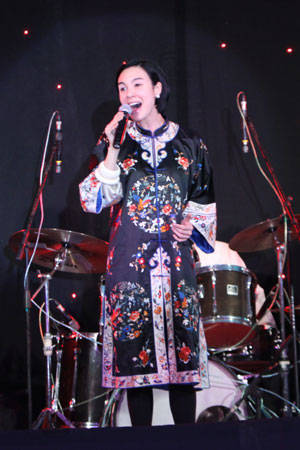 8. Gretchen Barreto
Worn at: The First PMPC Star Awards for Music 2009
Melissa: Another unflattering ensemble, this vintage Kimono, matched with cliché black leggings, is very un-Gretchen Barretto. Sadly, it makes her look dry and drab, instead of fab and glamorous. And besides, this outfit appears more appropriate for United Nations Day than for a birthday. Por qué, La Greta? Or in Japanese, doushite?
ADVERTISEMENT - CONTINUE READING BELOW
Leona: For someone who has one of the most enviable closets in the country, why would you choose to go out in your robe? While it is indeed ornate and beautiful, it has no business leaving the house. Oh, and you think that by pairing it with leggings you an pass it off as a dress? No.   Bust out your Lanvins and Balenciagas and leave the robe to wait for you until you get home.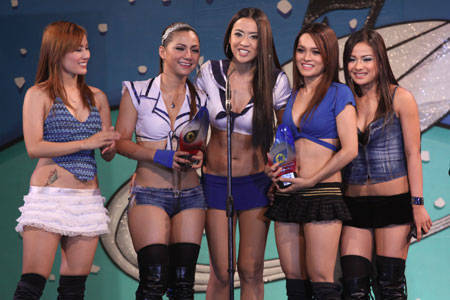 ADVERTISEMENT - CONTINUE READING BELOW
9. Who: The Mocha Girls
Worn at: The First PMPC Star Awards for Music 2009
Melissa: Fashion mission: To look sexy. Fashion outcome: Failed, because either taken individually or collectively, their wardrobes are straightforwardly trashy and sloppy. Better luck next time, girls!
Leona: Were they on their way to a Sailor Moon costume party? Yes, you guys are "artists" and that gives you license to dress up a bit more but it does not give you the right to look inappropriate. Too much skin leaves nothing to the imagination. Girls, you all would've looked gorgeous in short cocktail dresses, fun and flirty–which would have been appropriate for your image, and also appropriate for the event. Congratulations on your award though and better luck next time on your outfit choices.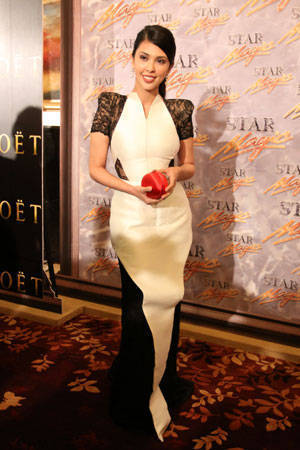 ADVERTISEMENT - CONTINUE READING BELOW
10. Who: Pops Fernandez
Worn at: Star Magic Ball 2009
Melissa: At 42, Pops Fernandez is still one hot momma. Sadly, she seems to have caught herself in a midlife crisis situation with this black-and-white ensemble. The futuristic white V-neck outline failed to complement the black lace sleeves with padded shoulders which, combined, makes the dress look like something from the Victorian era-slash-retro '80s. The red purse–which resembles a pin cushion–was also a poor choice as it did not help in putting the outfit together. All told, the only clear thing about this frock is that its motif remains unclear.
Leona: I get the inspiration, bold shoulders a la Balmain and the cutouts are fun and sexy. The only problem is that the white fabric adds too much contrast to the rest of the gown. If it were all black then we would have a winner.
SPOT.ph wants to know: Which celebrity wore the worst outfit in 2009?
ADVERTISEMENT - CONTINUE READING BELOW
Check out the 10 Best Celebrity Outfits of 2009.
Photos by Noel Orsal, Rommel Llanes (Iya Villania), Melo Balingit (Dionisia Pacquiao)
Share this story with your friends!
---
Help us make Spot.ph better!
Take the short survey
More Videos You Can Watch
Load More Stories