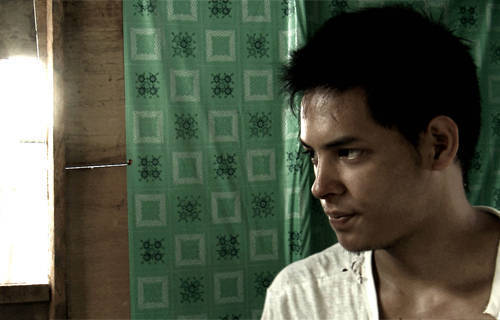 Since being named Candy Cutie (along with his twin, Dominic) by Candy magazine in 2007, Felix Roco, son of local screen legend Bembol Roco, has been building a respectable resumé featuring indie films by noted directors. First was Carlo Roman Olivarez's UPCAT, for which he earned a Best Actor nomination in the 2008 Cinema One Originals Digital Film Festival. Then there was Dukot (Desaparecidos), written by Palanca award-winner Bonifacio Ilagan and directed by Joel Lamangan.
Roco's latest project, Pepe Diokno's multi-awarded film, Engkwentro, tells the story of two brothers who are forced to fight each other in a brutal gang war, while being hunted by the City Death Squad. The movie unveils the stark reality of government-sponsored killings cloaked from the public eye. He sat down with SPOT.ph and gave us 10 good reasons to catch the award-winning flick this weekend:
1. Pepe Diokno was behind the camera.
Twenty-two-year-old Pepe Diokno caught the attention of international critics at the Venice Film Festival this year with his vision, passion, gritty style, and excellently executed narrative, which were all clearly translated on film.
According to Roco, "Pepe has his own style of directing. You could see his determination. When he really wants something, and when he's focused, he'll get it… The scene where I'm punching Zyrus' face… in the dark… ang galing ng shot. Ang galing ni Pepe. (The shot was amazing. Pepe was awesome.)"
2. It's an eye-opener based on reality.
"Engkwentro's based on a true story. Before, I didn't know that it was happening, the City Death Squad. Nung pinabasa sa 'kin ni Pepe 'yung script, nabigla ako. (When Pepe let me read the script, I was shocked.)," recalls Roco.
ADVERTISEMENT - CONTINUE READING BELOW
Engkwentro trailer
3. One word: Intense.
"When you're watching it, parang nandun ka… (It's as if you're there…) you feel the intensity," said Roco. This is mainly due to the film's handheld style. Its shifting focus, natural lighting, and ability to follow the characters seamlessly through the maze of alleys and aluminum rooftops added to the film's realism.
On top of all this, the film looked like it was done in one single take, something that, according to Roco, has never been done in the history of Philippine cinema.
4. It's different.
The film definitely sticks out from a sea of generic films. Unlike most contemporary Filipino movies, it doesn't have big matinee idols, cookie-cutter storylines, nor that awkwardly placed song number or montage. To indie-lovers, the film might also come as a breath of fresh air. Its definitive style and serious storyline separate it even from the most original independent projects.
5. It won in the Venice Film Festival…twice.
The film earned a special mention in this year's Cinemalaya Film Festival, but foreign cinephiles definitely saw something more. Engkwentro nabbed both the Orizzonti Award for Best Film and the Luigi de Laurentiis Award for a Debut Film at the Venice Film Festival in early September.
6. It's a low-budget film with insane production values.
Even with the limited Cinemalaya grant, Diokno had no reservations in going all-out for his on-screen baby. The funds were put to good use as he and his team had a 2,000-square meter set built in Sta. Ana, which was then filled with 500 extras just for the long tracking shots. For the rooftop chase sequence, Diokno put the cast through intense parkour training, leaving Roco with a few bruises and a lot of good memories.
CONTINUE READING BELOW
Recommended Videos
The parkour training is put to the test when the cast is made to traverse the man-made set.
7. The cast is brilliant.
A mix of old and new talent add color to the harsh black and white of the slums. Roco, Eda Nolan, and Zyrus Desamparado proved their acting chops by delivering their lines in impromptu fashion.
"It's easier to ad lib, kasi nasasalo mo lahat ng mga sagot (It's easier to throw back our lines)," said Roco. "This is also Bayang [Barrios]' first film. We didn't really get to talk much, but she's really good. Si Jim Libiran, mabait. Marami siyang advice sa akin. (Jim Libiran is a nice guy. He gave me a lot of good advice.)"
Veteran actor-director Celso Ad Castillo's voice, which echoed through the concrete walls of the slums, became a lurking shadow throughout the film.
8. The on-screen secrets make for an interesting watch.
According to Roco, Diokno is good at giving narrative symbols for the viewers who are attentive enough to notice them. The contrasts of black and white clothing, and the use of Tagalog and Bisaya, for example, were subtly utilized to convey his message.
Roco divulged a funny on-screen secret that involved his shirt, which was never washed throughout the shoot. "I just wore it without complaining. Every time I wore it [I said] 'Ah, I'm Richard again. Damn I smell.'" When asked about the director's reason for the unwashed shirt, Roco just answered with a smile, "I don't know. I just don't know."
ADVERTISEMENT - CONTINUE READING BELOW
9. It's in HD.
Unlike its initial Cinemalaya screenings, fans and first-time viewers will get to experience Engkwentro in a different light. The HD conversion decreases the fuzziness and the poor visual quality of the scenes for better viewing.
10. It will leave you with your jaw on the sticky cinema floor.
"Magugulat kayo sa mga nangyayari at mangyayari. (You'll be shocked by what's happening and what's about to happen.)" Aside from all the twists and turns, the poignant ending will definitely leave an impact on its viewers whether they like it or not.
NOTE: Some folks have walked out of the cinema mid-film because of mild nausea. If you are sensitive to shaky camera movement, we suggest you take anti-nausea medicine before entering the theater.
Engkwentro will be screened at SM Cinemas in Mall of Asia, North Edsa, Megamall, and Cebu on December 11, 12 & 13. Wide release in other Philippine theaters is scheduled for 2010.
Photos courtesy of Bianca Balbuena.
Share this story with your friends!
---
Help us make Spot.ph better!
Take the short survey
Load More Stories