MOVIE REVIEW: Tooth Fairy
Andrew Paredes checks out Dwayne "The Rock" Johnson and his pink ballet tutu's attempt at comedy.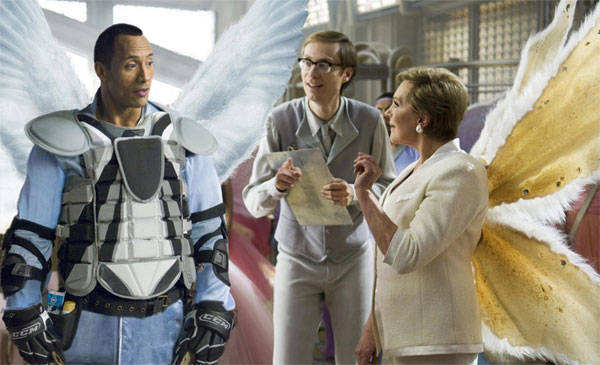 Tooth Fairy–the creators didn't even have enough initiative to add a "the" to their title–features that most reliable of comic conceits: the fish out of water. In this case, the fish is a professional ice-hockey player named Derek "Tooth Fairy" Thompson (Dwayne "The Rock" Johnson), who is famous in the minor leagues for knocking out his opponents' teeth. Facing the twilight of his career, the cynical enforcer almost dashes the childhood fantasies of the little daughter of his divorced amour (Ashley Judd) when he tries to tell her that there is no such thing as the tooth fairy.
Derek is summoned to the land of the fairies and penalized for his disbelief by the head fairy (Julie Andrews, channeling Mary Poppins but with more attitude), forced to become a nocturnal collector of juvenile orthodontia for one week. But, of course, not before a uniform mix-up that has the hulking Johnson donning a pink ballet tutu instead of the regulation powder-blue bathrobe and tights.
It may seem churlish to rip into a movie that is less a movie than a vehicle for the crowd-pleasing attributes of its marquee star–after all, the character and the star are practically carbon copies of each other, right down to their names. (I won't even go into the incongruity of a tough athlete allowing himself to gain a nickname with the word "fairy" in it.) And Tooth Fairy has a bit of comedic pedigree to it. Two of the credited writers are Lowell Ganz and Babaloo Mandel, esteemed scribes who bring their years of experience writing such modern classics as Splash and Parenthood to bear on their script-polishing duties. There are also scene-stealing turns from Billy Crystal, having a blast as a custodian for fairy supplies, and Stephen Merchant as the hockey player's gawky, saucer-eyed case worker who suffers from a case of "wing envy."
ADVERTISEMENT - CONTINUE READING BELOW
But still, a few joyful joke deliveries aside, Tooth Fairy is by and large predictable, from its protagonist's "hilarious" adjustment period to his grudging embrace of his predicament to his feel-good, life-changing epiphany. Plus, there's Ashley Judd, who doesn't seem to have the foggiest notion what she's doing in a movie like this.
A dispiriting reverse between animated and live-action comedies have long been taking place: More and more, the computer-generated denizens of films like Up and Fantastic Mr. Fox seem to be more dexterous not only in what they can do and how they can move, but also in the ways in which their characters grow. And more and more, it is the real-live actors who are becoming the cartoons. I don't begrudge Hollywood its formula–I just don't understand why getting a surprise out of a movie like Tooth Fairy is like pulling teeth.
CONTINUE READING BELOW
Recommended Videos
RATING: 2 out of 5 spots
Images from 20th Century Fox
Click here to see where this movie is showing.
Share this story with your friends!
---
Help us make Spot.ph better!
Take the short survey
Load More Stories