Ria Limjap on 'Ang Tatay Kong Nanay': Feathers and Cabbage Roses
Our SPOT.ph blogger rediscovers the Brocka-directed Dolphy classic, 'Ang Tatay Kong Nanay.'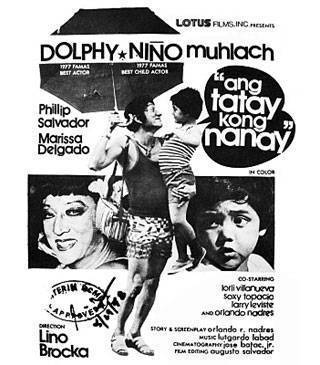 I have a thing for older men. That is, older fussy gay men, the ones who are halfway between tito and tita, the old queens with their regal bearing and flights of fantasy. Why do I love older gay men? They usually have impeccable manners, they tell the best stories, and they are always snappily dressed. Yearning for this kind of delightful company, I watched Lino Brocka's classic 1978 film Ang Tatay Kong Nanay, starring Dolphy (who was around 50 and already mid-career) and Niño Muhlach, who was around six or seven years old at that time. I found myself laughing and crying through the film, and wishing we made more movies like this one.
ADVERTISEMENT - CONTINUE READING BELOW
Dioscoro Derecho or Coring is one of the greatest gay characters in Philippine film. He runs a small beauty parlor, joins beauty pageants, and loves a man who will never love him back. Dolphy's Coring is more than just a man in drag, his performance is funny and wonderful to watch–he is the King of Comedy after all–but it's also filled with loneliness and a secret pain. When the love of his life, a younger man named Dennis (Phillip Salvador) shows up with a baby, the tenderhearted Coring cannot help but take the child into his care. Coring trades his pageant costumes and wigs for wide collar shirts as he strives to raise the boy properly. Meanwhile, Niño Muhlach, possibly the best child actor Philippine showbiz ever produced, is adorable in his little sando-and-shorts outfits and completely heartbreaking as Nonoy.
Despite the general air of Pinoy-style melodrama, the film is saved by the wonderful script of Orlando Nadres, the late writer, director, and actor, who wrote about the lonely gay man's existence with such pathos. The gay speak is authentic and hilarious. In the opening scene, Coring's amigas chide him for not dancing:
ADVERTISEMENT - CONTINUE READING BELOW
RODRIGO
My darling sister, hanggang ngayon pa ba kinokompetensiya mo pa si Lolita Rodriguez?
Hindi na uso ngayon ang broken heart!
CORING
Mahaderang 'to!
BADING
Sumayaw ka na.
CORING
Ayaw sabi eh!
RODRIGO
Sayang naman ang pagpahiram ko ng feathers at ng cabbage rose na yan!
His one-act play Hanggang Dito na Lamang at Maraming Salamat from 1974 foreshadows the characters in Ang Tatay Kong Nanay. Nadres wrote about homosexuality when it wasn't about macho dancing or hustling. He defined the line between repression and flamboyance, and the struggle for identity and survival. Here's a scene from the 2007 movie version, starring Nonie Buencamino as a repressed homosexual man (the role that Lino Brocka himself performed when the play opened in 1974) and Jon Santos as his best friend, a flamboyant parlor manicurista.
Ang Tatay Kong Nanay is an amazing collaboration between artists: Dolphy's warmth and fully fleshed out performance, the brilliant screenplay of Orlando Nadres, and Brocka's sensitive cinematic rendering of the loving bond between a lonely gay man and an unwanted child. It remains an underrated gem in Philippine cinema.
ADVERTISEMENT - CONTINUE READING BELOW
Ang Tatay Kong Nanay is available on DVD from Cinefilipino, released by Unico Entertainment.
CONTINUE READING BELOW
Recommended Videos
Share this story with your friends!
---
Help us make Spot.ph better!
Take the short survey
Load More Stories