Kris Allen on Britney Spears and tongue action with a fan
The American Idol winner spills why he has Britney Spears on his iPod and why "No Boundaries" is not on his concert setlist.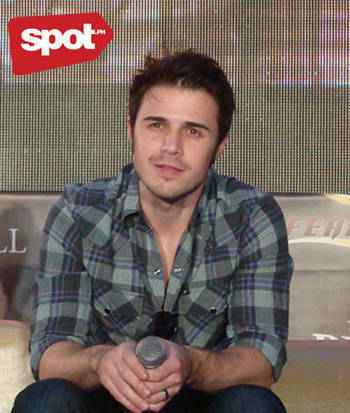 American Idol fans are in for a swoon-and-shout fest as acoustic hotshot Kris Allen arrives on our shores for a string of shows together with hip hop champions Jabbawockeez from Randy Jackson's America's Best Dance Crew, and YouTube sensation Boyce Avenue.
Almost a year after fellow Idol alumni David Cook and David Archuleta were here, Allen is set to perform in Cebu on February 5, and at the McKinley Hills Concert Grounds, Fort Bonifacio, Taguig on February 6.
ADVERTISEMENT - CONTINUE READING BELOW
SPOT.ph caught up with the Idol champ, who revealed what he has in his iPod, his gratitude for those who helped Haiti victims, and why "No Boundaries" is not on his setlist:
Kris Allen on Ciara and Britney Spears.
1. He has MGMT, Switchfoot and Britney Spears in his iPod. While he says that he listens to "a lot of different things," the acoustic heartthrob specifically pointed out that his playlist has the electro-rock and Grammy nominated musical duo MGMT, and "Hello Hurricane," the latest album of the American alternative rock band, Switchfoot. When asked about what people wouldn't expect to find on his playlist, "I would say like on my iPod people would be like, 'why do you have Ciara, Britney Spears?' But they're label mates."
2. He prefers doing concerts to appearing on television. "Television is the worst thing in the world," Allen says in response to host Mo Twister's question: Concerts or TV? "Because I mean, there's so many cameras and camera blocks, it's so weird." He even shared an experience from his days on Idol: "I got in trouble a lot because I didn't look in the camera when they [wanted] me to."
ADVERTISEMENT - CONTINUE READING BELOW
3. He feels for the Haitians. Allen thanked all his Filipino fans in the press conference for helping in any way they can in the wake of the Haiti earthquakes. "Thank you so much for all your help to Haiti, that's so cool." He even tweeted days before, "Glad I get the opportunity to go to Haiti and try to help as much as I can."
Kris Allen sings "Live   Like We're Dying" at the press conference for his February 6 concert held at the Eastwood Mall Open Park.
4. A fan put her tongue on his mouth once. The craziest thing a fan ever did to him involved some tongue action. "I had a girl who put her tongue in my mouth, but that was a little too much." Press conference host Mo Twister   joked, "Why don't we repeat that here?" to which the audience responded with utter hysteria.
ADVERTISEMENT - CONTINUE READING BELOW
5. He won't be singing "No Boundaries" this weekend. While "No Boundaries" may have been Kris Allen's debut single as the American Idol, he won't be singing it in his concerts this weekend. Originally written for a girl, he felt that it's a bit hard for him or even his runner-up Adam Lambert, to sing. "I had the demo of Kara actually singing it, and I thought it was really good, so I think the song fits a girl's voice better, but a girl did not win. I don't think it's in our set list, if that's okay."
Photos and videos by Jeff Cape.
CONTINUE READING BELOW
Recommended Videos
Share this story with your friends!
---
Help us make Spot.ph better!
Take the short survey
Load More Stories