MOVIE REVIEW: Valentine's Day
Andrew Paredes on "Valentine's Day": a movie that "tackles a day celebrating that messiest, most unpredictable of human impulses."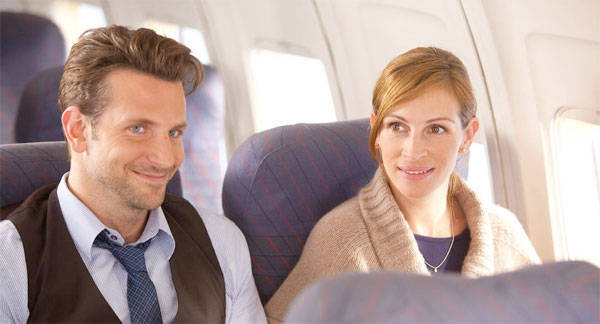 Quite by coincidence, on the evening I came home after attending the press screening of Valentine's Day, the new comedy from director Garry Marshall (Pretty Woman), I chanced upon Paul Thomas Anderson's divisive 1999 film Magnolia playing on HBO. While both films could not be more different, both share some commonalities: Both take place over the course of one day; both occur in and around Los Angeles (what is it about that city's hard, shiny surface that compel filmmakers to do some existential navel-gazing–some more shallow than others?); and both follow a motley crew of the city's denizens as they navigate the perils of their individual storylines.
Referencing Magnolia–that multi-plotline behemoth of a film that refuses to sit still for critical dissection–in a review of a romantic comedy like Valentine's Day would be like mentioning Charles Manson while talking about a Fred Astaire movie. But there is one thing I missed while watching Valentine's Day that I rediscovered with much sighing pleasure as I settled down to watch Magnolia for the second time: that anticipatory tingle of not knowing where a movie was taking me.
ADVERTISEMENT - CONTINUE READING BELOW
As the title obviously suggests, it is Valentine's Day, and a band of Los Angelenos are facing it in their own specific ways. Florist Reed Bennett (Ashton Kutcher) greets the day by proposing to his career-driven, live-in girlfriend Morley (Jessica Alba). Her acceptance is met with surprise by Reed's Latino employee Alphonso (George Lopez) and best friend, elementary school teacher Julia (Jennifer Garner). Meanwhile, Julia is head over heels in love with a dashing doctor named Harrison Copeland (Patrick Dempsey), who is harboring a secret. Meanwhile, one of Julia's students, Edison (Bryce Robinson), is trying to send flowers to his valentine, while his babysitter Grace (Emma Roberts) is methodically planning her first sexual encounter with her boyfriend Alex (Carter Jenkins). Edison's grandparents (Shirley Maclaine and Hector Elizondo) confront the pitfalls of a long union, while Grace's friends Samantha (Taylor Swift) and track star Tyler (Taylor Lautner) are flush with the thrill of first love.
ADVERTISEMENT - CONTINUE READING BELOW
A movie set in LA has to make a reference to the entertainment business one way or another (Magnolia's plotlines centered around a long-running quiz show titled What Do Kids Know?), and the same holds true here: Sean Jackson (Eric Dane) is contemplating the end of his pro football career, while his publicist Kara (Jessica Biel)–a close friend of Julia's–is planning her annual "I Hate Valentine's Day" party. Sean's agent Paula (Queen Latifah) keeps fielding mysterious calls meant for her newly hired receptionist Liz (Anne Hathaway), who has started dating mailroom clerk Jason (Topher Grace). Meanwhile, Kara is discovering an attraction to sports reporter Kelvin Moore (Jamie Foxx), who has been sent out by his producer Susan (Kathy Bates) to do man-on-the-street interviews because of a lack of sports news to cover. And literally flying above them all–that is, until their surprising connection to the characters on terra firma are established–is military captain Kate Hazeltine (Julia Roberts), who forges a connection with fellow traveler Holden (Bradley Cooper) while on a flight returning to LA.
ADVERTISEMENT - CONTINUE READING BELOW
It may be the only way to write–I think "manage" would be a better word to use–mutli-plotline movies like this, but diagramming often works better on scripts than they do on actual films. Either they embrace the many plotlines as their own gimmick (the way another 1999 entry, Doug Liman's joyous drug heist movie Go!, did) or risk becoming overwhelmed by their myriad storylines (2006's Babel). Director Garry Marshall and screenwriter Katherine Fugate (who co-wrote the 2004 Julia Stiles romantic fairy tale The Prince & Me) hedge their bets by keeping most of the plots simple, but a lot of the moving parts don't add up to a smoothly running whole: Every time Julia Roberts and Bradley Cooper appear onscreen, they seem to be in a different movie altogether; the grand gestures used as the climax for romantic comedies seem scaled down to TV size; and a lot of the guffaws that the movie elicits–Taylor Swift doing a ditzy dance routine, Queen Latifah engaging in phone sex, a sly shout-out to another Garry Marshall-Julia Roberts collaboration during the blooper reel–stand out like sore thumbs.
ADVERTISEMENT - CONTINUE READING BELOW
Most of all, the conflicts in Valentine's Day are so diagrammed, you can see where they're going even before the characters do. Even the surprises at the end (the biggest one involves a gay relationship) feel token. I know it's churlish to compare a harmless, star-studded romantic comedy to a sprawling statement on the human condition, but Valentine's Day could have used a bit of Magnolia's sense of messy unpredictability. Especially since it dares to tackle a day celebrating that messiest, most unpredictable of human impulses.
SPOT.ph rating: •• 2 out of 5 spots
Check to see where the movie is showing.
Photos from New Line Cinema
CONTINUE READING BELOW
Recommended Videos
Share this story with your friends!
---
Help us make Spot.ph better!
Take the short survey
Load More Stories