10 Reasons We've Got a Fetish for The Red Shoes
SPOT.ph lists down a few good excuses to watch The Red Shoes, stepping into cinemas on March 10.
Shoes-a pair of size 8  � red pumps owned by Imelda Marcos to be exact-that's what the movie's about. A young boy named Lucas steals them so he could give one shoe to his widowed mother, and the other to his first love. A decade later, Lucas finds himself in a situation that eventually leads him to bring the two pieces back together. SPOT.ph sat down with The Red Shoes stars Marvin Agustin, Nikki Gil, and Tessie Tomas, together with screenwriter James Ladioray to talk about the acclaimed movie that opens today, March 10, and found 10 good reasons to watch it: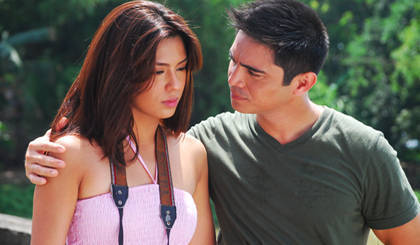 1. It's a different kind of love story.
What self-respecting Pinoy doesn't love a good rom-com? The film is full of kilig moments sure to make any hopeless romantic feel all fuzzy inside. But, mind you, the film is also intelligent. This well-written love story � is juxtaposed against poignant moments in our history, giving the film a whole other dimension that will stimulate both the audience's hearts and minds. Actors Marvin and Nikki were excited to be paired up for the first time to tell this story onscreen.
ADVERTISEMENT - CONTINUE READING BELOW
SPOT: You two have an eight-year age gap, was it difficult to get the chemistry going?
Nikki: May mga eksena kasi na ang chemistry dapat ng dalawang tao genuine because if not, as a viewer, you can tell. You might not be able to point your finger to it, but you can tell something's off, something's wrong. Thankfully, noong nagumpisa kami sa The Red Shoes, our "chemistry" was almost automatic.
Marvin: Working with Nikki is such a breeze, it's a walk in the park. I guess at that time... yung mga love scenes... duon mo mararamdaman yung pagkanatural ng affection.
SPOT: Didn't that love scene feel awkward?
Marvin: [smirking] May mga unusual ways so awkward. Hindi lang basta love scene yung iniisip namin kundi talagang we really have to get into the character. Si Nikki, first [love scene] niya talaga. So it was awkward at the start but we were able to pull it off.
�
2. It's the first time Nikki Gil is in a lead role.
Back when she was still singing that Coca-Cola jingle in 2005, people immediately knew that big things were in store for Nikki Gil. Given the chance to play the lead opposite Marvin Agustin, she shines. The girl can cry on cue, and the way her lines lash out of her mouth during one pivotal scene in the film is enough to make her goody-two-shoes image fade behind a picture of a serious actress ready for big roles.
SPOT.ph: How does it feel to finally be cast as the lead?
ADVERTISEMENT - CONTINUE READING BELOW
Nikki: It feels surreal but I'm honored. I'm very, very honored to have been part of this production. [The film] is very intelligent to begin with. From the moment I read the script I thought that this was something original. This is something that's definitely Filipino and something that will make a mark in the industry.
SPOT.ph: How does this differ from any of your previous projects?
Nikki: It was very different... All of us were not forced to fit the confines of some mold or some peg. We had the freedom to experiment. We had the freedom to explore.
�
3. It's unpredictable...really.
Unlike many films being churned out by big movie outfits, the film is actually unpredictable. Ladioray's writing contributes to this-the many twists and turns in the story's several subplots keep its audience interested in what's going to happen next. Even the ending is a really pleasant surprise.
�
4. Tessie Tomas becomes "Meldi Marco."
The movie boasts a great supporting ensemble: Liza Lorena, Tetchie Agbayani, Tirso Cruz III, Monica Llamas, and Iwa Moto. But the best performance was definitely by the remarkable Tessie Tomas. Her portrayal of an obsessed Imelda Marcos impersonator is a feat to be applauded.
SPOT.ph: You played Madam Vange in the movie, an Imelda impersonator. In real life, do you share the same passion for Imelda?
Tessie: What do you think? [laughs] I adore her and I abhor her. It's got to be a love-hate relationship for me to keep doing Imelda. Di ba? Ganoon talaga 'yun. May mga aspetong gustong-gusto ko sa kanya mayroon namang tila hindi ko nagugustuhan.
ADVERTISEMENT - CONTINUE READING BELOW
SPOT.ph: You've done your fair share of mainstream and independent films, but which do you prefer, mainstream or indie?
Tessie: Sa akin, it's already the renaissance of Philippine cinema. I always say that I openly support indie films. [As actors] we always want to be a part of something major... So gusto kong makasama sa isang major endeavor, yung iba ang pelikula. In indie there's a sense of achievement, there's a sense of confidence. As an actress [I get to] hone my craft more.
�
5. It's rich in history.
A good portion of the movie is a flashback to the Marcos era: the Marcoses' dubious deeds, the tragedies of the freedom fighters, and of course, the stylish First Lady. The movie paints a vivid image of how Imelda Marcos' quest for everything beautiful led to one of the most glamorously veiled tragedies of the early '80s. Can you say Imeldific?
�
6. The shoes.
Although not as impressive as Imelda's 3,000-pair collection, the movie's use of shoes is undeniably witty. Shoes move to the foreground as they help personify the characters in the story. If you're not a big fan of footwear, you'll still be able to identify with flashy red stilettos and plain white loafers (as odd as that sounds). Playing characters that were both reflected by their shoes, we asked Nikki and Marvin what kind of footwear would best describe them in real life.
ADVERTISEMENT - CONTINUE READING BELOW
Nikki: I'd be black stilettos, because I feel powerful when I wear my black stilettos. I feel like a woman. I feel like I'm in charge. There's just some sense of power. I don't know why. Some people might find it shallow but I just feel powerful.
Marvin: I would be like Lucas (his character) wearing the most comfortable pair of shoes most of the time. But I am a person that loves change so nagiiba-iba rin ako ng klase ng sapatos... If the reason calls for it, of course, I would wear formal shoes. But to see me in my most comfortable wear, I would be wearing sneakers.
�
�
7. It's a definite crowd pleaser.
Whether you're one of those art house cineastes or a plain old love-team junkie, this movie will definitely tickle your fancy. Its clever use of indie storytelling techniques ironically fits well with the cheesy song number (yes, there is a song number) and iconic one-liners, both staples of mainstream fare. We picked up some insight on how writer James Ladioray came up with the story:
James: If you're a cineaste you can try discussing the pairs [e.g. a pair of altars, a pair of tragedies, a pair of women vying for attention, etc.]. There are about 3,000 pairs there...that's an exaggeration [laughs]. When I was writing it, I was very conscious about the pairs. When I write a screenplay, I get the core intrinsic qualities of a subject. It started with a pair of shoes so I ran away with it [laughs]. I don't know... that's the nerd in me.
ADVERTISEMENT - CONTINUE READING BELOW
�
8. The visuals and cinematography are superb.
According to director Raul Jorolan, it took them some time to find suitable locations for their intended shots. Some of the film sequences, in fact, were modified on-the-spot to fit the sudden changes in location. Luckily, and with Ike Avellana's talented hands on the camera, they ended up with some picturesque shots of rural Philippines that show just how much untapped beauty our country has to offer.
�
9. It started as a Cinemalaya entry.
Picked as one of the contenders in Cinemalaya 2007 together with some award-winning films like Pisay, Endo, and Tribu, The Red Shoes (originally titled 2,999) eventually pulled out because of time constraints.
James: I have nothing but respect for those people in independent film who can do beautiful films within the time frame. Pero talagang kapos kami sa oras. Yung time na yun, yung schedules ng artista, ang hirap-hirap talaga. Unlike King Kong or Batman, [stories that] can have several reincarnations over time, my script only has one chance to become a reality. So with a very heavy heart, I pulled out of Cinemalaya. Ayokong lumabas with something that was rushed just for the sake of beating the deadline.
Ladioray's decision actually worked to the movie's advantage. The two extra years of production gave the filmmakers more time to perfect the story and its visuals.
�
10. It's a Unitel production.
With films like Crying Ladies, La Visa Loca, and Magnifico in its roster, James Ladioray was ecstatic that Unitel Productions decided to produce his screenplay after their short-lived Cinemalaya stint.
ADVERTISEMENT - CONTINUE READING BELOW
James: I'm so blessed that my first film was under Unitel because this is the sort of company, with Mr. Tony Gloria, and the entire culture of Unitel, they're really for creative integrity. Sobra talaga nilang inalagaan yung film. Most writers, once the producers get their script, that's it. But in this one, they wanted to respect where I wanted to take the script. I had a very active role in the creation process.
�
The Red Shoes opens March 10 in theaters nationwide. Read more at the movie's official site.
Load More Stories