There's a whole bunch of metaphors in The Red Shoes, Unitel's attempt to do a romantic drama for the thinking audience. Chew on this, thinking audience: The Red Shoes has   Imelda-inspired imagery, references to Rizal, a non-linear story line, and historical framing.   Fueled with talent from the advertising world, the film (directed by Raul Jorolan and written by James Ladioray) for me feels a bit like a polished television commercial. It's clever and quirky and slick. They made a cute website and a cool poster. They cast capable if not amazingly gifted mainstream actors (Marvin Agustin and Nikki Gil) and surrounded them with a great supporting cast (Liza Lorena, Tessie Tomas, Tirso Cruz III, and Tetchie Agbayani). They hired talented people to do the cinematography (Ike Avellana) and production design (Norman Regalado). They created the necessary buzz around the movie, which is essentially the story of a young boy who steals a pair of shoes from Imelda Marcos during the end of the 1986 revolution. The Red Shoes certainly gets an A for effort. I salute them for their endeavor. These folks tried hard to give audiences something else to watch.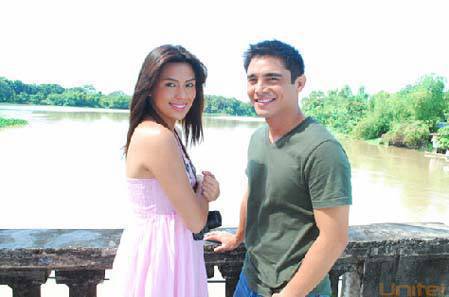 ADVERTISEMENT - CONTINUE READING BELOW
But is the audience really watching? I caught the first screening of the first day The Red Shoes opened at Glorietta. It's apparently sharing Cinema 4 with another movie, an imported one that sounded vaguely like horror/suspense. The theater was about sixty percent full, and it was a nice mixed crowd–in other words a decent showing, but still, you know, bitin.
I wonder why. Is it because they didn't put enough into their marketing plan? Maybe it's because a lot of the metaphors/references/humor will go over our heads? Or perhaps it's because people just want to see the completely escapist and usually inane stuff–something like Vic Sotto and a sexy starlet in a sloppy comedy/fantasy. Or better yet Sam Milby and Erap in a family-oriented romantic comedy. What about Michael V in drag? I saw those and the theaters were full to the brim. People were laughing outright and having a pretty good time. Will something smart and slick prove itself as a hit with the movie-going public?
ADVERTISEMENT - CONTINUE READING BELOW
Recommended Videos
And, if you're waiting for me to write about the plot and the characters–you can stop reading now. (Perhaps you should have stopped reading much earlier on, haha.) I am not going to rhapsodize about the movie's use of symbolism and many references to historical events and cultural icons from the Marcos/EDSA era, etc. etc. etc.   I'm not going to say that Nikki Gil can cry on cue and that Marvin Agustin is surprisingly hot. (Well, he is.) I'm not going to write about the story and its twists, or go on and on about the highly professional visual aspect of the movie. Honestly, does anyone really care?
So instead, I will say that if you're a member of the audience–"thinking" or not–go and watch it. See for yourself. There's only one way to find out if the shoe fits.
P.S.
I just have to say–the best part of this movie was Tessie Tomas as Madame Vange, an Imelda-impersonating psychic. She is hysterical, completely in top form. Long live TT!
Photographs from theredshoes.com.ph.
Share this story with your friends!
---
Help us make Spot.ph better!
Take the short survey
Load More Stories