When in Rome, in theaters March 17, pairs Veronica Mars star Kristen Bell with Las Vegas' Josh Duhamel in a rom-com set in picturesque Rome. We got to sit down with some of the film's stars for the scoop, and we list down some LOL moments we're excited to see:
1. Kristen Bell gets drunk.
"My character Beth works a high-pressure job, which is why she's always so frazzled… She goes to her sister's wedding in Rome and has one too many glasses of champagne," says Kristen, who's so pretty and poised and petite that it's almost like watching a Disney princess get drunk. But don't expect her to start singing about Prince Charming, or throwing up rainbows and hiccupping butterflies, because…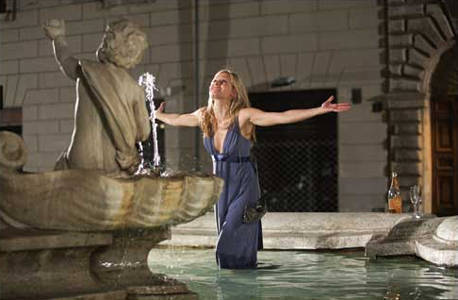 2. Kristen Bell gets into trouble after getting drunk. Obviously.
Beth, disillusioned with love after her ex announces his engagement to another woman, ends up wading through the fictional Fontana D'Amore after her sister's wedding, stealing coins thrown into the water by random strangers. The fountain is cursed, of course–the coins belong to people who've wished for love, and are now magically obsessed with pursuing the woman who holds their coins. "When she gets back to New York, all these suitors start to come after," Kristen says. "They're madly in love."
ADVERTISEMENT - CONTINUE READING BELOW
3. Josh Duhamel gets hit by a car.
Fergie's pretty boy plays a charming sports columnist named Nick, who is so enamored with Beth that he smashes into a tree, gets breath spray in his eyes, speaks bogus Italian, and competes with four oddballs for her attention. Josh describes the car scene as a tense moment: "The car was coming at me and was actually going to hit me, and I was to roll up on the hood. Everyone thought I was going to break my neck. All of a sudden, I hear 'BOOOOO!' in the background, and it's my father, visiting the set. Thanks for the support, Dad. I appreciate it."
4. Dax Shepard shows off his abs.
Kristen's real-life flame plays an extremely narcissistic male model named Gale, who will probably remind you of a couple of guys you know. "I've seen that look before," he tells Beth. "You're intimidated. 'Cause I'm a model. But I don't want you to be scared, okay? I'm a normal guy." A few minutes later, he takes off his shirt in a crowded café and admires his reflection in the mirror. "Can someone call the vet?" he yells out, pointing to his abs. "Because these puppies are sick!"
5. Dax Shepard wears ladies' workout clothes.
Mint green, spandex workout clothes. There are no words to describe this. Except maybe "awkward." And "slightly disturbing."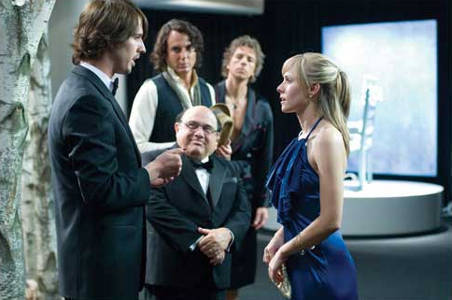 ADVERTISEMENT - CONTINUE READING BELOW
Recommended Videos
6. Danny DeVito is a DOM.
This established actor plays Al, a sleazy sausage magnate who asks Beth for a private tour of the Guggenheim museum, where she works as a curator. To woo her, her gives her a pack of sausages plastered with his face and the Sausage King logo. Yes, we know how dirty those last two sentences sounded.
7. Will Arnett paints a naked mural.
Will plays Antonio, a painter with a heavy Italian accent and an unhealthy foot fetish. Watch for the part where he drives a yellow clown car through the streets of New York, with his three co-suitors squeezed together in the backseat. The car is so tiny that Al has to ask, "Who makes this? Fisher Price?"
8. Jon Heder is… well, Jon Heder.
Who hasn't heard of Jon Heder? In this movie, he portrays Lance, a street magician desperate for Beth's love. "Street magicians are creepy," Jon says. "I think that's what I liked the most." If you loved him in Just Like Heaven and Blades of Glory, you'll enjoy seeing him try to impress Beth with his card tricks and his own (epic fail) version of The Great Mummy Escape. Bonus: Pedro from Napoleon Dynamite makes a cameo!
9. People get hurt. Literally. A lot.
"There's a lot of chasing involved, a lot running in heels," Kristen says. "I'm very klutzy in real life, so I didn't need training [to be funny in those scenes]." When in Rome is physical comedy at its finest, which means it won't require you to put on your thinking cap just to have a good laugh.
ADVERTISEMENT - CONTINUE READING BELOW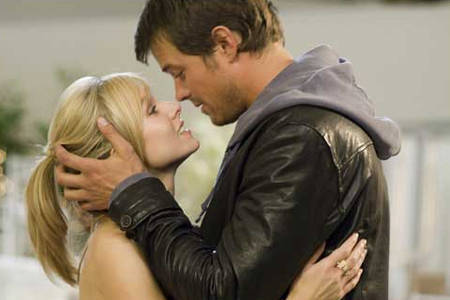 10. Romance isn't taken too seriously.
"I'm not a big traditional romantic comedy guy," says director Mark Steven Johnson. "I wanted to make a comedy with romance, versus a 'romantic comedy.' I wanted to make a comedy that was really funny but also had a big heart." While this movie probably won't give you any grand insights about love and life, it will definitely entertain you. And if you're still not convinced, maybe this tweet from Dax Shepard will work: "Attn Guys Who Like Having Sex At The End Of A Date: Take your lady to When In Rome on Friday. You will secretly love it too."
Photos courtesy of Touchstone Pictures
Share this story with your friends!
---
Help us make Spot.ph better!
Take the short survey
Load More Stories