It's not just men who need eye candy to help fight the summer heat. Women need something to help take their minds off the rising temperatures, too. SPOT.ph offers relief via visual stimulation. Here's our list of men who got ready for the beach, lorded it over the pool, sizzled in the shower, or simply got soaked in the movies, TV, and even in the news.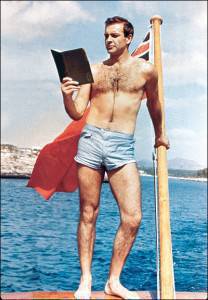 1. Sean Connery is the centerpiece of Thunderball.
Eye candy cues: As James Bond in the 1965 flick, Connery, then just 35, oozes with animal appeal. In the days before going to the gym was in vogue, he was the man who everyone else look bad.
Lusty low-down: Even the most prudish women of the era drooled over Connery's manly magnificence. He'll turn 80 this year but he's still a very hot-looking old man.
2. Richard Gere renders us Breathless.
ADVERTISEMENT - CONTINUE READING BELOW
Eye candy cues: Gere was only 34 when this 1983 movie was shown. (He's turning 61 in August and he's still yummy!) He plays Jesse Lujack, a criminal who falls for a nice girl. The girl is so mesmerized by his beauty that she doesn't require him to change his evil ways.
Lusty low-down: Despite the hideous plaid pants, Gere's scandalous expression and toned upper body heats up this poolside scene.
3. Ryan Phillippe's Cruel Intentions hurt so good.
Eye candy cues: In this 1999 movie, Phillippe is the amoral Sebastian Valmont, who can seduce any girl he wants. In this scene, he brings out the big guns-so to speak-in order to corrupt a virginal overachiever.
Lusty low-down: With his perfect choirboy features framed by blond curls, Phillippe doesn't have to drop his pants to lead us into temptation. (Hold your breath at 2:18 to 2:20.) But, heck, who are we to complain?
4. Christian Bale is one gorgeous American Psycho.
Eye candy cues: Bale plays Patrick Bateman, a homicidal investment banking executive in this 2000 flick based on Bret Easton Ellis' novel. The disturbing plot was almost beside the point when Bale bared his body for this very steamy shower scene.
Lusty low-down: Bale's a great Method actor, but it doesn't hurt that he has a butt that seems to defy gravity.
5. Josh Holloway is the perfect man to get Lost with.
Eye candy cues: Let's face it. Holloway stands out in the puzzling hit TV series with a huge ensemble cast because of his looks. He plays Sawyer Ford, a con man who knows that taking off his shirt-and then some-can help him get what he wants.
ADVERTISEMENT - CONTINUE READING BELOW
Recommended Videos
Lusty low-down: When marooned in a deserted island, women pray that they'll have a man like Holloway to take care of them. It goes without saying that he should be shirtless when performing this task.
6. Daniel Craig is the spy we all love in Casino Royale.
Eye candy cues: Craig makes his mark as James Bond by rising from the sea and strutting his stuff in a light blue Speedo. The movie's plot is a bit problematic-but the sight of Craig's buff body more than makes up for it.
Lusty low-down: There are times when Craig's bad angles make him look like Gollum. But then Gollum can't stir up our hormones and makes us shake with desire.
7. US President Barack Obama in swimming trunks: Priceless!
Eye candy cues: Obama had yet to be sworn in as US president when he was photographed shirtless in Hawaii.
Lusty low-down: Obama's beachside display was big news. His photo was published in newspapers and magazines, as well as flashed on news shows. The media dubbed him as the world leader with the most impressive physique.
8. Hugh Jackman should be Australia's top tourist attraction.
Eye candy cues: Jackman plays a cattle station manager in this period flick. He's an anti-hero helping out a feisty widow get her bearings. Though he doesn't actively seduce her, we can't blame her for being awestruck by the sight of his slick torso.
ADVERTISEMENT - CONTINUE READING BELOW
Lusty low-down: The sight of Jackman pouring water all over himself is almost X-rated. It should be a crime for him to expose his "delectable shirtlessness" to defenseless women. We can't blame men for hating him either. He sets the bar so damn high.
9. Ryan Reynolds makes The Proposal very hard to refuse.
Eye candy cues: In this rom-com, Reynolds plays Andrew Paxton, a good-hearted assistant who is forced to pretend that he's in love with his lady boss. One day, she accidentally gets to check out his physical assets.
Lusty low-down: Since he started out as a "funny guy," many of us never thought that Reynolds has a body that's built for sin.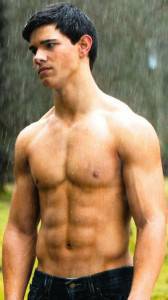 10. Taylor Lautner is supernaturally sexy in New Moon.
Eye candy cues: As Jacob Black, the werewolf who pines after the girl who's obsessed with a pasty vampire, Lautner had young girls screaming at the sight of his well-defined abdominal muscles. Lautner smolders in this rainy confrontation scene. (We cropped out the girl, of course.)
ADVERTISEMENT - CONTINUE READING BELOW
Lusty low-down: It's not just teenage girls who get weak in the knees upon seeing a wet and shirtless Lautner. A lot of cougars are now checking him out, too.
Special mention: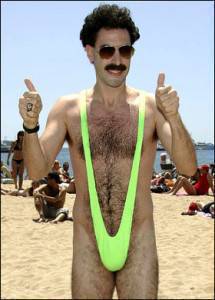 Sacha Baron Cohen is shameless as Borat.
Eye candy cues: As Borat, the fictional TV personality who is the star of the controversial 2006 mockumentary, Cohen dons a mankini that leaves little to the imagination.
Lusty low-down: Cohen as Borat is not exactly traditional "eye candy," but he could be an acquired taste. The sheer guts it took for him to don barely-there beachwear deserves some sort of applause.
Image credits: Telegraph.co.uk (Sean Connery Thunderball film still), Giftmonger.com (Sacha Baron Cohen Borat film still), Sodahead.com (Taylor Lautner New Moon film still).
Main artwork (collage) by Warren Espejo.

Share this story with your friends!
---
Help us make Spot.ph better!
Take the short survey
Load More Stories