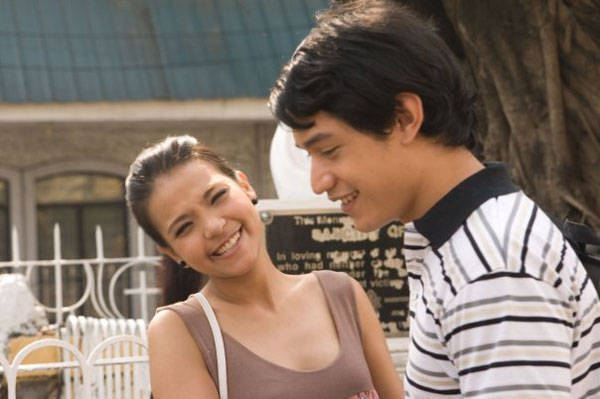 After a steady diet of fluffy romantic dramas (or comedies) with really bad titles, lots of standardized cheesy lines, squeaky clean stars with their shining teeth and perfect hair–I have grown listless and a bit jaded about movies about love. Does it always have to be about the big kiss at the end, cue awful synthesized soundtrack with matching theme song? That only really happens in the movies.
Lately I've been wondering: what about the unhappy endings? Those are often good stories, too. Tragic ones about the darker aspects of love tainted with loathing–not very popular at the box office right now–but still worth being told. But who is brave enough to tell them?
Adolfo Alix Jr. does his take on the classic theme of tragic love in his latest film Romeo at Juliet which is based on an unpublished book, starring Alessandra de Rossi and Victor Basa. They use Shakespearean tragedy as a frame for this tautly woven story (written by Jean Altavas) about a high-class hooker named Angel who falls in love with a prayerful pre-med student named Joseph. Adolfo Alix manages to get brilliant performances out of all his actors (there's an amazing supporting cast), just as he gets fine work from everyone else who worked on this technically polished and artistically stylized film.
[vimeo]http://vimeo.com/9440538[/vimeo]
Alessandra de Rossi, I thought, was amazing as a sexually abused young woman who falls in love for the first time in her life. Alessandra's Angel looks so vulnerable and young even as she talks about having rape fantasies with her clients. But the real revelation is Victor Basa, who is cast perfectly in this film. He makes a gorgeous leading man, but also he's the meek boy who likes cutting up small animals.
ADVERTISEMENT - CONTINUE READING BELOW
We all know how a tragedy ends. I won't go on about what happens between Angel and Joseph, but I will say that everyone should catch this film. Prepare to squirm a bit in your seat and see pieces of yourself and your secret tragedies in this compelling story.
"Expectation is the root of all heartache." Shakespeare wrote that in the original Romeo and Juliet. Such wise words, but honestly no one is going to remember a quote from Shakespeare when we're falling in love and still blind to certain things about our beloved. We expect that they will never hurt us, or lie, or cheat, or stab a knife in our heart. The deepest scars are inflicted upon us by the ones who are supposed to love us the most. It's part of our nature, I suppose. We are all flawed and vulnerable and capable of despicable things.
P.S. Romeo at Juliet is showing at Robinson Galleria's IndieSine. Please everyone go and watch it.
Share this story with your friends!
---
Help us make Spot.ph better!
Take the short survey
Load More Stories