It's gods versus mortals in Clash of the Titans
MOVIE REVIEW: The gods must be crazy in this rip-roaring epic starring Sam Worthington. Does it live up to the hype?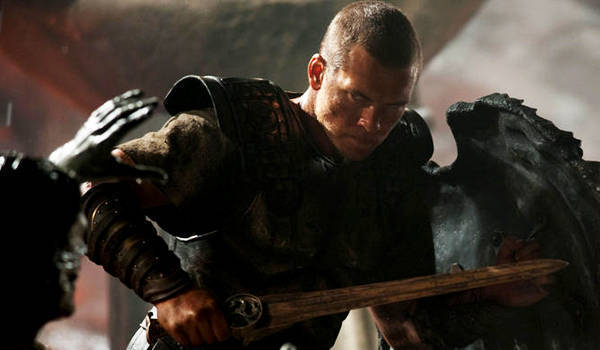 "Damn the gods." These three words fuel this re-telling of the 1981 film, Clash of the Titans. Compared to the original, this Louis Leterrier epic does away with the diplomacy of the Greek gods and, instead, shifts its focus to an ill-fated band of men and their quest to bring them down.
The group is led by Perseus, played by a brooding Sam Worthington who has found his niche in CGI blockbusters. He's the bastard son of Zeus (Liam Neeson) seeking retribution for the death of his earthly family in the hands of his uncle Hades, portrayed by a raspy-voiced Ralph Fiennes. As if the set-up isn't dysfunctional enough, Perseus is also hunted down by Calibos, a superhuman minion of Hades and the husband of Perseus' mother.
His mission is re-focused once he steps into the city of Argos where the king and queen have started a rebellion against the gods. Of course, this treason is met with displeasure, causing Zeus to over-dramatically "release the Kraken!" if the lovely princess Andromeda (Alexa Devalos) isn't sacrificed in three days.
ADVERTISEMENT - CONTINUE READING BELOW
Perseus is joined by a mismatched group of characters comprised of four soldiers headed by Draco (Mads Mikkelsen), two hunters, a whatchamacallit humanoid creature with a knack for incantations, and Io (Gemma Arterton), an ageless, pale-faced woman who's been secretly eyeing Perseus ever since he was a baby.
Being the demigod that he is, it's only natural for Perseus to have everything: strength, skill, speed, otherworldly good looks, and a heavy bag of daddy drama which he drags around throughout the film. Worthington pulls it off though, balancing his character's frustrations with that same charming swagger he supplied in Avatar.
CONTINUE READING BELOW
Recommended Videos
Leterrier did a good job in filming this updated take by subtly merging elements from the old movie (e.g. Bubo the mechanical owl) with the novelties of modern-day technology. With the help of screenwriter and Titans fan Travis Beacham, they ended up creating an action-packed flick that excites the senses. Freakishly gigantic scorpions set on a sunburned terrain, a fiery encounter within Medusa's lair, and the sky high chase sequence around the Kraken are just some of the very enjoyable thrills in 3-D, or not.
ADVERTISEMENT - CONTINUE READING BELOW
Technically, the movie is solid, given the intricate costumes and overwhelming production values. But the same can't be said for the predictable plot and flimsy resolutions resulting from deus ex machina. It is Greek mythology, after all. The gods always have it their way. The cheesy look and feel of Mt. Olympus alone is enough for anyone to foretell that the ending will be just as sappy. Damn the gods, indeed.
RATING: 3 out of 5 spots •••
To see where this movie is showing, click here.
Images courtesy of Warner Bros. Pictures.
Share this story with your friends!
---
Help us make Spot.ph better!
Take the short survey
Load More Stories