Top 10 TV and Movie Monster Moms
With Mothers' Day coming up, Spot.ph lists 10 monstrous moms that will make you love your own one even more.
They lie, they manipulate, they switch your babies at childbirth–what makes these dishonorable dolls more despicable is that they're all moms. Forget being caring, supportive, and nice, SPOT.ph lists down 10 TV and movie mothers that make you wish you were never born. Aren't you glad your mom's not like them?
10. Esme Fajardo played by Annabelle Rama
Movie: My Monster Mom (2008)
Object of tyranny: Daughter Abby Fajardo (Ruffa Gutierrez)
Psychological trigger: After being cheated on by her lover and sending her baby daughter to the US, Esmeralda Fajardo turns into a jaded control freak with a sharp, Visayan-accented tongue.
Monstrous deeds: Aside from her incessant nagging, Esme also meddles with her kids' lives by imposing her own rules, curfews, and unreasonably strict rules for dating.
Maniacal dialogue: "Huwag ka ngang sumagot! Babatuhin kita ng brilyante ko!"
9. Viola Fields played by Jane Fonda

Movie: Monster-in-law (2005)

Object of tyranny: Daughter-in-law-to-be Charlie Cantilini (Jennifer Lopez)

Psychological trigger: When you're a powerful broadcast journalist forcefully dethroned by a much younger bimbo, it's only normal to feel a little insecure and bitter. With news that her only son is engaged to be married to a young temp, Viola gets devious and makes Charlie's walk to the aisle synonymous to hell.

Monstrous deeds: She feigns a psychotic breakdown just so she can terrorize Charlie at home, alienates Charlie in front of foreign dignitaries, invites her son's ex to the wedding rehearsal, and gives her a too-tiny-for-J.Lo's curves dress to wear at an unannounced party. And, even if she knows that Charlie is allergic to nuts, she serves her with gravy spiked with nuts.

ADVERTISEMENT - CONTINUE READING BELOW
Maniacal dialogue: After honking a horn to wake up Charlie, "Oh, I'm sorry! I thought it was air freshener!" Then she cackles like a wicked witch.
8. Doña Amalia Montenegro played by Pilar Pilapil
Teleserye: Agua Bendita (2010)
Object of Tyranny: Granddaughter Agua Cristi (Xyriel Anne Manabat/Andi Eigenmann)
Psychological trigger: Grandparents usually have a good reputation of spoiling their grandkids. Although this still holds true for Doña Amalia's treatment of Bendita, she gives Agua the cold shoulder because she considers her to be a freak.
Monstrous deeds: As if pushing your own granddaughter off a boat weren't evil enough, Doña Amalia's most monstrous deed has to be turning Bendita into a miniature version of herself.
CONTINUE READING BELOW
Recommended Videos
7. Corazon Roxas-Berenguer played by Chin Chin Gutierrez

Teleserye: Maging Sino Ka Man (2006-2008)
Object of tyranny: Daughter-in-law Celine Magsaysay (Anne Curtis)
Psychological trigger: Her troubled past and violent experiences with her lover force her to put up a front and to loathe anyone who threatens her family's wealth and stature.
Monstrous deeds: She uses emotional blackmail to control her son, JB (Sam Milby), and tricks him into abandoning Celine. When this plan fails, she shows up at their wedding to deliver a passionate speech before–you guessed it– splashing Celine's face with a glass of wine.
Maniacal dialogue: "Let me propose a toast: To sons who abandon their mothers, and to the sluts who take them away!"
6. Isadora Castillejos played by Cherry Pie Picache
Teleserye: Iisa Pa Lamang (2008)

ADVERTISEMENT - CONTINUE READING BELOW
Object of tyranny: Catherine Ramirez (Claudine Barretto)
Psychological trigger: Blinded by her lavish lifestyle, Isadora sees to it that her son, Michael, marries the right woman to maintain all the power. When Michael starts seeing Catherine, Isadora sees red.
Monstrous deeds: She cooks up a devious plan to push Catherine away. She even threatens Catherine at gun point, several times. She then tricks her son into marrying a rich girl for the assets.
Some of our favorite Isadora zingers:
"Ganito pala ang feeling maging hampas lupa… Kaloka!"
"Bakit ang daming bobo? Ang bilis naman nilang manganak!"
"Wala akong panahong makipagbalagtasan sa'yo Catherine. Tapos na ang linggo ng wika. Hindi ka ba naabisuhan?"
5. Joan Crawford played by Faye Dunaway
Movie: Mommie Dearest (1981)
Object of tyranny: Adopted kids Christina and Christopher
Psychological trigger: Being an obsessive-compulsive Hollywood actress going through a slight lapse in her career and a public break-up, it only takes little nuisances like wire hangers to make Joan Crawford snap.
Monstrous deeds: She cuts her daughter's hair out of rage, donates her presents to an orphanage out of jealousy, chokes her out of spite, sends her off to boarding school out of hatred, orders her to clean the bathroom floor out of impulse, and hits her repeatedly out of disgust for wire hangers.
Maniacal dialogue: "No wire hangers, eveeeerrrr!"
4. Undin
Movie: Shake, Rattle and Roll III (1991)
Object of tyranny: Anybody she catches unaware
Psychological trigger: Imagine sitting at home, just minding your own business, when a group of strangers suddenly ransacks your house and takes away your children. Undin goes ballistic when a group of students steals her eggs from her aquatic abode.
ADVERTISEMENT - CONTINUE READING BELOW
Monstrous deeds: This literal monster mom lurks in the sewer system and takes her victims by surprise as she creeps out from the toilet and spews lethal acid at them. She liquefies her victims until someone hands her back her eggs.
Lasting impact: '80s kids definitely developed toilet phobia, dreading that Undin might come out anytime they sit on the throne.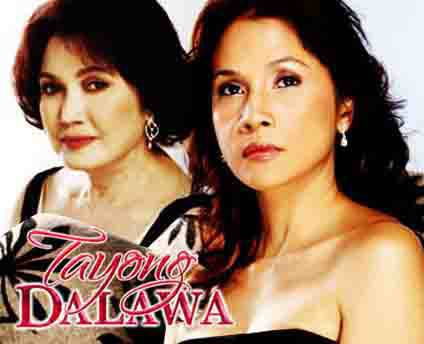 3. Ingrid Garcia and Elizabeth Martinez played by Agot Isidro and Helen Gamboa
Teleserye: Tayong Dalawa (2008)
Object of tyranny: David "JR" Garcia Jr. (Gerald Anderson) and family
Psychological trigger: Ingrid and her mother, Elizabeth are furious when they learn that Ingrid's husband has another son with a hooker. Ingrid gets even madder when she learns that the bastard son has been written into the will. In the end, her madness gets the best of her and she ends up in a mental hospital.
Monstrous deeds: This mother-daughter team plots a web of schemes to get JR written out of the will. Their most evil plan includes the murder of JR's grandmother and passing it off as a vehicular accident.
ADVERTISEMENT - CONTINUE READING BELOW
Maniacal dialogue: "Lumayas kayo sa harap ko! Mga squatter!"
2. Tonia played by Mona Lisa
Movie: Insiang (1976)
Object of tyranny: Daughter Insiang (Hilda Koronel)
Psychological trigger: Having your husband leave you with a house full of freeloading in-laws is enough to make any good-natured woman go nuts.
Monstrous deeds: Aside from kicking her in-laws to the curb and treating Insiang like a petty slave, Tonia intentionally dismisses Insiang's pleas when she comes running to her aid after being forcefully raped by Dado, Tonia's lover. When she catches Dado doing the nasty with Insiang, she boils over and stabs him in rage.
Maniacal dialogue: "Yan ang kadugo mo, masama ang ugali! Kaya ung nasaan man ang tatay mo, mamatay na sana siya at kanyang kinakasama!"
1. Madame Claudia Buenavista played by Jean Garcia
Telenovela: Pangako Sa 'Yo (2000-2002)
Object of tyranny: Yna (Kristine Hermosa), whom she considers too lowly and not good enough for her son, Angelo (Jericho Rosales), and Maria Amor, the alleged daughter of her arch nemesis Amor Powers (Eula Valdez)
Psychological trigger: This compulsive, power-hungry gambler does not only look down on maids, she makes them suffer. She hires Maria Amor so that she could administer "indirect revenge" on her.
Monstrous deeds: She definitely tops the list of monstrous moms because aside from torturing Maria Amor, she also ends up killing her. That turns out to be a big mistake when it's later revealed that Maria Amor is actually her own daughter. Oops.
Maniacal dialogue: "Madame! Kapag sumasagot sa 'kin, palaging may Madame!"
ADVERTISEMENT - CONTINUE READING BELOW
SPOT.ph wants to know: Who's on your top 10 list?
---
Help us make Spot.ph better!
Take the short survey
Load More Stories