Tears for Fears Review: All Around Me Were Familiar Faces
What happens when Manila's 80s kids congregate at the Big Dome to party like it's 1985?
The crowd belts out "Saaay that you'll never, never, never, never need it!" in perfectly-timed syncopation
...and not a single one of them looked worn out. At least not on the evening of May 2 at the Araneta Coliseum, where long-time Tears for Fears fans gathered in droves all set to party like it was 1985. The venue was packed to the rafters and it was next to impossible to walk through the corridors without bumping into a former classmate, ex teammate, or someone you met at a party when '80s dance moves had yet to be considered ironic, campy, or (God   forbid) retro. A sense of anticipation hung thick in the air, and people beamed with excitement and just a little bit of sheepishness (read: Nakakahiya–I couldn't believe I was swimming in this sea of nostalgia) as they waited to bust out their slicing-of-arms-through-the-air motions. We could only hope that the actual concert would live up to the hype that was nearly two decades in the making. Would they sing all our favorite songs? Would Oleta Adams make a surprise appearance? Would Roland Orzabal spell out T-E-A-R-S-F-O-R-F-E-A-R-S as he danced? By 9 p.m. it was time to find out.
The lights dimmed, and a roar swelled as the familiar yet reworked strains of a haunting, acoustic (and to anyone uneducated–or born after 1990–Lambert-esque) version of "Mad World" floated out to greet us. From the moment Curt Smith (traditionally known as "the cute one") stepped into the spotlight and uttered its famous first lines, the madness commenced. They played right into "Everybody Wants To Rule The World" (only one of those songs at the top of everyone's wish list) and both Curt and Roland came face to face with the karaoke-concert style of their Filipino following. The crowd belted out "Saaay that you'll never, never, never, never need it!" in perfectly-timed syncopation–as one only can when the soul of a lyric has been seared into your heart.
ADVERTISEMENT - CONTINUE READING BELOW
Araneta Coliseum karaoke: Tears For Fears hardly had to sing as the audience supplied the words
A surprisingly buff Roland then addressed the audience for the first time. Visibly overwhelmed by the fanatic reception, he admitted that they should have come to Manila years ago. We couldn't have agreed with him more. The next two songs were from their Everybody Loves a Happy Ending album. "Secret World" and "Closest Thing to Heaven" were far less familiar, but were nevertheless given a rousing round of cheers–possibly due to the revelation of Roland's solid onstage persona. To quote a friend, "He moves like a classic rock god–swaying and using his guitar like it's an extension of his di*k". And for the first time on these shores, Roland Orzabal was slowly but steadily building his reputation as "the hot one."   Musically these two songs seemed most linked to the sound of the Seeds of Love album, and they served as the perfect segue into the next number. What else, but "Sowing the Seeds of Love." With the crazily apt, famous last words "An end to need, and the politics of greed," well, needless to say it brought down the house.
CONTINUE READING BELOW
Recommended Videos
Next came Roland's introduction to, "Call Me Mellow," which was a song about approaching middle age (tsk tsk). A playful tune akin to Sixpence None The Richer's "There She Goes" paired with Axl Rose-like outbursts and dry wit, the number prompted many to consider adding Everybody Loves a Happy Ending to their current TFF collection.
ADVERTISEMENT - CONTINUE READING BELOW
Then it was "the cute one's" turn to address throng, starting with the requisite "Mabuhay!" And we lapped it up like a bunch of puppies. Playing the part of the tease, Curt (who looked cut, lean, still quite cute, but a little worse for wear) mused over whether we'd prefer to hear the original version of "Mad World" over a newer one. Hello?! Is the girl swimming in the "Pale Shelter" video wearing a red bathing suit? Our wish was their command and all hell nearly broke loose as the throbbing crowd was once again on its feet just waiting for Roland to break out into his signature TTF moves so that we could finally do the same without shame. But alas, he never did.
They played "Memories Fade" which, just like "Mad World," was from The Hurting–though many wished that they had performed "Change" instead. Things quieted down as they moved on to the newer songs they came to promote in the first place "Raoul And The Kings Of Spain," "Quiet Ones," "Floating Down The River," "Everybody Loves A Happy Ending," "Seven of Sundays," and a slowed-down version of Michael Jackson's "Billie Jean" were all appreciated. And it was good to know that their newer work sounded current, yet still very TFF. But the verdict all around was the same: Cool–but can you please just get to the songs that we've   known and loved since we were in grade school/high school/college?
Manila couldn't help but "Shout"
ADVERTISEMENT - CONTINUE READING BELOW
Things finally picked up again when "Pale Shelter" came on and boy, did we give them some love. The anthem-like drum beats of "Break It Down Again" roused the entire audience into a united frenzy and by the time "Head Over Heels" came around our lungs were bursting as the Big Dome reverberated with our collective "Don't take my heart, don't break my heart, don't, don't, don't throw eet away!" The palpable energy had reached ridiculous levels and the band took this opportunity to play the Fake End of Concert Card, leaving the stage as we stomped our feet and called out for more. I mean, how could the concert possibly be over? They hadn't even sung "Suffer the Children," or "Mothers Talk," or "Advice for the Young at Heart" yet. Or "Shout"–the song they always end a concert with.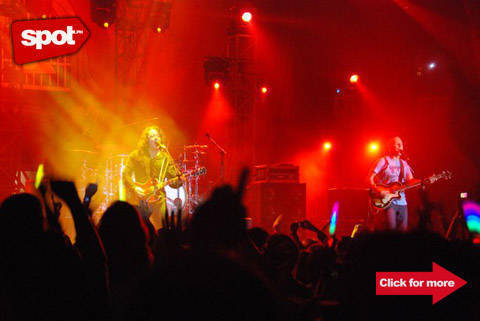 Tears for Fears Gallery: Photos by Ana Goyena Ching
ADVERTISEMENT - CONTINUE READING BELOW
After just a bit more stomping and screaming, they were back on stage again. Roland introduced the band members, and their male backup singer–promising that said male backup singer was about to shock us with his abilities. The unmistakable opening bars of "Woman in Chains" began to play, sending a flutter though the masses. "No way," we all thought, "he's going to sing the Oleta Adams solos?" And sing and shock he did. The crowd was worked up with a new intensity and let it all rip when the telltale first notes of "Shout" echoed from across the stage. Roland didn't have to shout this song to pump things up a notch. He barely even had to sing it. As each and every voice in the audience displayed a nearly die-hard appreciation for the place this song will always hold in a time of our lives that we never really left behind.
And just like that, it was over. Nearly two decades worth of nostalgia all whittled down to a one hour and forty minute concert. Funny how time flies.
"Doesn't happen very often but.......I'm speechless. Manila, what a night! Thank you so much, we've now officially peaked. Thank you, Manila for being an unbelievable crowd!!"
-Curt Smith on Twitter after joining the ranks of Rick Astley who also realized that Manila is the place to be. Mabuhay, baby!
SPOT.ph wants to know: What song did you wish they played but didn't?

Share this story with your friends!
---
Help us make Spot.ph better!
Take the short survey
Load More Stories