10 Show-Stopping Scenes at the Rock for Change Concert
Rico Blanco, Sandwich, Imago, and more artists perform at the May 1 Rock for Change concert at the SM Mall of Asia Penthouse.
In time for the May 10 elections, the May 1   Rock for Change concert at the SM Mall of Asia Penthouse aimed to promote positive change and the power of voting. Of all the concerts that called for awareness and action, what made Rock for Change any different or more interesting than the others? SPOT.ph lists 10 show-stopping scenes from the concert.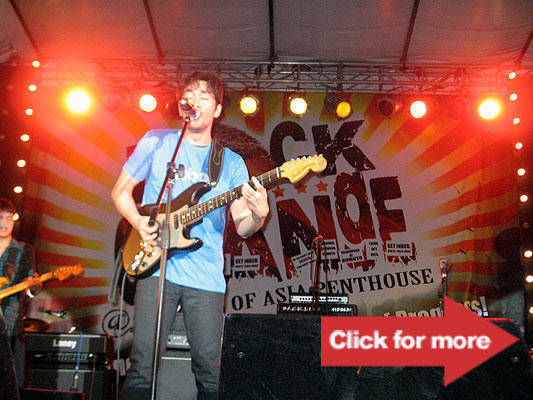 Rico Blanco performs at Rock for Change.
1. The "hidden" venue: SM Mall of Asia Penthouse
Yes, such a place exists. It's located on the sixth floor of the SM Mall of Asia (MOA) North Parking building and the concert attendees have to take the elevator to the fifth floor and climb a flight of stairs to get to the venue.
It is the first time MOA decided to hold such an event in the penthouse, which is no mansion or condominium penthouse but just a rooftop parking lot. Was it a good decision? Aia De Leon from Imago did comment that the place was "medyo tago" but the concrete ground (roof?) proved to be a blessing in disguise when it started drizzling. Just imagine jumping up and down the muddy open grounds, where concerts are usually held. The parking blocks also served as pseudo-chairs to audience members who needed to rest their feet.
ADVERTISEMENT - CONTINUE READING BELOW
2. The kick-ass reminders

The artists did not fail to remind their audience to vote for a leader who would bring positive change to the country. Tonight We Sleep's frontman Argee Guerrero even said "Sana naka-rehistro kaya lahat; kasi ang di bumoto, di pwede umangal." They never mentioned a candidate's name and no one wore a shirt or any paraphernalia that endorses a certain candidate - which is what all rock concerts that focuses on election volunteerism should be.
Jaime Wilson from RockEd and VJ Monica from MYX also appeared on stage every once in a while not just to read the long list of sponsors but also to give very specific tips on deciding for the candidate such as researching for the candidate's track record online. They also mentioned that young people who are underage and can't vote can also participate by being poll watchers or volunteering for the candidate they support.
CONTINUE READING BELOW
Recommended Videos
3. Awesome audience-oriented and theme-consistent set design
The screens at the side did not only projected close-ups of the bands onstage but also flashed messages such as "Tungkulin ko ang bumoto" and "Bumangon, bumoto, umahon." Messages and pledges from the users of sponsor Friendster were also shown. Some of these are "I want to be inspired by my leaders" by Donna, 21 and "Pamahalaan na may pahalaga sa edukasyon ng lahat ng bata" by Mike, 24.
4. Imago vocalist Aia de Leon's comparative analysis of love and politics
Whoever said that love and politics are not at all similar should have listened to de Leon's monologue, before she sang their hit "Sundo."
ADVERTISEMENT - CONTINUE READING BELOW
"Kapag namimili tayo ng mga bagay na mahalaga sa atin, dapat pag-isipan natin nang mabuti. Kaya sa pagpili ng kandidato, gamitin natin ang ating utak at hindi lang puso," she said.
"Ganito rin sa pagpili ng kasintahan," she added, which generated louder cheers of approval from the audience.
5. Rico Blanco and the speakers

It took more than five minutes before Rico Blanco came onstage after his band was called. All his other band members were just playing to test the sound and equipment while they waited for him. He finally appeared to play but, in between songs, he kept on pointing to the speakers in front and signaling to the technicians that something was wrong with them. After playing their first song, "Umaaraw, Umuulan," he even pulled aside one of the technicians onstage to report something about the speakers. With the speakers fixed, his mood must've improved cosiderably because he was a good sport when some rogue members from the crowd shouted "'Asan na si Bamboo?"
6. Markus Adoro's mysterious connections in the Commission on Elections

Before getting off the stage, Markus Adoro of Markus Highway asked, "Bumoto na ba kayo?" He strummed his black electric guitar a few times before saying "Siyempre hindi pa. Ako bumoto na, may kontak ako sa loob."
Of course, people didn't know if they should take him seriously. After all, he also mentioned earlier that he might instantly die and go to heaven if he kept on playing "May Bukas Pa" for sound check.
ADVERTISEMENT - CONTINUE READING BELOW
7. The guest bands from Cebu
Too bad that our inside info was wrong - Wolfgang, Parokya ni Edgar, and Kamikazee were not part of the band line-up.   But the two guest bands from Cebu did show up. One of them was The Line Divides who played "Don't Let It Go." Vocalist Louie George Tabaña reminded the audience not to sell their votes.
Another Cebu band, Kadangyan, also played their original music in their dialect and even used indigenous instruments such as water chimes, mityapi, kubing, djembre percussions, gabang (bamboo xylophones). They win best apparel for the night because they played shirtless, their bodies accessorized by tattoos of ethnic designs, bead necklaces and what seemed like animal bones or tusks. Wilson introduced them as "a truly Filipino band".
Unfortunately for them, there were some technical problems when they started playing. They also followed Urbandub and they were the remaining act left. Needless to say, the crowd was leaving when they got their hand-crafted instruments finally connected to the amps.
8. Behaved JJs
A concert staple, the Jumping Jologs in their black shirts and metal-studded accessories were more or less behaved. Although they would shout inappropriate and sometimes sexual comments at the performers, there were no recorded non-JJ casualties from the famed JJ move, body-bumping-while-jumping-up-and-down-while-pretending-to-be-singing. This is probably because the venue was big enough that they were able to execute this move away from those not of their kind.
9. More advocacies plugged
The hosts and artists also used this opportunity to remind the audience of other worthwhile causes. The Dawn's Jett Pangan reminded the audience to support Pinoy music, while Wilson shared about his group, RockEd, as an example of volunteerism.
ADVERTISEMENT - CONTINUE READING BELOW
10. Participative audience and intimate moments

The crowd was mostly made up of teenagers still in their uniforms, JJs , and young music junkies who would mouth correct lyrics to almost every song. There were also a lot of intimate moments between the bands and the audience. Sandwich members Raymond Marasigan fist-bumped with the audience and "I love yous" were exchanged between Mong Alcaraz and a girl in a green halter top. Jett Pangan even took a song request from the audience. At one point, Paraluman vocalist Madeline Ramboyong asked the audience "Bakit ba kayo nandito?" and when she handed the microphone to a young man in the first row, he said, "Dahil kaming mga kabataan, may pakialam din sa kinabukasan ng bayan!"
Photos and video by Angelo Reyes.
---
Help us make Spot.ph better!
Take the short survey
Load More Stories