Ria Limjap on You to Me Are Everything: A Fantasy with Clichés
On the new Dingdong-Marian rom com: "Inconsistent in plot and character...but they do look good together."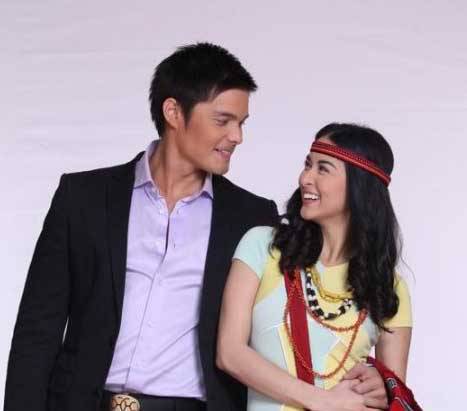 To be honest, You To Me Are Everything must be the worst rom com I've seen so far this summer. Dingdong Dantes and Marian Rivera sure look good on screen, and I'm certain they are super effective when it comes to selling canned tuna and low-cal beer. But in this movie–with Marian as a strawberry-picking Benguet lass who inherits millions and falls in love with Dingdong, the son of a shady congressman (Chinggoy Alonso, god bless his soul) who loses all his money–the wildly popular love team just doesn't cut it. Even as a total fantasy, it's inconsistent in plot and character. I mean, really: Marian Rivera is supposed to be a simple and unaffected barrio lass–fully decked out in tribal fabrics and traditional adornments–with fair skin, perfectly coiffed Hollywood hair, and groomed eyebrows. And even for a cheesy romantic comedy with another unimaginative title (is it an emerging genre we should boycott?) it's pretty sloppy. Do I really want to subject myself to wonky sound, utterly dismal camera work, possibly the worst acting from random extras (sorry guys), and a slew of awful clichés about tribal peoples, step siblings, homosexuals, coño kids, and corrupt politicians?
ADVERTISEMENT - CONTINUE READING BELOW
The "meet cute"   (the first time boy meets girl) in this movie is quite literally toilet humor. The scene starts with Iska (Marian) pooping in her huge bathroom, her eyes are closed as she concentrates. Meanwhile, Rafael (Dingdong) staggers in drunk and proceeds to pee in the urinal. (By the way, Dingdong acts drunk really well. Remember Winona Ryder acting stoned really well in Reality Bites?) Anyway, in mid-poop, she opens her eyes and sees a strange man pissing in her bathroom. She screams. He screams. She accuses him of trespassing while he mistakes her for the new maid and asks her to make him some coffee. I don't know. Is this funny? All I know is that it is not a cute way to meet the love of your life.
CONTINUE READING BELOW
Recommended Videos
But no doubt this movie will make money at the box office. (Regal reports that it made around 15 million on opening day.) It's mainly because Marian and Dingdong are soooo cute together. They really are. I guess it helps that they are a couple in real life. The chemistry between them is palpable. I had ten times more fun watching this. Who directed that commercial? It's brilliant. It made me want to find true love in San Marino, too! Tuna that tastes like corned beef! So, that's what corned tuna is…
***

Do you have an idea for a romantic comedy with a title from a cheesy song? Quick, pitch it just for fun. Mine would be: "Till They Take My Heart Away" (circa 1989, the Claire Marlo song that was popular it seems only in the Philippines) starring Manilyn Reynes–love her to bits–as a frumpy spinster who falls in love with her hopelessly hot Brazilian model neighbor. It's a romantic comedy of errors with a happy ending, of course.
ADVERTISEMENT - CONTINUE READING BELOW
***
PS. Please vote wisely on May 10. I'll be there in green!
Check to see where the movie is showing.
Photographs from Regal Multimedia.
---
Help us make Spot.ph better!
Take the short survey
Load More Stories