Ria Limjap on Here Comes the Bride: They Got It Right This Time
"Smart, entertaining, unpretentious and side-splittingly funny," says Ria Limjap on the comedy <em>Here Comes the Bride</em>.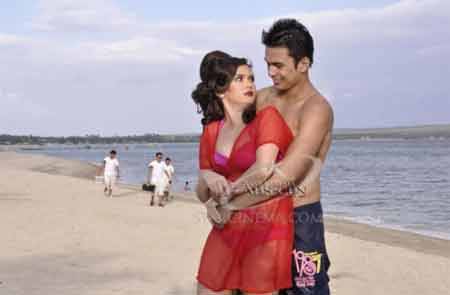 Phew.   It's been a long, hot, difficult summer so far. I'm ready for a breather, a little fun time, a bit of respite.   Thank goodness for the new comedy Here Comes the Bride directed by talented young writer/filmmaker Chris Martinez.   It's the movie equivalent of the Chowking halo-halo which is essentially great because its appeal is so simple: it looks yummy and it tastes good and everybody loves it.   Anyway, I went to see Here Comes the Bride and I left the cinema feeling refreshed and feeling infinitely better–because I didn't actually ingest any halo-halo calories plus I was fully entertained by this honest-to-goodness funny film.
Here's how it works:
Stephanie (Angelica Panganiban) is a blushing young bride on the way to her wedding.   Precy (Eugene Domingo) is a high-powered lawyer with zero love life.   Medelyn (Tuesday Vargas) is a long-suffering Ilongga yaya of a very spoiled boy.   Lolo Bien (Jaime Fabregas) is a rich and lonely old man with one foot in the grave.   Toffee (John Lapus) is a beautician/image stylist with a fondness for straight boys.   All five are in separate cars on their way to the out-of-town wedding:   Stephanie to get married, Precy to act as ninang, Toffee to apply the bride's makeup, Medelyn to take care of the ring bearer, and Lolo Bien to foot the bill and watch his grandson (super cute Tom Rodriguez) walk down the aisle.   When they all get into a weird road accident on the day of the solar eclipse, their souls switch bodies.   Chaos ensues.
ADVERTISEMENT - CONTINUE READING BELOW
Something this high concept could have failed miserably but they managed to pull it off very well. Good for them.   I was laughing and cringing along with the audience in a theater that was packed on opening day.   This bodes well for Here Comes the Bride, which is a co-production between Quantum Films, OctoArts Films, and Star Cinema.   Congratulations to Chris Martinez (and his producers)–you've managed to make something smart and entertaining, unpretentious and side-splittingly funny.   I cringed and giggled with the rest of the audience–and I thoroughly enjoyed it.
So this movie goes to show: like making a good halo-halo, making a winner summer movie needs the right ingredients.   Start with a tight storyline and write a really funny screenplay.   Add a great cast (with both mainstream movie stars and seasoned thespians), mix in lots of marketing and promotion, and sprinkle in some fun.   Apparently, it works.   At least it did for me.
CONTINUE READING BELOW
Recommended Videos
Catch this one if you can, and escape the awful heat and harsh reality for a couple of hours.   You won't regret it.
Check to see where the movie is showing.
Photographs from hctbmovie.multiply.com.
---
Help us make Spot.ph better!
Take the short survey
Load More Stories