The Pursuit of Trivia: Manila Quiz Nights
Get your geek on: Quiz Night is where your knowledge of obscure, out-of-this world trivia will have you lord over all the brainiacs in the city.
We often like to discuss trivial things among our friends to start a conversation. It could be something as innocuous as what Michael Jordan's jersey number was in the Olympics or what's the smallest bone in the human body, or even what the dog's name was in The Simpsons. Regardless, lots of people have an innate desire or need to talk about such matters.
Game shows like Jeopardy and board games like Cranium and Trivial Pursuit may have cultivated that need even more. But isn't it more fun to not just be knowledgeable at trivia, but also to beat other people who think they're as good at it as you are?
Enter the world of Quiz Nights, where everyone thinks they're smart and gets ultra-competitive in trying to prove it. From the pub quizzes that gained popularity in the United Kingdom, Quiz/Trivia Nights have taken root in Metro Manila. No longer limited to expats or senior citizens, a lot of yuppies and young people have been riding the trivia wave just to flex their mental muscle.
SPOT.ph takes you to the four main trivia events in the metro today.   All you really need are info junkie friends and you've got yourself a team.   However, if you know other people who've already been doing the trivia rounds, maybe you could join them first and observe if this kind of brain game is meant for you.   After all, the categories may be geeky but the competition can get intense pretty quickly.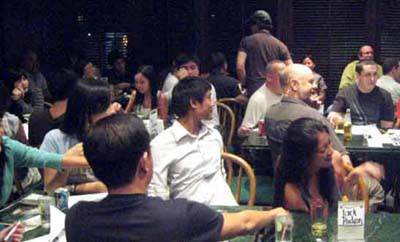 Yuppies and expats make up the crowd at Murphy's.
Murphy's Makati
Address: Citiland Condo III Building, 105 V.A. Rufino Street, corner Esteban Street, Legaspi Village, Makati City. Tel. no. 894-1884
Quiz Night schedule: Tuesday nights, 8:30 p.m. onwards
ADVERTISEMENT - CONTINUE READING BELOW
This is the granddaddy of all quiz nights. Murphy's started the local quiz trend by having Quiz Nights every Tuesday from 8:30 p.m. onwards. It's a traditional Irish pub and they've had a "traditional" kind of quiz for more than three years now.
Quizmaster Brian Inglis used to come up with the questions himself, but he's eventually ceded most of that responsibility to some of his quiz regulars.   Answer sheets are passed out, with ten categories of ten questions each written on a white board before the festivities begin. Categories range from General Knowledge, Science, Geography, to Literature, etc. It's very traditional in the Jeopardy vein and most participants are yuppies and expats.
CONTINUE READING BELOW
Recommended Videos
A "joker" system is implemented wherein a team (minimum of three and maximum of 10 members) gets double points in a round where they call "Joker!" before it begins. Winners of every category get a round of shots, while the winners of the night earn gift certificates worth P2,000. Monthly winners get gift certificates, too.
Food isn't limited to an all-Irish menu however. The Deluxe Nachos and Quesadillas are great for bar chow, but if you want a real meal, you can't lose with an order of Bangers & Mash, Swedish Meatballs, or Chili con Carne. The sticky toffee pudding and Murphy's chocolate mousse are dessert favorites. Local beers are priced at P85, but Murphy's has a wide selection of imported beers, spirits, and liqueurs.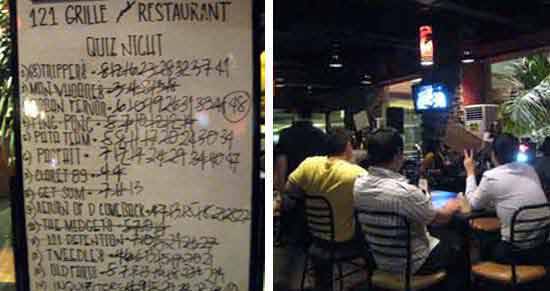 121's Quiz Night categories include Anime, TMZ, Comic Book Secret Identities, and even Tears for Fears lyrics.
121 Allegro
Address: 2nd floor Allegro Centre, 2284 Pasong Tamo Extension, Makati City. Tel. 856-0529
Quiz Night schedule: Tuesdays, 9:30 p.m.
ADVERTISEMENT - CONTINUE READING BELOW
Allegro Centre on Pasong Tamo Extension is almost in Taguig but actually still falls within Makati's jurisdiction. On the second floor is 121 where teams compete both indoors and outside (where they can smoke).
Host Brian Banta reads out the questions, does a quick countdown, and white boards are raised for everyone to see if your answers are right or wrong. Eight categories with eight questions each (though some questions are worth two points) cover mostly pop culture trivia. Anime, TMZ, Comic Book Secret Identities, and Tears for Fears lyrics have been categories in the past.
Every four rounds, teams (with no limit to the number of members) are given two powers: the doubler and the steal. The doubler can be used if you're sure of your answer. Just encircle that answer and if you're correct, you'll get double the points. With the steal, if you don't know the answer and think another team does, write that team's name and encircle it to get the same amount of points as that team.
The winner of every two rounds can win gift certificates or chocolates while winners of the night win a gift certificate worth P1,000. If teams are tied, ties are broken with a drink-off. Teams choose a representative and battle the other team in chugging down a beer. Fastest one to finish the bottle wins the drink-off. During one memorable instance though, when two teams ended the evening with tied scores, a drink-off wasn't enough. Instead, a Zoolander-style walk-off took place! Yes, one guy from each team modeled like Derek Zoolander and Hansel. For that instance, the time-honored method of audience applause was used.
ADVERTISEMENT - CONTINUE READING BELOW
Typical bar chow for 121's quizzes: The chicharon bulaklak, sisig, and cheese sticks are best shared with your teammates. 121 serves beers chilled to "below zero" temp and unique alcoholic concoctions like the Pink Panty and the Frozen Vodka Screwdriver (nicknamed "Yellow Panty" by our team).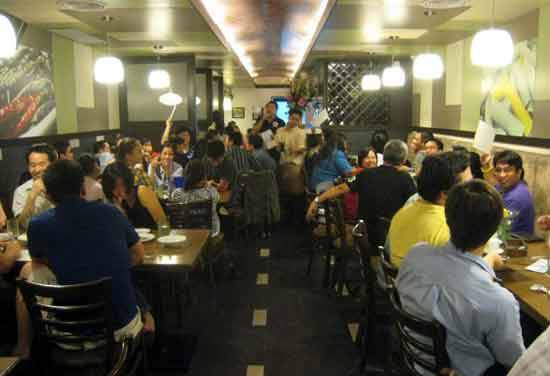 Misleading category titles make the competition more fun at Capricciosa.
Capricciosa Ristorante Italiano
Address: Connecticut Street, Greenhills, Mandaluyong City Tel. 744-0689
Quiz Night schedule: Wednesday nights, 10:00 p.m.
A stone's throw away from the Greenhills Shopping Center, Capricciosa offers Italian food and pop culture in terms of trivia.
Resto owner and quizmaster Will Tan shares rotating hosting duties with some of his trivia regulars, adding to the more intimate feel of the place. Category names are shown before the contest starts at 10:00 p.m. The catch? The names don't necessarily indicate what the categories really are (i.e. "Jennifer's Body" could be about famous Jennifers, slasher movies, or human anatomy).
ADVERTISEMENT - CONTINUE READING BELOW
Capricciosa also has the "joker" system, rendered trickier by the misleading category titles. Sometimes a "lightning round" occurs where teams rush to write their answers on their whiteboards to try eliminating each other.
Another quirk of the Capricciosa Quiz Night that the hosts sometimes ask for prices of items bought at the supermarket or at a bookstore ala-Bob Barker in The Price is Right. Winners of every two categories win a round of shots. Weekly winners get gift certificates worth P1,000. Topics can go from Movie Soundtracks (guess the movie where a certain song came from), World Cup trivia, Biblical Brothers, or even Glee.
Topnotch pizzas and pastas highlighted by the Quattro Formaggi Pizza, though Capricciosa and Murphy's are about par for offering the priciest food among the quiz venues. Calamari and Onion in Squid Ink Sauce may leave your lips black like a voter's finger but the mess is worth the meal. Beers are priced at P49 but we recommend pitchers full of the Long Island Iced Tea for a nifty buzz.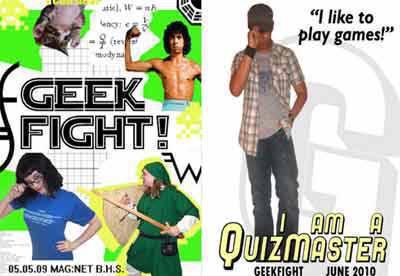 GeekFight! is known to be the geekiest of the quiz choices.
GeekFight! Trivia Night
Where: rotating venues, mostly Last Home, Madison Square, Pioneer Street, Mandaluyong City every first Monday of the month
ADVERTISEMENT - CONTINUE READING BELOW
Probably the geekiest of the quiz choices, GeekFight! has no permanent home and is usually held every first Monday of the month.
Question preparation and hosting is shouldered by Paolo Cruz and he does an admirable (though exhausting) job doing it. A few days before Trivia Night, Cruz sends word via Facebook on what the topics will be. Topics can range from tattoos, Hipster Culture, Zombies, to Teen Movies. Unfortunately, GeekFight! sometimes has too many participants huddled into a tiny venue. When a visual round comes up, everybody struggles to see things on the small monitors provided. Also, if you're reviewing topics beforehand, it kind of defeats the purpose of "knowledge you already possess" inherent to trivia, doesn't it? Kudos to organizer Paolo Cruz for putting this together monthly though.
Don't expect great food save for bar chow, but beer is cheap and that's always a good thing. Also, the GeekFight! venues tend to be smoke-filled, crowded, and finish way past 1:00 a.m. Not exactly the most ideal situation for employees and students who still have to get up early the next day.
Photographs from Jason Inocencio, Geekfight! Facebook page.
---
Help us make Spot.ph better!
Take the short survey
Load More Stories