MOVIE REVIEW: Sex and the City 2
Despite bad reviews across the US, <em>Sex and the City</em> is a "fabulous, funny film," says SPOT.ph movie reviewer Paul Daza.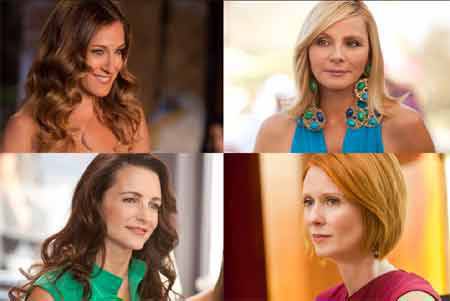 The fab femmes are back in the much-awaited movie sequel
Sex and The City 2 (SATC2) is that rare movie which delivers more than its trailer promises. The spirited teaser tells us that we can expect three Fs- Fun, Fashion and Friendship. And wouldn't you know it, the movie actually delivers those ingredients in abundance. The movie also offers two other Fs the trailer didn't promise: the fourth is fantasy, while the fifth F is the main preoccupation of Kim Cattrall's Samantha character, and cannot be named here. Another clue: this F word's depiction onscreen was lessened so that SATC2 could get a more audience-friendly R-13 rating from the MTRCB instead of an R-18.
ADVERTISEMENT - CONTINUE READING BELOW
Let's go through the other Fs one by one. Is SATC2 fun? Definitely! In the first scene alone, as Carrie Bradshaw (Sarah Jessica Parker) reassures us via voiceover that all is great with her and her gal pals since she married Mr. Big (Chris Noth) at the end of the first SATC movie two years ago, we're treated to riotous glimpses of what the four fashionistas looked like in the late Eighties, when they first met. In a hilariously-realized series of fast flashbacks triggered by passing cars, we see the hilarious outfits and looks which Carrie, Samantha (Kim Cattrall), Charlotte (Kristin Davis) and Miranda (Cynthia Nixon) sported when they first met in the Big Apple of 1989.
And just when you think nothing can top this cute dash down memory lane, you'll quickly find yourself at a gay wedding where witty one-liners and the unexpected appearance of gay icon Liza Minnelli dancing to a song associated with a star much younger than she is will have you howling with delight.
ADVERTISEMENT - CONTINUE READING BELOW
Fashion? You bet! I'm not a fashionista but I don't remember being horrified by any of the many colorful outfits the actresses wore in the movie, whether in the New York sequences or those set in Abu Dhabi. Many of the clothes actually looked quite nice.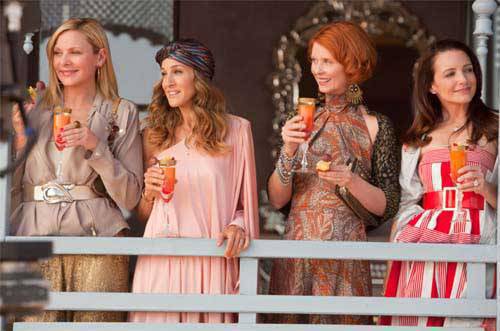 The New York girls take on Abu Dhabi in Sex and the City 2
ADVERTISEMENT - CONTINUE READING BELOW
Friendship? Certainly! For me, the greatest strength of the Sex and The City TV series and movies is making its followers believe, despite evidence to the contrary, that it's possible to have friends for life who will always have time to listen to you or fly off with you to the other side of the planet if that's what it takes to cheer you up. And that's exactly what the girls do in SATC2. After the script establishes what each character's current problem is, Samantha offers escape in the form of an all-expenses-paid trip to Abu Dhabi where the girls can cast their cares aside and forget their screaming kids, big-breasted nannies, anti-social husbands, or male chauvinist bosses.
Which brings us to the next F, fantasy. The early parts of the Abu Dhabi scenes are pure wish fulfillment where we experience vicariously what kind of luxury can be bought for $20,000 a night. That means opulent accommodations in a suite that's as large as a mansion, being able to choose from a dozen or more mouth-watering dishes for lunch and dinner, having the opportunity to meet attractive people at every turn, getting to visit exotic locales, and having servants who are there to attend to your every need.
ADVERTISEMENT - CONTINUE READING BELOW
Two of these servants, however, serve a more important purpose in the story- they're the   hooks for two differently textured subplots. One is played for laughs, while the other gives Sarah Jessica Parker's character an opportunity to show that she cares for people from the Third World. Needless to say, the former is the more enjoyable one, especially since it involves Kim Cattrall, my favorite among the four friends.   This subplot shows Samantha suspecting her man-servant, Abdul, of being gay. She even takes to calling him "Paula" (as in Paula Abdul) to provoke him into coming out, and her efforts to uncover   the truth about him provide even more comedic high notes in a movie that's a symphony of laughs.
I guess it's obvious that I enjoyed Sex and The City 2 way more than I expected to, especially since it's reportedly getting terrible reviews in the US and didn't do very well at the US box-office when it opened last week. For me, though, SATC2 is the funniest movie of the year... so far. The movie isn't perfect- I didn't like the movie's answer to the question, "What do some Abu Dhabi women wear under their black robes?" I also thought the resolution of Charlotte's problem with her children's big-breasted nanny was a cop-out on the part of writer/director/producer Michael Patrick King. These nitpicks, however, are two minor missteps in a movie that offers so many more "f" words than originally promised. Sex and The City 2 is a fabulous, funny film that you'll enjoy with your friends. Feast on it, enjoy the fantasy and the (sometimes) censored depiction of the other 'f' word that must not be named.
ADVERTISEMENT - CONTINUE READING BELOW
RATING: …. 4 out of 5 Spots
Check to see where the movie is showing.
Photographs from Warner Bros.
CONTINUE READING BELOW
Recommended Videos
Share this story with your friends!
---
Help us make Spot.ph better!
Take the short survey
Load More Stories