History, Film, and Nationhood (Instead of Politics, Showbiz, and Chismis)
SPOT.ph blogger Ria Limjap on nationalism: "We don't all need to carry guns in the jungle or write novels in Europe...it can be as simple as watching a local movie."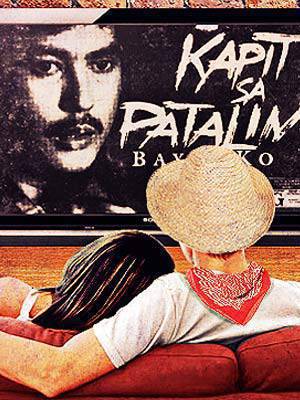 It's not just another long weekend, it's Independence Day weekend!
How about some protest folk rock from the 1970s:
"Bayan Ko" by Asin
A hundred and twelve years ago, the revolutionaries headed by Emilio Aguinaldo declared our independence from Spain–they rolled out the flag, played the national anthem, read out loud the declaration of independence, and it was grand, for sure–but also the Americans waltzed right in, even before we had the chance to say," Sa wakas!"
ADVERTISEMENT - CONTINUE READING BELOW
The period under the United States was heady: they taught us English, the economy boomed, and Manila transformed itself from a sleepy backwater town with lots of Catholic churches into a lively cosmopolitan city where one could watch a Hollywood movie in a tropical Art Deco theater and grab an ice cream cone afterwards. Despite the new benefits from this Western influence, the revolutionary spirit never quite died. Songs like "Bayan Ko" – from the late 1920s by Tagalog poet Jose Corazon de Jesus and set to music by Filipino composer Constancio de Guzman–were written under American "protection". By the time I first heard "Bayan Ko," there was another revolution–this time on the streets in a sea of yellow and confetti, with Freddie Aguilar's version in our ears. Just like the Independence in 1898, 1986 was another high point in our nation's formation.
And so where are we today?
A good way to frame our nationhood is through film. From revered director Gerardo de Leon's adaptations of Rizal's novels to young auteur Raya Martin's post modern interpretations of Philippine history, many of our brilliant filmmakers have reflected in their work our country's history. These are our shared stories, dripping with victory and pain. In this day and age, film is a powerful tool for change. It can facilitate our collective awakening–opening our eyes to the apathy, manipulation, and greed that threatens our most basic freedom. Filmmakers are revolutionaries, too.
ADVERTISEMENT - CONTINUE READING BELOW
A clip from the 1988 documentary entitled "Signed Lino Brocka"
This Independence Day, remember that the fight is far from over. Don't let the revolutionary spirit inside you die out because of extreme exposure to ignorance, indifference, or individualism. Immerse yourself in history, know what's going on now, and participate in whatever way you can. We don't all need to carry guns in the jungle or write novels in Europe. It could be as easy as watching a local movie instead of the Hollywood blockbuster for once.
Support Filipino film–watch as much as you can–and become aware of what it is saying about our country. Film critic Noel Vera compiles the list of all lists here.
***
Maybe Kuh Ledesma will say it best here. The dancing! The Philippine Flag! Check out that headdress! Enjoy.
ADVERTISEMENT - CONTINUE READING BELOW
Artwork by Warren Espejo.
Recommended Videos
Load More Stories