MOVIE REVIEW: The Karate Kid
The 2010 <em>Karate Kid</em> version, says SPOT.ph movie reviewer Paul Daza, has enough comedy, drama, romance and martial arts action. (Warning: Spoiler Alert!)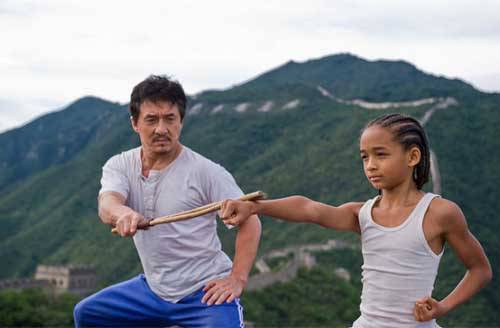 Jackie Chan stars as the mentor of Dre (Jaden Smith)
The Karate Kid, starring Ralph Macchio and Pat Morita, is one of the landmark movies of my teen years. Released in 1984, it was the first film I saw together with my high school classmates in a movie theater, and quite possibly, the very first movie we had to critique and review for a class in Film Theory.
That's why KK is still very vivid in my mind, and why it was easy to spot the differences between it and the 2010 remake which now stars Will Smith's son Jaden in the title role, and Jackie Chan as the maintenance man who mentors him in the martial art of… kung fu. Yes, despite the movie's title, this is the story of a Kung Fu Kid, not a karate kid.
The plot, however, is essentially the same as that of the 1984 film: a fatherless boy moves to a new city (California then, Beijing now) and runs afoul of local bullies while falling for an attractive school girl. He gets beaten up by said bullies while pursuing said girl, and is saved by a building repairman who is secretly a martial arts master. The boy is then mentored by the master and trained for a climactic tournament in which boy and bully will clash to see who is the better kid.
ADVERTISEMENT - CONTINUE READING BELOW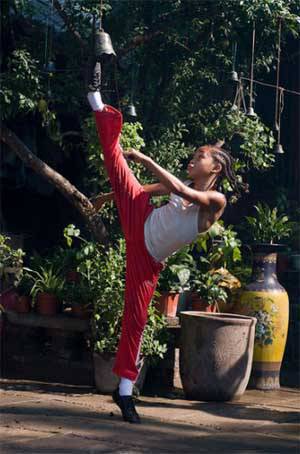 Jaden Smith as the underdog, Dre Parker.
As the titular character, Jaden Smith is quite good as underdog Dre Parker. He's funny when he needs to be and can even cry on cue. But he's not quite as precociously brilliant as other pre-teen boys who made more indelible impressions in their star-making movie vehicles, like Henry Thomas in E.T. The Extra-Terrestrial or Haley Joel Osment in The Sixth Sense.
CONTINUE READING BELOW
Recommended Videos
As Dre's mentor Mr. Han, Jackie Chan is unexpectedly moving. He's predictably funny in early scenes, such as the part where he winks at the "catching a fly with chopsticks" bit which the original KK made famous. Towards the end, however, in the sequence where a family tragedy is discussed, audiences will see a more layered and mature Jackie Chan than they've ever seen before.
As Dre's mother Sherry, Oscar nominee Taraji P. Henson (The Curious Case of Benjamin Button) adds another "memorable mom" portrayal to her filmography. It's no small feat to own a film's funniest moment, especially when your co-star is Jackie Chan, but Henson does just that in the sequence where she and Chan are watching a shadow puppet play. Her befuddled reaction upon seeing a tender, silhouetted smooch is a priceless gem of hilarity that has no comic equivalent in the 1984 Karate Kid.
ADVERTISEMENT - CONTINUE READING BELOW
The remake's bad guys, however, aren't treated as well by the script, which makes them hissable beings devoid of humanity. Where the American bullies in the original were always bad but believable, the same can't be said of the cartoonishly evil Chinese villains who make life difficult for Dre in the remake. The script makes a point of emphasizing how important honor is to the Chinese, but the ones whom Dre has to face in the climactic battle act most dishonorably.
In addition to portraying the Chinese bad guys as cardboard villains, the final clash has another problem. (SPOILER ALERT! SKIP TO THE NEXT PARAGRAPH IF YOU DON'T WANT TO KNOW HOW IT ENDS.) In the 1984 original, Daniel (Macchio) won the tournament by doing a cool but believable kick called the Crane. In the remake, Dre triumphs by drawing inspiration from a cobra and then delivering a kick that triggers skepticism more than it evokes amazement. It's a move that compromises the winning moment because it makes the viewer wonder if it was real or simply something a computer animator came up with.
Also worth mentioning is how Beijing is portrayed in the movie. Save for a gorgeous, sweeping aerial shot of Jackie Chan and Jaden Smith training on one of the towers of the Great Wall and glimpses of the iconic Bird's Nest stadium and the adjacent Watercube, Beijing isn't photographed in a very flattering light in KK. Instead of presenting the glossy, ultramodern city that was revealed to the world in the 2008 Olympics, the film shows us, for the most part, a cramped, crowded, smoke-filled city that often resembles Manila's Chinatown.
ADVERTISEMENT - CONTINUE READING BELOW
In the end, I enjoyed the1984 Karate Kid a wee bit more than I did the remake. It's safe to predict, though, that this new version will be enjoyed immensely by those who never saw the original because it has enough comedy, drama, romance and martial arts action to make its two hour running time fly by. Just don't expect to see any karate action.
RATING: •••. 3.5 out of 5 spots
Check to see where the movie is showing.

Photographs from Columbia Pictures.
Share this story with your friends!
---
Help us make Spot.ph better!
Take the short survey
Load More Stories