10 Filipino Films You Must Watch Before You Die
Move over, Hollywood! We celebrate Philippine cinema with our list of 10 must-watch local flicks.
All best-of lists are dangerous. They are invitations for condemnation.
We love them because they fulfill our hankering for order in the glut of things. We love them because they provide a measure, even if a crude one, for our taste. And we love them because they are a concentrated form of validation ("Of course that should be in this list!") and drama ("How dare they include this and not that? Who does he think he is?").
Of course, there will always be someone who will soon decry that something else important is missing. At best, they are something that can spark an impassioned debate among film buffs.
I have not seen all Filipino films, but I have seen my fair share of what are considered the best of what local cinema can offer.   In coming up with this list, I arrived at a haphazard criteria–that I will only select something that I have actually watched, and that something must have been able to engage me in a deeper way than most films I have seen.
But first I got some help. Because I remember Cinemalaya's Ed Cabagnot once telling me that he considers Eddie Romero's Ganito Kami Noon Paano Kayo Ngayon as probably one of the best Filipino films ever made–simply because it tasked itself to answer the question: who or what is a Filipino? I wondered what other critics had to say about what is the best, and so I cornered a few of the country's top film critics.
ADVERTISEMENT - CONTINUE READING BELOW
Francis Cruz of the popular film blog Lessons From the School of Inattention, goes straight to his choices: "Lav Diaz's Batang West Side and Raya Martin's Independencia. But if there's one which I think is ripe for rediscovery, it would be Joey Gosiengfiao's Bedspacers."
The Philippine Daily Inquirer's Rito Asilo agonized over it: "This is a hard decision... But I choose Magnifico. Despite its tragic finale, Maryo J. de los Reyes' stirring 2003 drama nonetheless leaves strands of hope for the viewers."
Writer Luis Katigbak said that a few titles came to mind: "There's Luis Quirino's short film Pasakalye, a darkly humorous little road trip of a film. There's Quark Henares' Keka, which I love for the sheer irreverent fun it offers: dance number, death scenes, and all. There's Aureaus Solito's Pisay, widely considered to not be his best film  but which I love for reasons nostalgic and sentimental and literary)."
CONTINUE READING BELOW
Recommended Videos
Businessworld's Noel Vera raves about two films: "Mario O'Hara's Kastilyong Buhangin stars Nora Aunor and Lito Lapid as a vehicle for both. I can only describe it as a cross between George Cukor's A Star is Born and Ringo Lam's Prison on Fire."
Which proves my point: the untidy richness of lists lies in the fact that, collating opinions from the film-struck, no one really agrees with another. And that is something to cherish. In the end, I had to come up with my list–knowing full well my own criteria, and knowing that I wanted to touch on things not usually considered for lists like this, and that included a survey of all genres, as well as a consideration of short films, documentaries, animated films, independent films you don't often see in the cineplex, and even the unabashedly commercial. And so here we go with my own take, whether I "get it or not."
ADVERTISEMENT - CONTINUE READING BELOW
10. Kailangan Kita
Directed by Rory Quintos for Star Cinema, 2002
This film proves that the unabashedly commercial–something created foremost as a money-making vehicle for movie stars–does not have to be ineptly made, even when it goes through the formula designed to induce Kleenex tears, set to the soundtrack of a popular love song. Quintos' take on the growing love affair between an arrogant U.S.-bred city boy (Aga Muhlach) and a snippy country lass (Claudine Barreto) is also a gorgeous paean to Bicolandia and its searingly hot cuisine. Its use of food and color to signal the growing romance between the two characters is at once breathtaking, hunger-inducing, and subtle. The ending, of course, is a let-down of corniness that sends shivers down our spine, reminding us at the end that this is still a Star Cinema film–but for a while there, we were enchanted.
9. Libingan
Directed by Ramon del Prado for Tuldok Animation, 2007
A little girl from the city goes home to the province with her mother, meets some bullies who steals her cellphone, and gets led to a nearby forest where she has the biggest encounter of all–with primeval beings that spring straight from our forgotten folklore. That this is all told in whimsical animation reminiscent of Hayao Miyazaki is incredible. The Philippines is not quite known for its animated films–and what few that came, Gerry Garcia's Isko: Adventures in Animasia (1995) and Robert Quilao's Dayo (2008) did not exactly gain a huge following. Mr. Del Prado may be the future game changer for Filipino animation.
ADVERTISEMENT - CONTINUE READING BELOW
8. Ang Lihim ni Antonio
Directed by Joselito Altarejos for Viva Digital and Beyond the Box, 2008
There's no question about it: the subgenre of queer cinema is here to stay. They make too much money, which has led to quickie filmmaking cashing in on the trend, giving us films that are sometimes precious (Cris Pablo's Boylets) or atrocious (Joel Lamangan's Walang Kawala). Altarejo's second queer film–a tragedy involving a boy, his mother, and his uncle–tapped into the well of queer unconscious and became perhaps the most popular film of its genre. Of course we've had groundbreaking–and perhaps even better made–gay films before. Contributions by Brocka (Ang Tatay Kong Nanay), Mel Chionglo (Sibak), Danny Zialcita (T-Bird at Ako), Gil Portes (Miguel/Michelle), Carlitos Siguion-Reyna (Ang Lalake sa Buhay ni Selya), and even the documentaries of Nick Deocampo (Oliver) easily spring to mind. But Antonio is a vivid experience because it is also both a story of growing up and coming out. That it is also sexually explicit adds to its notoriety. It ends with what many consider to be needless tragedy, but if you think about it, it may be the filmmaker giving us a necessary disapproving shake of the head, as if he's saying, "Sure, you find all these sexy now"–and then pulls the rug right off our unsuspecting feet. Genius.
7. Bata Bata Paano Ka Ginawa?
Directed by Chito S. Rono for Star Cinema, 1998
I can't believe that there was a once-upon-a-time when a Star Cinema imprimatur was a seal of "fearless" filmmaking. Remember Eskapo? Remember Ligaya ang Itawag Mo sa Akin (the Reyna Films-produced flick that it distributed)? Remember this brilliant adaptation of Lualhati Bautista's acclaimed novel of a single mother coming to terms with the macho culture that surrounds her? Vilma Santos is a different revelation in this film–she is both dramatic and comic, and the result is an amazing thespian coup that elevates her. And that potty mouth!
ADVERTISEMENT - CONTINUE READING BELOW
6. Ang Pagdadalaga ni Maximo Oliveros
Directed by Auraeus Solito for Cinemalaya, 2005
How did Auraeus Solito do this? The film is like beautiful magic, where everything is totally unexpected, and yet also the inevitable sum of all its elements. The magic starts, of course, with Michiko Yamamoto's brilliant story of a gay boy living in the slums who must contend with a lovable (but also macho, but…) family of small-time criminals and his incipient romantic fascination for a handsome policeman. Everything is just right in this heartwarming soup of a movie–but we respect it because it does not pull punches in becoming melodramatic. It is all of subtlety, including a heartbreaking ending (a long shot reminiscent of the ending of The Third Man).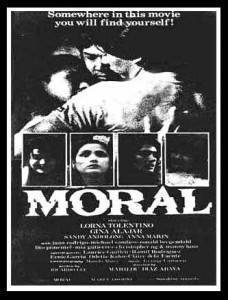 5. Moral
Directed by Marilou Diaz-Abaya for Seven Stars Productions, 1982
I still remember the four women in Abaya's feminist drama distinctly–the tomboyish and feisty Lorna Tolentino who is lost and is searching, sometimes in the wrong places, for a thing or a cause to believe in; the garish and ambitious singer Gina Alajar who cannot seem to accept the fact that she cannot sing; the beautiful and self-assured Sandy Andolong who must deal with the fact that her husband has left her for another man; and the put-upon housewife Anna Marin who must deal with an irresponsible husband and a nagging mother-in-law in the middle of the noise of too many children, with another one on the way. This film must have been electric when it was first released, and many years later, its message about the place of women in our world is still very much relevant. Years later, Abaya directed a sequel which replace the principal cast (save for Laurice Guillen as Lorna's mother). It wasn't half-bad, but the original was extraordinarily searing and intelligent–and cemented Abaya's place in the pantheon of local filmmakers.
ADVERTISEMENT - CONTINUE READING BELOW
4. Mababangong Bangungot
Directed by Kidlat Tahimik, 1979
This is the absolute father of all independent films in the country. Eric de Guia, now known as Kidlat Tahimik, casts himself as a man in love with Westernization–but a trip to Paris would soon change him. This is a powerful, if enigmatic, film. Cruz writes of it in his blog: "It is Tahimik's generosity, his humble simplification of the world's complex worries, that carries Mababangong Bangungot from its low budget imaginings. Tahimik exoticizes his culture without necessarily exploiting it. He also exoticizes European cultures; and in a way, he dons the skin of a curious documentarian, only with more humor and a drawing charm."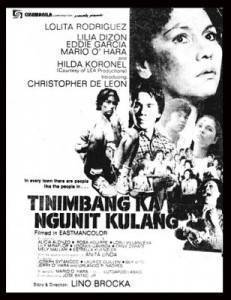 3. Tinimbang Ka Ngunit Kulang
Directed by Lino Brocka for Cinemanila, 1974
To choose just one film from Brocka is always an exercise of foolishness. Most people would choose Bona or Maynila sa mga Kuko ng Liwanag or Insiang or Kapit sa Patalim–but Tinimbang Ka Ngunit Kulang speaks to me more for some reason. Brocka famously set about to film this in his old hometown that once ostracized him, wowing them by bringing in big stars–and then slyly makes the town as the very backdrop for his searing tale of small-town hypocrisy. Talk about the ultimate revenge. In it, the young Christopher de Leon becomes our stand-in. He plays the innocent hero who must become his own man as he struggles with the scathing drama of ordinary corruption.
ADVERTISEMENT - CONTINUE READING BELOW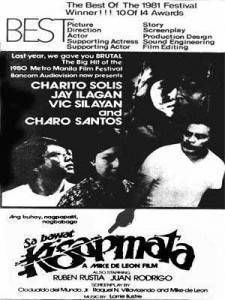 2. Kisapmata
Directed by Mike de Leon for Bancom Audiovision, 1981
How do you choose just one title from the filmmography of perhaps the most technically proficient–and equally poetic–of Filipino filmmakers? De Leon is like our own version of Stanley Kubrick, in that he is a strange duck of a perfectionist–but manages to make films of totally different genres and make them into gems of cinema. Consider this: he has made tearjerker drama fests (Kung Managarap Ka't Magising), musicals (Kakabakaba Ka Ba?), fraternity thrillers (Batch '82), socialist dramas (Sister Stella L.), horror films (Itim), and postmodern biographical films (Bayaning Third World)–and did them all with the panache of a master at the top of his form. With Kisapmata–his indictment of Filipino machismo in this dark (and true life) tale of a policeman father and his murderous hold on his daughter, his wife, and his frustrated son-in-law–he orchestrates all of cinema's techniques (the deliberate editing, the claustrophobic set design, the paranoid cinematography, and the subtle but gripping acting turns by Vic Silayan, Charo Santos, Charito Solis, and Jay Ilagan) to immerse us fully into the dark melodrama. We come away from the film shattered–but enriched.
ADVERTISEMENT - CONTINUE READING BELOW
1. Oro Plata Mata
Directed by Peque Gallaga for Experimental Cinema of the Philippines, 1982
This is not an unconventional choice. It is almost totally expected. But every time somebody asks me what is my favorite Filipino film, I may hem and haw about the ultimate choice, but in the end this is my answer: Gallaga's Negrense epic of war and loss of innocence. The Philippine Daily Inquirer's Gibbs Cadiz agrees with me: "I like how it brought a dead era back to life. The final third of the film was a mess, but everything before that was glorious. It reminds me of Visconti's The Leopard–shabbier but the same spirit." And Rito Asilo also says: "Oro Plata Mata eloquently vivifies the destructive reach of war and invasion. Its scope is epic, but it manages to keep its tone and temperament intimate and undeniably Pinoy. It's as relevant now as it was in 1982. But it's downhill from there for Gallaga, whose most recent films (2005's Pinoy Blonde and 2009's Agaton and Mindy) were to say atrocious."
Runners-up: Trip (directed by Juan Pula a.k.a. Jon Red for Mowelfund, 1993), Himala (directed by Ishmael Bernal for the Experimental Cinema of the Philippines, 1982), and Kimi Dora (directed by Joyce Bernal for Spring Films, 2009).
Art by Warren Espejo and movie posters from Video 48.
Share this story with your friends!
---
Help us make Spot.ph better!
Take the short survey
Load More Stories