MOVIE REVIEW: Toy Story 3
Apart from the "bewitching beauty of its lovingly-rendered images" of <em>Toy Story 3</em>, SPOT.ph movie reviewer Paul Daza says it's one of his top three 2010 movies to date.
More often than not, by the time the third chapter of a movie franchise hits theaters, the franchise has already outlived its welcome, making fans wish that the filmmakers had stopped with the first or second movie. Recent examples of such bad three-quels are Spider-Man 3, Shrek The Third, and from the 20th century, The Godfather Part 3, Jaws 3 (in 3-D!) and Superman III. Sometimes, however, a third offering still manages to miraculously capture lightning in a bottle, resulting in a movie that's as enjoyable (or even more so) as its predecessors. Examples of these rare gems are Indiana Jones and the Last Crusade and X-Men 3.
Now in theaters is the much-awaited return to the big screen of Woody, Buzz Lightyear and the rest of the colorful caboodle in Toy Story 3 (TS3). And so we must ask: Should the geniuses at Pixar have quit when they were ahead with the moving Toy Story 2 in 1999? Or was there really enough story left to warrant opening the toy box for a third time after eleven years?
ADVERTISEMENT - CONTINUE READING BELOW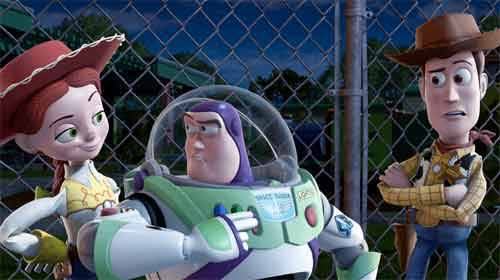 For the most part, TS3 delivers. It's a powerful and affecting animated film that will be loved by moviegoers the world over, especially by the older fans of the first two movies. This time around, the toys' human owner Andy is leaving home for college and must decide what to do with his playthings. Though Andy had intended for them to be stored in the attic, a misunderstanding results in them winding up in a day care center, where they are used and abused not only by snot-nosed toddlers, but also by some of the center's older toys. Woody (voiced again by Tom Hanks) must now help the entire gang escape from the torture center before they are damaged beyond repair and end up in a junk yard.
ADVERTISEMENT - CONTINUE READING BELOW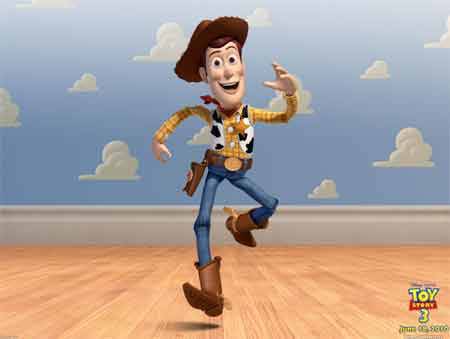 One thing that makes Toy Story 3 jump out and stand out in the Pixar pantheon is the bewitching beauty of its lovingly-rendered images, especially when they're beheld in Imax 3D. The movie's opening sequence, for one, is a spectacular, old-fashioned train heist set in cowboy country. It's a bravura setpiece of choreography, action and comic timing that fully justifies not only the franchise's return to the big screen, but also the costly decision to make it the first Pixar feature to be shown in Imax 3D. As immersive and gripping as the opening scene is the film's climax, which shows the toys bracing themselves for their ultimate fate as they await incineration in a junkyard.
ADVERTISEMENT - CONTINUE READING BELOW
In between the opening and end credits are the emotional roller-coaster scenes which Pixar does so well, which alternate transcendently between hilarity and pathos. Especially rib-tickling are the scenes where Buzz Lightyear (Tim Allen) is reprogrammed to speak Spanish, and a naughty observation made by one toy about the fashionable Ken's very expressive handwriting.
Pathos and poignance are also scattered throughout the film. The story, after all, is a meditation on mortality, and when the film isn't being funny, it makes quite a few provocative observations about what it feels like to be useless and past your prime.   Nowhere is this more evident than in the last scene, which is a heartfelt, moving tearjerker that's sealed with a simple shot that bookends the trilogy poetically.
There are a few parts, however, where the script overdiscusses certain ideas, resulting in a Toy Story that's unusually talky. Woody's explanation to the rest of Andy's toys about how they ended up in a garbage bag on a curb is repeated one too many times, as is the statement that the college-bound Andy has no need for toys. Calling more attention to Toy Story 3's verbosity is the film's unlucky situation of having to follow two Oscar winning Pixar movies- Up and Wall-E - that were both masterpieces of verbal economy. The fact that the most moving moments of those two movies didn't rely on dialogue magnifies the shortcomings of Toy Story 3's script, which would have surely benefited from more brevity.
ADVERTISEMENT - CONTINUE READING BELOW
Toy Story 3 also loses points for not being able to come up with a more original and surprising villain. I won't reveal who he/she is here, but I was bothered by the new antagonist's many similarities to Stinky Pete, the villain of Toy Story 2. After topping themselves with each film they've made since the first Toy Story in 1995, it's alarming to think that even the geniuses at Pixar are human after all, and can run out of fresh ideas just like everybody else.
But while TS3 won't make it to my list of five favorite Pixar movies of all time, it's most definitely in my list of the top three movies of 2010 to date. Toy Story 3 is an imaginative, feel-it-all film to be seen with and treasured by the whole family. Just don't be surprised if you end up being more affected by it than the children in the audience, because TS3 was clearly made by the filmmakers for grown-ups who have had to "go to college" and leave some, if not all, their favorite childhood toys behind.
ADVERTISEMENT - CONTINUE READING BELOW
RATING: …. 4  ½ out of 5 SPOTS.
Check where the movie is showing.
Photographs from Walt Disney Studios Motion Pictures International.
Recommended Videos
Load More Stories