MOVIE REVIEW: The American
The George Clooney-starrer, says SPOT.ph movie reviewer Paul Daza, is "stylishly unique" and "challenges Hollywood conventions of the action thriller."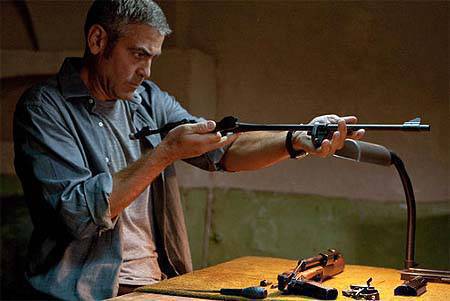 George Clooney stars in the European-made action-thriller, The American.
You'd think that The American, the new action-thriller starring the once again red-hot George Clooney as an assassin for hire would get a wider release instead of its limited engagement in Ayala Malls Cinemas. After all, the movie also topped the US box office when it opened there last week. After having seen the film, however, the distributors probably realized that The American would only be appreciated by a smaller group of cineastes, the kind who aren't turned off by subtitles, unknown actors, uncomfortable silences, and a downbeat ending. Were they right to limit the movie's release to only three theaters?

George Clooney is Jack, an American assassin who realizes he's been marked for death while vacationing with his lover Ingrid (Irina Bjorklund) in Sweden. When Ingrid is killed during the attempt on Jack's life, he decides to hide in the remote Italian village of Castel del Monte to ponder his next move. After changing his name to Edward and pretending to be a photographer, he is befriended by the town priest, Father Benedetto (Paolo Bonacelli), who has a few secrets of his own. Jack then contacts an associate named Pavel (Johan Leysen), who gives Jack another assignment. He reluctantly accepts, but not before insisting that this next job will be his last. That job is to build a gun that has the best characteristics of a rifle and a submachine gun for the lovely Mathilde (Thelma Reuten). As Jack builds the rifle for Mathilde, he falls for Clara (Violante Placido), a beautiful prostitute who dreams of visiting America. As Jack and Clara's relationship deepens, however, he realizes that the men who tried to kill him in Sweden have followed him to Castel del Monte. A series of betrayals follow which make Jack wonder if he will ever see America again.

Ironically, the best thing about The American is how un-American it is. Directed by Cannes award-winner Anton Corbijn, this proudly European-made film is about as "un-Hollywoody" as you can get for a movie about cold-blooded assassins, their targets and the innocents who are caught in the crossfire. With the exception of George Clooney, everyone in the cast and crew has a name that's difficult to pronounce. Just because they're unknown, though, doesn't make them untalented. Everyone in The American effectively performs their roles, from the actors to the extras. The standouts are Violante Placido, looking as relaxed and comfortable in her nude scenes (the movie is rated R-13 by the MTRCB) as European ladies reportedly are with their sexuality in real life. As the all-too-human Father Benedetto, Paolo Bonacelli also makes an indelible impression as the seen-it-all priest who knows immediately when he's being lied to.

As for the locations, I was especially captivated by the Italian town of Castel del Monte, which is depicted in the film as a charming cluster of concrete and stone block houses stacked on top of each other to form a hill of homes. And, just like in another favorite film of mine that was filmed in Italy, The Talented Mr. Ripley, there's also a pivotal scene in The American which takes place during a procession of the statue of the Blessed Virgin Mary (Roman Catholics celebrated her Nativity on September 8) which shows that Italians are as devoted to Mary as we Filipinos are.  It's an arresting and illuminating travelogue moment that serves the scene perfectly.           

Despite the visually apparent use of unfamiliar European locations and performers, however, the first thing a moviegoer will probably notice about The American is how quiet its soundtrack is. Herbert Gronemeyer's music is wonderfully unobtrusive, never aspiring for the bombastic levels of the scores used by similar genre movies like Salt or Matt Damon's Jason Bourne movies. Likewise, Rowan Joffe's screenplay for The American is sparse but wickedly quotable, especially in the dialogue exchanges of Jack and Father Benedetto. It's not an exaggeration to say that The American has only half as much dialogue and music compared to the typical Hollywood blockbuster. The most striking thing about the film's sound design, though, is the frequent use of silence to surround most scenes, which makes the sudden use of loud sound effects like gunshots, slamming car doors and backfiring vehicles all the more jolting.

***SPOILER ALERT*** The biggest jolt of all, however, is the film's downbeat ending, which partly explains why The American is not playing in the multiplexes of SM or Robinsons Movieworld. If you're the type of moviegoer who wants a formulaic action thriller with a feelgood conclusion, The American isn't for you. This is a stylishly unique movie that challenges  Hollywood conventions of the action thriller from top to bottom and from start to finish. It challenges the establishment and wins.   

Rating: 4 out of 5 Spots
ADVERTISEMENT - CONTINUE READING BELOW
Check to see where the movie is showing.
Photographs from Focus Features.
CONTINUE READING BELOW
Recommended Videos
Share this story with your friends!
---
Help us make Spot.ph better!
Take the short survey
Load More Stories