MOVIE REVIEW: The Social Network
Why did SPOT.ph movie reviewer Paul Daza give "The Facebook Movie" 5 out of 5 Spots?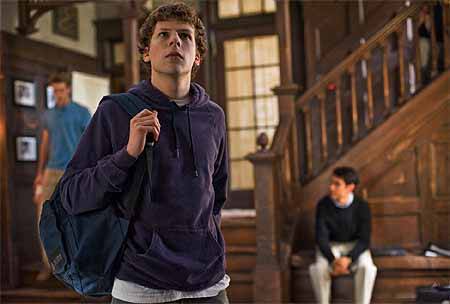 Jesse Eisenberg stars as Mark Zuckerberg in The Social Network
An unconventionally structured script, convincing portrayals, and economical direction from a normally visually flamboyant director made The Social Network emerge as an Academy Award frontrunner. Who would have guessed that a film about a computer geek and the website he created could be so riveting?

It's late 2003 and Mark Zuckerberg (Jesse Eisenberg) is a Harvard computer programming student recently dumped by his girlfriend. To help him get over her, he creates an online quiz which allows his schoolmates to compare the female students at school. The quiz proves to be so successful that it brings Mark to the attention of twins Cameron and Tyler Winklevoss (both played by Armie Hammer with the help of visual effects trickery). Like Mark, the twins are Harvard students, and they ask Mark to help them create a social networking site that will unite all Harvard alumni on the internet. Mark accepts the job, but spends more of his time creating and polishing the web application that will eventually become the global phenomenon that is Facebook.
ADVERTISEMENT - CONTINUE READING BELOW
But before Facebook snags its one millionth user, Mark is sued for stealing the idea for the social networking service not only by the Winklevoss twins, but also by Mark's best friend Eduardo Saverin (Andrew Garfield). Saverin, as the film shows, not only co-created the service, he was also its initial investor and marketing officer.
The Social Network works primarily because of a terrific screenplay by Aaron Sorkin, the award-winning screenwriter of  A Few Good Men and the TV series The West Wing. Of the many remarkable qualities of the script , the most audacious is the structure. It tells the story of Facebook's origins side by side with the lawsuits that were filed against Zuckerberg. This results in a movie that's told from multiple points of view, and one that forces viewers to be anything but passive as they are compelled to come up with their own conclusions about who is telling the truth and who is not.  

The script is also full of quotable quotes and juicy details about what life was like behind  Harvard's super exclusive ivy league walls from 2003 to 2004. In fact, one of the film's last lines is a concise description of Mark Zuckerberg during this period, and it probably marks the first time in the history of unforgettable cinematic one-liners that the word "a**hole" was used in such an eloquent statement.

Thankfully, the superb screenplay is given justice by the superb acting. Jesse Eisenberg's portrayal of Facebook's fast-talking founder Mark Zuckerberg  is so consistent and absorbing that he succeeds in doing what every actor must dream of accomplishing when he portrays a true-to-life character: he convinces the viewer that his portrayal is 100% accurate even though they have no way of knowing that for sure. I have not seen any video that shows what Zuckerberg was like during his years at Harvard, but Eisenberg's portrayal certainly FEELS authentic and spot on.

Andrew Garfield is also excellent as Facebook's underappreciated initial investor and co-creator.  Over and above the Oscar buzz he's getting for his portrayal as Zuckerberg's once-upon-a-time best friend Eduardo Saverin, however, what truly excites me about his work in The Social Network is that it bodes well for the Spider-Man reboot that's coming to theaters in summer 2012. Garfield's portrayal in The Social Network hints that he may be an even better Peter Parker/Spider-Man than Tobey Maguire was.   

Among the relative unknowns who populate The Social Network, the odd man out is the mega-popular singer Justin Timberlake as Sean Parker, creator of the music file-sharing site Napster and eventual founding president of Facebook. Like Garfield and Eisenberg, Timberlake also delivers a convincing portrayal, one that marks him as one of the few recording artists who can make the rare and difficult transition from singer to actor.        

Making it all work in one compelling package is director David Fincher, who in The Social Network abandons the visual flair he exhibited in films like The Curious Case of Benjamin Button and Fight Club for a style that's more lean and mean and less dependent on ornately decorated sets and budget-busting visual effects. In this movie, Fincher wisely opts to let the expressive close-ups of his talented cast do most of the storytelling rather than his lavish sets and meticulously-designed shots. Fincher even resists showing postcard-pretty campus shots that seem to be a given in movies  set in schools, like Dead Poets Society and the Harry Potter series. In fact, the only beauty shots I recall are ones showing the Winklevoss twins during a rowing competition. For the most part, Fincher shoots his actors in cramped bars and claustrophobic dorm rooms, letting their faces and voices tell the story.
CONTINUE READING BELOW
Recommended Videos
ADVERTISEMENT - CONTINUE READING BELOW
And, speaking of the talking, Fincher reportedly made his actors deliver their lines at a faster than normal pace because there was just so much terrific dialogue in Aaron Sorkin's script. Had the actors delivered the dialogue at their normal pace, The Social Network would have been a three-hour movie. By making his stars speak faster, Fincher not only made them sound smarter, he also made the movie more compelling to watch- a brilliant example of killing two birds with one stone.

In the end, what I enjoyed most about The Social Network is that it shows how young students can truly change the world. It's the best true story ever filmed about a 19 year-old, one that's riveting and intelligent, and as inspiring as it is cautionary. Â 

Rating: 5 out of 5 Spots.....
Photographs from Columbia Pictures.
Share this story with your friends!
---
Help us make Spot.ph better!
Take the short survey
Load More Stories