MOVIE REVIEW: Due Date
Read why SPOT.ph movie reviewer Paul Daza says <em>Due Date</em> is both amusing and annoying.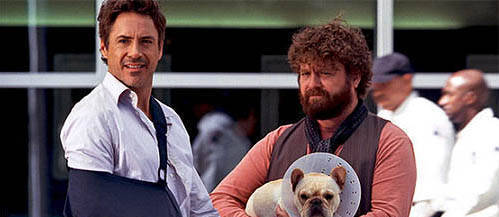 The comedy stars Robert Downey Jr. and Zach Galifianakis
It's 60% amusing and 40% annoying. Those percentages more or less sum up my reaction to Due Date, the new comedy-drama from the tandem of director Todd Phillips and star Zach Galifianakis. Their last team-up, the 2009 hit The Hangover, is hailed in press releases as "the highest-grossing R-rated comedy of all time." And so, expectations are high for Due Date, especially since the phenomenally popular Robert Downey Jr. has joined the pair, which is currently sitting at the top of Hollywood's comedy game.
ADVERTISEMENT - CONTINUE READING BELOW
CONTINUE READING BELOW
Recommended Videos

Due Date stars Robert Downey Jr. as Peter Highman, a snooty architect who is also an expectant, first-time father. With his wife due to give birth in a couple of days, Peter catches a flight home to Los Angeles from Atlanta to be at her side for the event. However, a chance encounter with aspiring actor and disaster-magnet Ethan Tremblay (Galifianakis) gets Peter and Ethan thrown off the plane and banned from flying the USA's unfriendly skies. With no alternatives in sight, Peter is forced to hitch a ride with Ethan and his French bulldog in what turns out to be a 2,200 mile road trip that will test the nerves, sanity and survival skills of both men.   

In many ways, Due Date is a traditional Hollywood comedy, one that earns easy laughs from such comedy staples as slapstick humor and the stupidity of its characters. My reaction to the sight of Downey being forced to accidentally "kiss" Galifianakis' massive and hairy belly?  LOL.  How about Galifianakis' disbelief upon being told by Downey that the Grand Canyon is not man-made but a natural wonder? LOL. These and other visual and verbal gags such as a masturbating dog and the improvised ingredient for a pot of coffee are still making me chuckle even though it's been days since I saw the movie.
ADVERTISEMENT - CONTINUE READING BELOW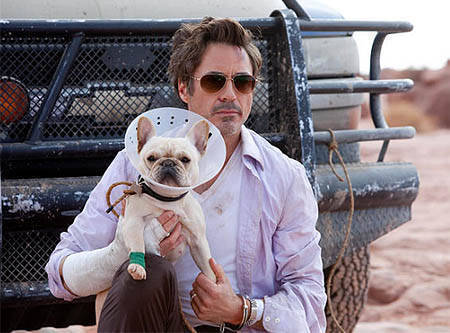 Not your run-of-the-mill comedy, Due Date is edgier and more realistic, says Paul Daza


On the opposite end of the fun spectrum are the irritants, which are provided entirely by Galifianakis' Ethan character. They include scenes where he falls asleep while driving, plays with a loaded gun, and generally makes life a living hell for Downey's Peter. Thanks to the quick pace of Todd Phillips' direction, however, these annoyances aren't allowed to fester in the audience's minds, but rather, serve as pay-offs for hilarious punch lines or illuminating character revelations. Credit is also due Galifianakis for successfully portraying Peter as a complex human being who reflects what some people are like in the real world, and not merely a comedy caricature created for the silver screen.  

It is this effort to make the movie a little more real than other comedies that earns Due Date points for attempting--and mostly succeeding--in its goal to innovate and invigorate the genre. That Due Date is not your run-of-the-mill comedy is evident in scenes where the mood suddenly shifts from funny to dead serious, where the viewer is chuckling one moment and being stunned into silence in the next. An example is the part where Peter (Robert Downey Jr.) is insulting a Western Union employee for refusing to help him with a money transfer. It starts out amusingly enough, but suddenly takes a darker turn when the employee comes out of his office and physically assaults Peter in retaliation for the verbal assault he arrogantly dished out. Another scene towards the end has Peter exploding at Ethan for being a magnet for trouble. What  Peter does to finally release his pent-up anger is anything but funny, especially since it also involves Ethan's lovable dog, Sonny. Unlike the slightly surreal fun flicks of Jim Carrey like Ace Ventura: Pet Detective and Dumb and Dumber,  Due Date has an edgier, more realistic tone that makes it difficult--even painful--to watch at times. Instead of portraying a sunshiny, hyper-real world where the likes of Ace Ventura are optimistically allowed to mingle with those of us who aren't in hospitals for the insane, Due Date presents a USA that's been crippled by the war with Iraq, a bad economy, bad parenting, and other tragedies.

And yet, despite the inclusion of these bitter pills (or because of them), I was riveted by Due Date from start to finish. Undoubtedly, it's the performances of both Robert Downey Jr. and Zach Galifianakis which make the movie work, especially their masterful handling of scenes which require them to go from being super funny to being dead serious in a matter of seconds. Thanks to Downey's seasoned acting chops that Downey's Peter character can punch a spoiled teenager in the stomach without losing the audience's sympathy. It's also what makes us care about Galifianakis' Ethan until the very end, even though his annoying stupidity is what causes all the misfortunes which plague him and Peter during their journey across America. My favorite Ethan moment is the one where he finally proves to Peter that he has some acting talent after a couple of dismal but hilarious attempts.  

Due Date isn't for everyone. No one pays good money to see a comedy to be annoyed or to be reminded that the real world is in bad shape. There will also be those who will despise the movie because of Zach Galifianakis. For others, however, the innovation and invention sprinkled throughout this consistently surprising dramedy may just be enough to remove the bumps from this road trip and smoothen the ride.    

Rating: 4 out of 5 spots ....
ADVERTISEMENT - CONTINUE READING BELOW
Check to see where the movie is showing.
Photographs from Warner Bros. Pictures.
Load More Stories