MOVIE REVIEW: Takers
Impressive star wattage plus a traditional yet innovative filmmaking style make <em>Takers</em> a thrilling ride, says SPOT.ph movie reviewer Paul Daza.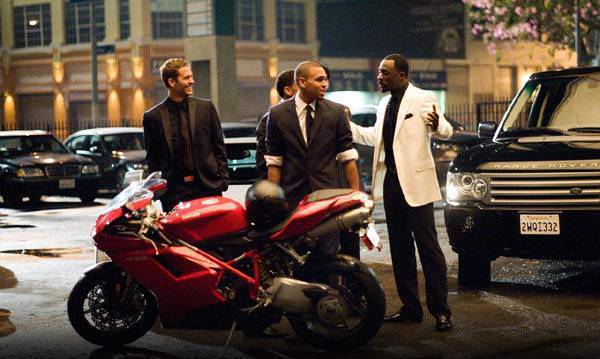 Takers' star-studded cast includes Paul Walker, Hayden Christensen, Chris Brown, Matt Dillon, and Jay Hernandez

At first glance, the new action thriller Takers may seem like little more than two back-to-back episodes of a particularly well-made police detective TV series. But thanks to its impressive star wattage and a filmmaking style that's both traditional and innovative, Takers rises above its modest production budget ($20 million, according to the Internet Movie DataBase) and proves itself to be a very enjoyable, thrilling ride.
John (Paul Walker), AJ (Hayden Christensen), Gordon (Idris Alba), and brothers Jake (Michael Ealy) and Jesse (Chris Brown) are "takers," professional bank robbers who take millions from banks and use the money to live the in the lap of luxury. This means owning the priciest & shiniest cars, wearing stylish clothes, and going to exclusive night clubs to romance beautiful women. Hot on the trail of the takers, however, are police officers Jack Welles (Matt Dillon) and Eddie (Jay Hernandez), who pore over clues left by the quintet during their last heist. The group normally rests a year between jobs, but the sudden re-appearance of a colleague who spent time in jail presents an opportunity they can't refuse- a $12 million paycheck. Though the team normally rests a year between jobs, they decide to take on the challenge, not knowing that this deviation from normal routine will have serious consequences.
ADVERTISEMENT - CONTINUE READING BELOW
Watch the Takers trailer
Following the fun but dizzying complexity of George Clooney's Ocean's 11 movies and the cartoonish implausibility of action comedy flicks like The A Team and The Losers, Takers is a welcome return to a simpler and more old-fashioned cops-and-robbers movie. Many elements of the film are in fact so traditional that Takers plays like a tribute to Hollywood conventions from decades past. Evoking the Thirties, for instance, is the wardrobe of the group's pretty boys. Paul Walker's John and Hayden Christensen's AJ dress in sleek Italian suits (Christensen even wears a hat) that make them look like John Dillinger or Baby Face Nelson wannabes. As for the African-Americans in the team- Idris Alba, Michael Ealy, and Chris Brown- their posturing as elegantly-garbed gangsters made me flashback to Michael Jackson's 1988 music video "Smooth Criminal" more than once (Come to think of it, Smooth Criminals would have made a suitable title for this movie as well!). The one area where Takers deviates from Hollywood tradition is when it denies the audience a steamy love scene. The closest thing the film has to a leading lady is Zoe Saldana (Star Trek, Avatar, The Losers). For reasons which are known only to the filmmakers, she has zero love scenes in the movie. In fact, her presence in Takers amounts to little more than a cameo appearance.
CONTINUE READING BELOW
Recommended Videos
Another retro element in Takers is the inclusion of Russians as bad guys, a popular Eighties genre convention that was revitalized this year and used in hit flicks like Red and Salt. From the Nineties comes the inspiration for the superb gun battle that plays out near the end of Takers, where our bad boys engage in a claustrophobic, deafening gun battle with the badder Russians in a posh hotel room. Filmed in balletic, poetic slow-motion with shards of broken glass and splintered wood  falling on our anti-heroes like drops of rain, the scene is pure 1990s John Woo, complete with the fatalistic, operatic choir music underscoring the carnage. The only thing missing from the scene is Woo's trademark white dove.
ADVERTISEMENT - CONTINUE READING BELOW
Not everything about Takers, however, is mined from the past. Set in contemporary Los Angeles, the story employs such 2010 signposts as CCTV cameras, a mother figure who's in and out of rehab and an omnipresent news media to tell its tale of greed, double crosses and violence begetting violence. Using a media helicopter, C4 explosives and a subway tunnel, the two inventive robbery sequences in Takers prove that cinematic depictions of a heist can still excite and enthrall, and that the cops and robbers genre is not yet a dead horse.
Also notable is the film's ability to make the viewer sympathize with most of the lead characters, irregardless of where they're positioned on the goodness scale. This is one movie where you'll find yourself switching sides throughout the feverish, unpredictable climax, rooting for the police in one scene and hoping that at least one of the robbers will live to see another day in the end. Unlike the world depicted in the Harry Potter movies, however, real life isn't clearly delineated in terms of black or white, but in shades of grey. It's this morally ambiguous depiction of our gray world that makes Takers a compelling entertainment option for this week.
Rating: 3 1/2 spots out of  5
Photos from www.whoarethetakers.com
Share this story with your friends!
---
Help us make Spot.ph better!
Take the short survey
Load More Stories