MOVIE REVIEW: Love & Other Drugs
Up for an unpredictable love story about Viagra, Parkinson's Disease, and manipulative med reps? SPOT.ph movie reviewer Paul Daza says this dramedy surprisingly works.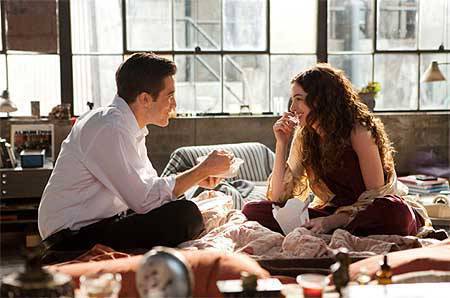 Love & Other Drugs reunites Jake Gyllenhaal and Anne Hathaway
As its title implies, Love & Other Drugs is a romantic comedy where drugs play a vital role in the plot. Not the kind of drugs that partygoers take in smoky night clubs, but the kind that require prescriptions. The film, after all, is based on a non-fiction book entitled "Hard Sell: The Evolution of a Viagra Salesman."  Funny, sexy, and sometimes heart wrenching, Love & Other Drugs is a more adult, more challenging romcom than the usual feel good fare that's directed by Nora Ephron or Gary Marshall. Rated R-13 by the MTRCB with cuts, it's an unexpectedly rewarding pre-Valentine movie that beats with a prescription heart, one that's highly recommended for those looking for a love story with more edge and angst to it than the latest variation of Sleepless in Seattle.
ADVERTISEMENT - CONTINUE READING BELOW
CONTINUE READING BELOW
Recommended Videos
The trailer of Love & Other Drugs

Love & Other Drugs reunites Jake Gyllenhaal and Anne Hathaway--who played an unhappily married couple in Brokeback Mountain in 2005--as its leads. In this outing, which is set in 1996-1997, Gyllenhaal is the very straight, very charming Jamie Randall, a relentless salesman for pharmaceutical giant Pfizer. Jamie is as committed to selling the antidepressant drug Zoloft as he is uncommitted to the many ladies he has casual sex with. One day though, Jamie meets his match in Maggie Murdock (Anne Hathaway), a gorgeous artist forced to make a living as a waitress who's suffering from the onset of Parkinson's disease. Things between Jamie and Maggie get off to a shaky start, but soon enough, they're making love on a regular basis, enjoying their carefree lack of commitment to one another. Predictably, however, Jamie soon realizes he's falling in love for the first time in his life, and it's with a woman--Maggie--who refuses to be tied down or tamed by a man. Will Jamie win Maggie over at the end? What about her Parkinson's disease? And how will the phenomenal success of Viagra impact their lives?

Love & Other Drugs is not an easy film to categorize. Though it's packaged as a romantic comedy like last year's Going The Distance or Notting Hill, the Parkinson's disease subplot makes it more like a dramedy. There's a chunk of the movie where nothing funny happens at all, when the story becomes more like Dying Young (minus the dying) instead of Pretty Woman. The film is also played out against the cutthroat world of pharmaceutical salesmanship, a world that I've never seen portrayed in a mainstream Hollywood movie. It gives the movie even more substance, adding the desperate optimism of such search-for-a-cure films as Lorenzo's Oil and Extraordinary Measures. Only this time the male lead isn't looking for a cure for his sick child, but a cure for his twenty or thirtysomething lover. This is all for the good because the mixing and matching of different genres keeps the audience on its toes as it journeys with Jamie and Maggie on a ride that's never dull.

First on the list of the movie's attention-getters are its numerous love scenes. Whether you like men or women, how can you resist the many gratuitous butt shots of Jake Gyllenhaal and/or Anne Hathaway on a huge theater screen, with their moans and groans punctuating the action in Dolby Digital sound? Love & Other Drugs has also arrived in local theaters a week after the announcement that Hathaway has been cast as Selina Kyle (a.k.a. Catwoman) in director Christopher Nolan's next Dark Knight movie. As if the prospect of seeing the former Princess Diaries star in various states of undress wasn't compelling enough, the idea that she'll be playing one of the sexiest female comic book villains in pop culture is a truly mouth-watering prospect, especially since her work as the sinfully beautiful bi-polar Maggie in Love & Other Drugs is superb. There's one scene near the end of the movie, for example, where Maggie realizes that Jamie has been waiting for her at a bus stop all night. When she sees him, her face at first registers annoyance, but a mere second or two later, without the camera cutting away from her close-up, her wonderfully expressive eyes reveal that what she truly feels is pure, unadulterated joy that a man would do that for her. What a difference two seconds makes on the face of a truly gifted performer.
ADVERTISEMENT - CONTINUE READING BELOW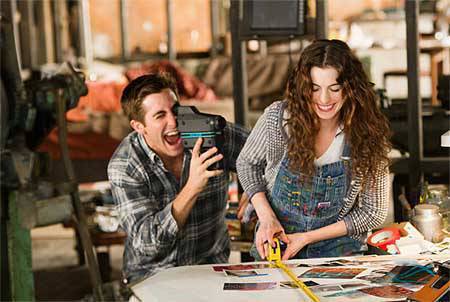 Gyllenhaal and Hathaway deliver superb performances, says Daza
Lest the movie be called sappy and saccharine, however, the scriptwriters put in enough humor and drama to keep the viewer in an ever-twisting emotional roller coaster. Most of the comic relief in the movie comes courtesy of actor Josh Gad, who plays Jamie's less charming brother, Josh. His best scene is the one where he's caught watching a tape of Jamie making love to Maggie, and he's made to explain why there's used tissue paper scattered around him. For those looking for even more juvenile and slapsticky humor, there's also a scene in a car where Jamie is suffering from the side effects of Viagra, and Josh makes things even more painful for his brother by mistaking Gyllenhaal's "stiffy" for the car's stick shift.
ADVERTISEMENT - CONTINUE READING BELOW
Don't worry though that Love & Other Drugs will turn out to be the kind of sophomoric movie that the Farrelly brothers regularly make, since there are also poignant, touching scenes we'd expect from the filmmaker who directed Denzel Washington to his first Oscar win in 1991's Glory. The climax of Love & Other Drugs begins as a romantic comedy cliché, with Jamie jumping into a car and pursuing Maggie as she zooms out of his life on another vehicle.  But the simple, unflowery exchange which follows when he catches up with her is anything but clichéd, thanks to the brevity and eloquence of the dialogue, and the superb performances of Gyllenhaal and Hathaway.            

It takes guts to make a love story with Viagra, Parkinson's Disease, and manipulative med reps hovering in the background. But it takes smarts, creativity and perhaps a little luck to make it work. Love & Other Drugs does work, and it works wonderfully well. If you think that predictable movie romances have become a disease, then this movie is the cure.   

Rating: 4 out of 5 Spots....
ADVERTISEMENT - CONTINUE READING BELOW
Check to see where the movie is showing
Photographs from 20th Century Fox
Load More Stories