MOVIE REVIEW: Burlesque
It's no <em>8 Mile</em> or <em>Moulin Rouge</em> but fans of Grammy Award winner Christina Aguilera will likely go ga-ga for it, says SPOT.ph movie reviewer Paul Daza.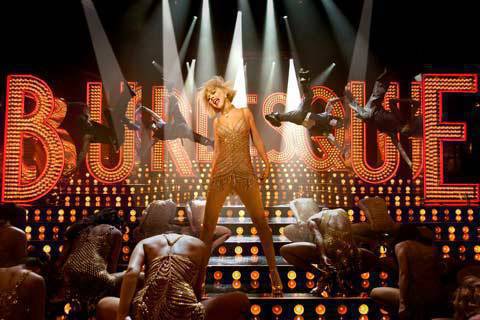 Christina Aguilera gives this role her all, says Daza


The best thing that can be said about Burlesque is that fans of Grammy Award winner and MTV phenom Christina Aguilera will likely go ga-ga for it, the movie tailor-made to showcase her undeniable talent as a singer, dancer, and even song writer. As star vehicles go, however, this one doesn't even approach rapper Eminem's feature film debut from several years ago, the acclaimed 8 Mile. If you're also expecting a superb and spectacular musical in the league of Moulin Rouge or Chicago in Burlesque, prepare to be underwhelmed, since Burlesque has neither the extravagant frenzy of Moulin Rouge or the captivating unpredictability of Chicago. Compared to those two artistically triumphant song-and-dance entertainments, Burlesque feels like a poor man's musical despite the presence of the multi-talented Cher and Aguilera in the cast.
ADVERTISEMENT - CONTINUE READING BELOW
Watch the trailer
Burlesque starts with Ali (Christina Aguilera) quitting her job as a waitress in a restaurant in Iowa, and heading for Los Angeles to fulfill her dream of becoming a singer. In L.A., she stumbles upon The Burlesque Lounge, a majestic but financially challenged theater that's home to an inspired musical revue. After charming the handsome bartender Jack (Cam Gigandet) with her persistence, Ali gets a job as a waitress. When one of the  performers suddenly gets pregnant, however, Ali auditions as her replacement. Needless to say, when the small-town girl uses her big voice and sexy moves, she more than impresses Tess (Cher)- the club's owner- and its swishy stage manager, Sean (Stanley Tucci). Thanks to her potent voice and innovative ideas, Ali is given her break on stage and quickly becomes the Burlesque Lounge's star attraction, putting her on a collision course with the club's resident brat (Kristen Bell) and a businessman named Marcus (Eric Dane) who holds the fate of the bar in his hands.

As one who likes oldies movies and music more than the contemporary stuff, I found the early half of Burlesque to be more appealing than the latter half. Before Ali/Aguilera is given her big break by Tess/Cher in the movie, the performances in the Burlesque Lounge consist of showgirls lipsynching and dancing to such 50s songs as "Diamonds are a Girl's Best Friend" as performed by Marilyn Monroe, and other standards. Thanks to the old-fashioned choreography and the ear-friendly songs showcased in these early scenes, the movie itself becomes as timeless and charming as an MGM musical from the 1950s.

The second half of the film, though, is plagued with problems. When Cristina Aguilera introduces the concept of live singing to the lounge and becomes its star, the magic spell cast by the first half is broken. Undoubtedly, Aguilera's very distinct, very 21st century four-octave voice is powerful, but its inclusion in the club's revue scenes causes the movie to lose its old-school charm and become a 2010-2011 signpost, complete with the "birits" and vocal acrobatics which singers from the 90s onwards have been belting out with mixed results.

I might not have minded this jarring change in the movie's musical mood if the story had been as complex and challenging as Aguilera's warbling. But no, Burlesque's story turns out to be as simplistic as a fairy tale, with the major problems confronting Ali fixing themselves without her as much as lifting a finger to solve them. The love triangle which Ali figures in between Jack the bartender and his New York-based girlfriend is an example. You'd think that when said girlfriend catches Ali in bed with the man she believes is still her boyfriend, that it would take a sizeable chunk of screen time and brilliant scripting to concoct a believable resolution to the conflict. But that's not what the viewer gets. A couple of scenes  after Ali is verbally abused by Jack's ex, he reassures Ali that she's the only one for him and she and Jack are back in each other's arms as if nothing happened. And by the way, the scandalous lover from New York is never seen or heard from again. A similarly miraculous resolution also ends the money woes which hound Tess/Cher from her first scene in the film.

And speaking of Cher, her merely competent approach to the role of  Tess in Burlesque is so bland and uninspired that it might never even dawn on you that Cher is an Academy Award winner for best actress (she won for  the 1987 romantic comedy Moonstruck).  And despite the Cher-performed song "You Haven't Seen The Last of Me" winning Best Original Theme Song at the Golden Globes a couple of weeks ago, none of the new songs from Burlesque - even the ones sung by Christina Aguilera - stay with you when you leave the theater.    

While Aguilera certainly gives the role her all, the material she's given simply doesn't challenge her as much as it could and should. She's a showstopper in all the film's production numbers all right, but the singing and dancing only accounts for half the screen time of her Ali character. In the other half, she's saddled with a catalogue of clichés, like being caught in a love triangle and being the object of desire of a businessman who's used to getting what he wants. Given such generic demands on her, Aguilera replies with generic acting, turning in a performance that never allows you a glimpse into her soul.

And what's a movie musical without a soul like? In a word, it's Burlesque.


Rating: 2 ½ out of 5 Spots ••.


Photo from the Burlesque Facebook page
ADVERTISEMENT - CONTINUE READING BELOW
Recommended Videos
Load More Stories