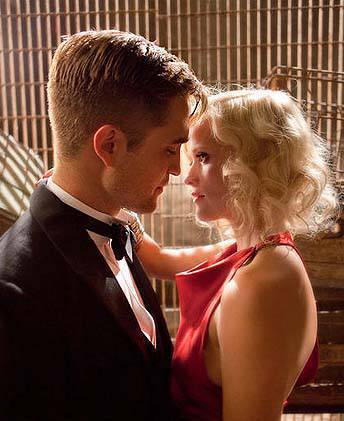 Reese Witherspoon and Robert Pattinson star in this forbidden love story
In the tradition of such forbidden love weepies as The Bridges of Madison County and The Notebook is the currently showing Water for Elephants, based on the best-selling book by Sara Gruen. In the film, which is set in the veiled world of a traveling circus in  1930s USA,  the couple fighting for their love is played by Oscar winner Reese Witherspoon and Twilight's Robert Pattinson. It is the carnival atmosphere-which features not just cruel human beings but abused animals as well-that gives Water for Elephants an unexpectedly rich tone that distinguishes it from other love stories like Dear John, Nights in Rodanthe and A Walk to Remember. It also comes with a happier ending than is usually found in movies of the genre.
Watch the trailer of Water for Elephants


Robert Pattinson stars as Jacob, a veterinary student whose world is turned upside down when his parents are killed in a car crash mere days before he is to graduate from Cornell University. Forced to fend for himself during the Great Depression, Jacob finds work as the animal doctor for a struggling traveling circus, the Benzini Brothers. It's there that he meets the troop's lovely but married star performer, Marlena (Reese Witherspoon), who is also attracted to him. At first, both Jacob and Marlena are able to control their feelings for one another, especially since she's the wife of the abusive August (Christoph Waltz), the circus' big boss. One night, however, they let their guard down and confirm August's suspicion that they're having an affair. August then orders the circus' company of freaks and misfits to dispose of Jacob.

Will Jacob live to tell the tale? We know he will, because it is an older Jacob (Hal Holbrook) who tells the tale of "the tragedy" that sealed the fate of the Benzini Brothers to a curious listener in present-day America. The question is, what happened to Marlena? Did she and Jacob live happily ever after, or did August destroy her?  

Some reviewers have complained that as Jacob and Marlena, Robert Pattinson and Reese Witherspoon don't have that intangible thing called onscreen chemistry, a vital ingredient to a cinematic love story. It's an observation that I disagree with, because these two actors' sincere portrayals got me to care about their characters from the first moment they shared onscreen. Robert Pattinson has never been better than he is in this film, where he displays an effortless, easygoing charm that he's never shown in the first three Twilight movies. Reese Witherspoon, on the other hand, impressively conveys both Marlena's attraction to Jacob and her fear of August on her face at the same time. My only complaint about Witherspoon is that she relied too many times on a stunt double for the scenes where Marlena is performing with animals. Those moments-and not her scenes with Pattinson- were what took me out of the narrative a couple of times, breaking the spell which the filmmakers had otherwise so effectively cast.
ADVERTISEMENT - CONTINUE READING BELOW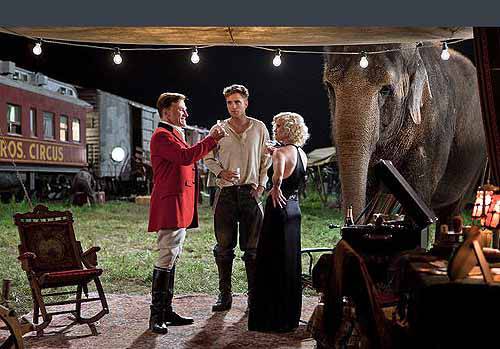 Christoph Waltz's August is the scariest member of the onscreen love triangle, says Paul Daza


As the scariest member of the onscreen love triangle, though, Christoph Waltz's August was completely spellbinding. Having spoofed his Oscar winning turn in Inglourious Basterds in The Green Hornet, I was fearful that his portrayal of August would be just a mechanical variation of his unforgettable role as a sadistic Nazi tormentor. The gifted actor, however, proved my fears unfounded, for he found new ways to create tension and suspense in Water for Elephants, exhibiting an unequalled mastery over his every facial muscle. He also succeeds in giving August a benevolent, patriarchal quality that never contradicts the character's appalling traits.

Just as mesmerizing to watch as Waltz are the illuminating bits that detail life in the film's fictitious Benzini Bros. circus, which range from the morbid to the magical. Some of the unflattering scenes show how injured horses and aging human performers are dealt with, and how its owners handle low ticket sales and hungry animals. On the other end are those magical moments which result when the humans and the animals they work with create a supernatural bond which results in a sensational act. The film also affords glimpses into an amusing rite of passage practiced by the circus folk on members who have earned their love, and shows how maltreated circus folk deal with those they hate, with tragic results.

Love and hate, joy and suffering, triumph and tragedy among humans and non-humans... these are the ingredients which make Water for Elephants a uniquely captivating love story.     

Rating: .... 4 out of 5 spots
ADVERTISEMENT - CONTINUE READING BELOW
Recommended Videos
Check to see where the movie is showing
Photos from 20th Century Fox
Share this story with your friends!
---
Help us make Spot.ph better!
Take the short survey
Load More Stories